October 9, 2018 | To the Rescue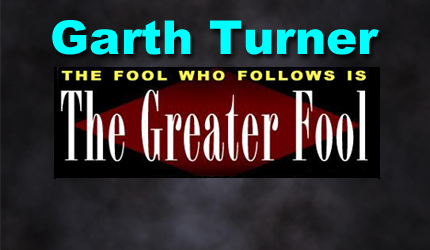 A best-selling Canadian author of 14 books on economic trends, real estate, the financial crisis, personal finance strategies, taxation and politics. Nationally-known speaker and lecturer on macroeconomics, the housing market and investment techniques. He is a licensed Investment Advisor with a fee-based, no-commission Toronto-based practice serving clients across Canada.
Well, time to don your Melania® pith helmets! The debt market's in convulsion as yields shoot skywards. Big US government bonds are at the highest level in seven years, while our five-year Canada bonds (which dictate mortgages rates) are bumping up against a key level last seen in 2011.
Hmm. Not good for borrowers, with the stress test scheduled to jump again in just two weeks.
At the same time wage gains in Canada have fallen below inflation, we just learned Ottawa gave the US a veto over any future trade deals we can do, and the UN says we're just a decade or two away from being a planet of crispy critters as climate change becomes irreversible – unless Trump stops calling it a hoax. Like that'll ever happen.
And what do all the young people want? Yes, a house! In the Okanagan! Oy.
So here's Nadine, now attached to some twentysomething paleo.
Hi Garth! I need help. I know all your blog readers need help and advice but I feel as though I cannot trust the financial advisors I've spoken with in person and my partner wants to put all our savings into real estate.

Here's where we are at:
– engaged: I'm 24 and he's 25.
– no debt, vehicles and school are paid off
– renting 1 bedroom apartment for 1000$/month
– Net income: 140,000 (subject to decrease as we are moving from Northern BC to the Okanagan and our wages will be lower)
– We both have our TFSAs maxed at 42,000 and 47,000
– RRSP contributions around 15,000
– Then 65,000 in savings account

We are planning to move home to the Okanagan and my fiancé wants to buy as houses are dropping slightly. I force him to read your blog to make him understand that we should rent and invest our money but it doesn't get through to him.

Please help us before I go ahead with possibly the worst financial decision of my life.
This little note brings up a few topics worth discussion. For example, Nad & the Dino are not yet hitched. Engaged, yes. Married, no. There's no way they should buy any property together, assuming the massive debt it will involve, until the relationship is cooked. Already she is worried about him creating "the worst financial decision of my life." If that turns out to be the case (highly likely) can this union even survive? The real trouble will begin not with signing the mortgage, but the emotional and financial consequences.
Then, of course, there's the timing of this ill-conceived nesting hormone thing.
Mortgage rates are increasing and the 'slight' decline in prices from Penticton to Vernon and beyond is but the start. The B20 hurdle will be set higher – maybe all the way to 6.5% within a year, choking off more first-time buyers, and dropping prices. Then there's Comrade Premier Horgan to worry about, as the misguided spec tax comes into effect in parts of the OK, affecting every other part. What a mess looms from that.
Personally, Nadine and her reptilian partner have done well – the better part of $200,000 saved. If they were just to tuck that away instead of blowing it on dodgy real estate, they could have close to $2 million liquid in their late fifties. That would allow them to retire early and have a lifetime income of close to $150,000, without raiding the principal. In the meantime, taking five years now to build up additional wealth (for a down payment) as renters – letting real estate values plop – would deliver a house with less debt and way more diversification.
Sounds like she knows these things. The world's changing before Nadine's eyes. A decade of cheap money is truly ending. House values inflated by low loans have also run their course. Real estate could again become just shelter, instead of an investment asset pumped up by the fickle masses. Buying at peak house levels could be a life-altering mistake. If the future delivers any of the volatility now threatened, having your net worth stuffed into one immovable, indebted and perhaps illiquid asset is dumb. Especially when you're 24, with so many choices at your feet.
Besides, the UN hints that by the time Nadine's fifty the Okanagan could be a desert. Maybe that explains M's helmet. Better to be mobile than sautéed.
STAY INFORMED! Receive our Weekly Recap of thought provoking articles, podcasts, and radio delivered to your inbox for FREE! Sign up here for the HoweStreet.com Weekly Recap.