October 3, 2018 | The Reset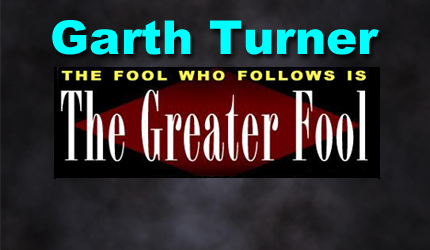 A best-selling Canadian author of 14 books on economic trends, real estate, the financial crisis, personal finance strategies, taxation and politics. Nationally-known speaker and lecturer on macroeconomics, the housing market and investment techniques. He is a licensed Investment Advisor with a fee-based, no-commission Toronto-based practice serving clients across Canada.
Poor moisters. If they didn't have five or six decades of life ahead of them, you could almost feel bad. But here's a new survey from the orange fruit people saying 70% of Mills "are worried about their financial future" compared to 'just' 48.5% of everybody else. Worse, only a third of the kids say they can pay their monthly bills. So is that a revenue problem, or a spending one?
And GTA realtors and builders just combined forces to be even scarier: over 90% of those between 18 and 35 think they'll never afford a house (which is a safe bet when two-thirds can't handle their regular payments).
"Approximately 92 per cent of those surveyed said that the dream of home ownership is becoming more difficult to achieve for young people living in their respective cities and 86 per cent agreed with the statement that it is important that young families can afford to live and work in the GTA without having to commute for more than an hour to get to their place of employment. About seven out of 10 respondents said that they don't think their children will be able to afford a home in the community where they grew up."
But wait. The world's changing. What's been the reality for the past decade is ending. Finito. A new chapter. All this moister angst may be for naught. Perhaps it's the smug, irritating, house-rich, cash-poor Boomers we should fret over – at least those too thick to harvest their tax-free windfall property gains.
This week's blog theme is simple: what goes up, eventually comes down. When loans were cheap, houses inflated. As debt and payments rise, properties reverse. First, sales drop. Prices follow.
The evidence of this is playing out before our eyes. Behold the latest stats.
"By all measures, Vancouver residential real estate prices are falling," says local realtor Sam Wyatt. "Average sale prices for houses are down 30% from their October 2017 high point – back to late 2015 prices!  Attached homes are down about 12% in September and Apartments almost 20%. Based on current MOI (months of inventory) levels, it is likely that we will continue to see sale prices fall for all home types.  The dramatic MOI level for houses means we will probably see even lower sales volumes in October."
Speaking of how many properties are for sale, on the tony Westside of YVR (taken as a barometer of the entire market) there's a 20-month supply – the most since the lights went out in 2008.
"Moreover," adds Wyatt, "MOI has been in double digits for 11 of the past 14 months.  Contrast this to the Credit Crisis where MOI was in double digits for only 7 months.  MOI rose also for attached homes and apartments to more than 8 and 6 months respectively. Active listings rose across all product types.  In the case of apartments, the Westside active listing volumes have not been this high since September 2015."
The prediction: "Markets generally over react and we might see prices fall by 40% or more from their high points before rising back up to about 20% off."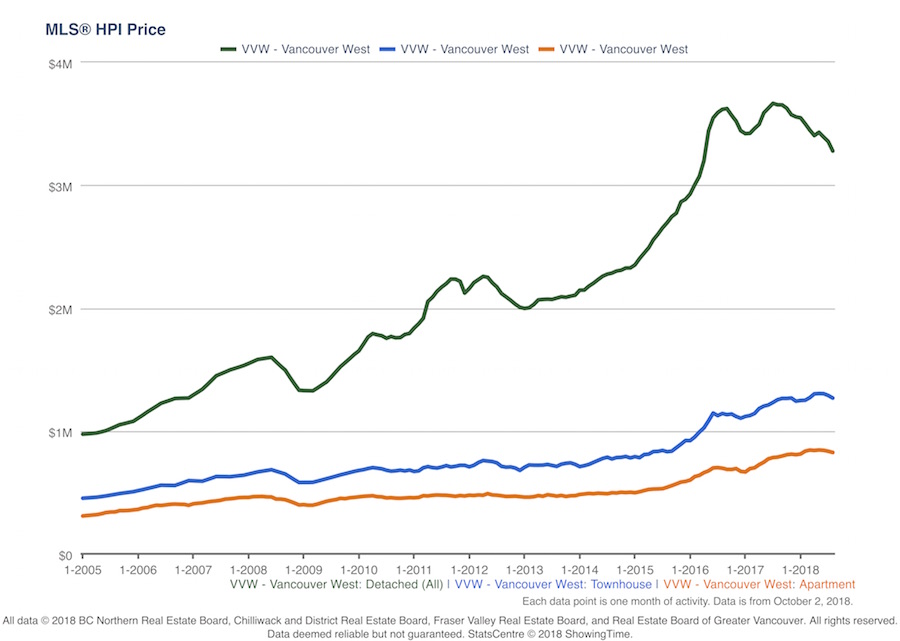 And remember, that's a realtor talking.
Overall Van sales plunged 17% in a month, and sit 45% below year-ago levels. This comes after a disastrous summer. The new mortgage stress test, rising mortgage rates and Comrade Premier Horgan's parade of anti-homeowner taxes have accelerated in VYR a general real estate malaise that is spreading nation-wide.
In the GTA, for example, there was hardly a Spring market, while the fall buying season withered like the Liberals. Sales of 6,455 in September were the lowest since the metropolis was buried in snow last February, despite summer-like weather all month. Prices have gone nowhere this year, and are still sitting 15-25% below peak house of April 2017, depending on the hood. There are 20,000 properties currently for sale, almost 6% more than last year, and everywhere realtors are reporting a horrible sales-to-showings ratio. Once sellers understand price resistance is futile, down she goes.
So much for the 'rebound' and 'hot market' the real estate board tried to manufacture through its media lackies a few weeks ago. If Ontario had the same crazed, tax-happy, anti-house government as BC, the GTA would be a smoky hole in the earth since it is (according to UBS) now the third-bubbliest burg on the planet. With household debt ratios rising, the certainty of higher money costs now that USMCA has arrived, the B20 stress test and the fact two-thirds of Millennials can't pay their monthlies, how does the market recover – especially as we head into winter?
It doesn't.
Just consider this statement by TD chief economist Beata Caranci, made at a Bloomberg conference the other day. The topic was how debt-riddled consumers will be impacted over the next three years: "Past 2020 it's really going to hit the fan. At that point you have high level of indebtedness combined with income stress happening simultaneously. So we are definitely not out of the woods." The next recession, she added, "will be a household-led one."
So, it's simple. Moisters should just wait. Don't worry about high house prices. They'll get fixed.
And for the Boomers? Do not under any circumstances show a young person this blog – until after they've made you a firm offer.
STAY INFORMED! Receive our Weekly Recap of thought provoking articles, podcasts, and radio delivered to your inbox for FREE! Sign up here for the HoweStreet.com Weekly Recap.