October 4, 2018 | Stimulus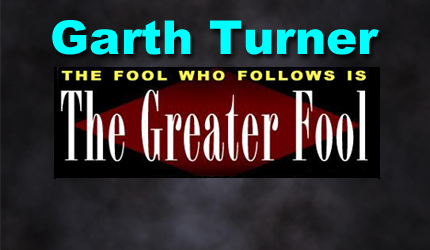 A best-selling Canadian author of 14 books on economic trends, real estate, the financial crisis, personal finance strategies, taxation and politics. Nationally-known speaker and lecturer on macroeconomics, the housing market and investment techniques. He is a licensed Investment Advisor with a fee-based, no-commission Toronto-based practice serving clients across Canada.
Okay, the class will come to order. Put down your vapes and pay attention.
Let's review the difference between fiscal and monetary policy. The F-thing is what governments do. Like when Comrade Premier Horgan in BC decides to levy a special tax on people with two houses, just because they have two houses. That's fiscal policy. It raises money. It seeks to alter human behaviour. All done in the name of a goal the politicians have. In this case, to punish success and make homeless moisters feel better. All taxes are examples of the big F at work.
Monetary policy's different as it changes economic conditions. This is where central banks come in. They're not elected, which is why we trust them (supposedly) to set interest rates and control the amount of money. The job of MP is to keep currencies stable, foster economic stability and prevent things from getting too cold or too hot.
Back in 2008-9, monetary policy dudes were obsessed with preventing a depression. So they slashed interest rates to the bone encouraging the deplorables to borrow, spend, and invest. They did. So now houses cost a million. These days – especially in the States – it's the opposite problem. Thanks to Trumpenomics, the economy there is ablaze. Big tax cuts, less regulation, tariff walls – it's all thrown gas on America. So the Fed is using monetary policy to hose it down before it flames out of control, creating big inflation and diluting the dollar.
Friday morning we'll get some stark evidence. Looks like the jobs numbers will be historic – unseen for a quarter century. And the Fed is gearing up for a long boom. "There's really no reason to think that this cycle can't continue for quite some time,' the central bank boss, Jerome Powell, said this week, "effectively indefinitely."
Yes, class. More rate hikes lie ahead. Everything you thought you knew about borrowing – that it's good and gets you stuff you could never otherwise possess – will change. Debt will go from helpful to hurtful, sucking off cash flow to make payments on things suddenly worth less. That's what monetary policy can do. So if elected politicians don't make their fiscal policy coordinate with central bankers' monetary policy, things go badly. Like what's happening now with YVR real estate – higher taxes and higher rates at the same time. Ouch, man.
Some people in the class may have this question: if rising rates squishes houses, why not stocks, too?
The answer: in America fiscal and monetary policy are aligned when it comes to corporations. Yes, rates are rising which drives up business costs, but the government (Trump) just slashed corporate tax rates by the most in three decades. Since profits determine markets, no crash. Besides, the same hopped-up economy that's affecting monetary policy is good for business, as consumers spend more, make more and work more.
So here we are. Bond yields are spiking. Highest since 2011. Mortgage rates will soon move in sympathy. The stock market at a record level (despite Thursday's crunch). There are more empty jobs in the US than there are people qualified to fill them. Unemployment at a 50-year low. The malls, restaurants, factories, highways and car lots are full. By Canadian standards it may be a messed-up, polarized, gun-loving country that elected a clown and got a circus, but the longer he's in office, the hotter the entire economy becomes. This will make the coming mid-term elections – the first big national referendum on Trump – so fascinating.
And us, class?
The good maple news is a US trade deal. No car bomb. Oil's moving up. Those are positives. But wages are not. Over the last three years of Lib rule incomes have barely kept up with inflation and are expected to trail it in 2018. Meanwhile you know what house prices have done in three years – thanks to rock-bottom rates. Households are falling behind, now using HELOCs and tapping into TFSAs to stay afloat.
In order to maintain the value of the dollar and deflate property prices, our central bank must ape the Fed – so monetary policy in Canada will line up with that to the south. But we've had no offsetting tax cut. In fact high-end beavers hand over 53% of their incomes starting at $200,000, while US top taxes click in at $500,000. Plus our corps pay more and can write off less.
The conclusion: this is what happens when you get M'd while being F'd.
The exam is Monday.
STAY INFORMED! Receive our Weekly Recap of thought provoking articles, podcasts, and radio delivered to your inbox for FREE! Sign up here for the HoweStreet.com Weekly Recap.