October 8, 2018 | Republicans should Prevail in 29 days 'If' the Economy does not Crash!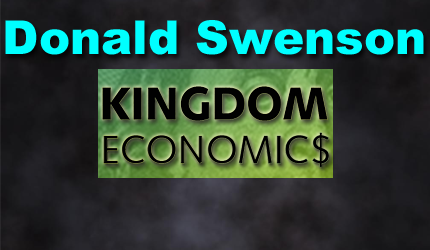 Donald B. Swenson: Born January 24, 1943, Roseau, Minnesota. Graduated H.S. 1961, Moorhead High, Minnesota. Graduated College 1968, Moorhead State University, Minnesota. Designated member of Appraisal Institute (MAI), 1974. Employed with Western Life Insurance Company, 1968 – 71; Iowa Securities Company, 1971 – 73; American Appraisal Company, 1974 – 81. Part-time teacher/valuation consultant/bartender, 1979 – 2008 (taught workshops at Waukesha County Technical Institute, Wi. and Madison Area Technical College, Wi.). Retired 2008 (part time teacher/blogger), AZ. Self educated economist/philosopher/theologian: http://kingdomecon.wordpress.com.
As of today, my sense is that the momentum for the Trump election psychology should provide the Republicans a win on Tuesday, November 6, 2018. The democrats would need to gain confidence from their psychological loss in the Kavanaugh nomination (this soap opera event) and this seems unlikely as of today. As of today, the economy is strong and the perceptions are mostly positive. This should provide the Republicans a big win on election day.
The one item, however, which could change this prognosis is a CRASH in our economy this month (say a stock market crash of 20%). I have followed our economy for years and this economy (now 10 years without a correction) is clearly in danger of a major change in direction (at any moment). A major change could happen prior to the election and this could change voter perceptions quickly. The democrats would be favored if this event happened prior to election day IMO. People tend to vote their economic perceptions as of the election date.
If our economy were to crash (in October) then the democrats and the media could blame the Trump policies and this could change momentum within days. Economic events are key to people's reasons for voting for a particular candidate. I remember clearly the election of Bill Clinton over H.W. Bush in 1992. My sense was that Bush should have won this election as the economy was moderately good. But the perceptions of the media was that the economy was marginally bad. H.W. did not promote the economy as he should have done.
The economy was the issue in 1992 and Mr. H.W. Bush lost this election as he could not change perceptions prior to the date of election. The election was close but the perceptions on the economy were key to the Clinton win. This same situation could surface this November 6 (in 29 days) if the U.S. economy were to crash this month. I don't expect that this situation will happen but I also don't rule it out. I sense, however, that a CRASH is immanent in the very near future.
Our Central Bank is now allowing interest rates to rise and the media is now pointing out the weaknesses within our various economic sectors. Autos sales are down. House sales are slowing rapidly. Consumer debt is at a maximum. National debt is near $1 trillion with more to follow. Trade deficits are growing. Tariffs are a negative for growth. Momentum is changing from positive perceptions to negative perceptions among many. All this has happened in just the past two months.
We have another 29 days to watch and wait. If all stays calm and steady within all the economic sectors, then the Trump election team should prevail on November 6. But if our economy (say the stock market) crashes in October (prior to the election) then this prediction of mine would change. I predict a big Republican win on November 6 IF all stays positive with our economy. If not, then my Democratic friends could prevail and my Republican friends would be in trouble.
We live in a world of change. Our digital economy could change in a day. This is the situation that we live with today. All our index markets are interconnected and investors trade electronically. Speed of light trading can change events in a matter of hours. One day all could be calm and positive and the NEXT day all could be negative. What a change from past history when markets moved slowly and non-electronically. Let's watch what happens as events are very dynamic in today's electronic world of finance.
I am: https://kingdomecon.wordpress.com. Watch your smart phone app as our economy is now digital and within your computer screen. Change can happen in seconds.
STAY INFORMED! Receive our Weekly Recap of thought provoking articles, podcasts, and radio delivered to your inbox for FREE! Sign up here for the HoweStreet.com Weekly Recap.