October 23, 2018 | Questioning the "100% renewables" Idea Might Land You in Court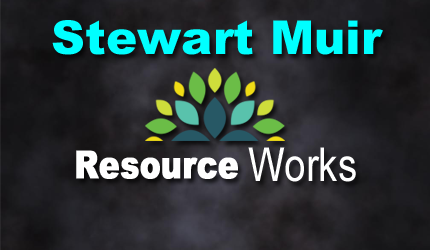 Stewart Muir is founder and executive director of the Resource Works Society, a Vancouver-based group open to participation by British Columbians from all walks of life who are concerned about their future economic opportunities. He is an author, journalist and historian with experience on three continents including a financial editor of The Vancouver Sun responsible for mining and markets coverage. Since Resource Works was established in 2014, the group has gained international recognition for its practical approach to the public challenges of responsible natural resource development and use.
When a group of energy scholars wondered about the assumptions behind a "100% renewable" campaign, they got a nasty surprise: a $10 million libel threat. The man behind that threat is renewables crusader Mark Jacobson and this week he is in Vancouver trying to stop climate-friendly LNG exports.
Imagine a world with all the energy we needed, but without any harmful side-effects to worry about. That's the "100% renewables" vision touted by American academic and LNG opponent Jacobson..
Be careful about asking tough questions, though. As the scholars pictured here learned, Jacobson might just sue you if you do.
Transitioning to a diverse portfolio of clean energy technologies to enable a low-carbon-emission energy system is a broadly accepted goal. Reducing the impacts that come from human energy choices is a climate issue, an environmental issue, a political issue, and a social issue.
Given that a modern person consumes the equivalent of 200,000 calories of energy per day, how we arrive at a lower-impact status is a question for everybody, one that should be vigorously examined and debated.
But as an advocate of the "100% renewables" movement, Jacobson takes tetchiness to extremes by attacking those daring to ask questions about his concept – so much so that he went to court to silence a group of experts who published a paper in a scholarly journal, Proceedings of the National Academy of Sciences (PNAS).
This is the article that Jacoboson sued over.
In it, 21 highly credentialed academics identified a number of Jacobson's assertions that, in their view, did not stand up to scrutiny. (Twenty of the 21 are pictured above, clockwise from top left in the order that their names appear at the top of the article.)
Instead of responding through conventional argumentation, Jacobsen's response was to accuse the questioners of libel and demand $10 million. He later dropped the suit, but the puzzlement remains.
Why it matters
This is consequential because Jacobson will be speaking in Vancouver this week in a bid to stop Canadian LNG from reaching Asia, where it is needed to help lower emissions.
The City of Vancouver has also signed on to the 100% renewables cause. Recently, this led to the attempted ban on natural gas, an ill-thought-out plan with unexamined consequences that Resource Works critiqued in this report.
The problem with these aspirations is not the good intentions, which we all share. Typically, it rests with the actual plan for implementation. The best collaboration comes when we are not afraid to challenge assumptions and test multiple solutions; threatening questioners with ruinous litigation is hardly the way to accomplish that.
Maybe the problem is that in the 100% renewables framework, all the solutions (not just outcomes) are predetermined. Anything to do with hydrocarbons is totally anathema.
So are nuclear power, and new dams for hydropower.
All the energy we need will come, in this scenario, from the sun and the wind.
Too tough on transition?
The scholars Jacobson tried to silence raised a number of questions with this energy transition, all of which are relevant and worth looking back over. If they are correct that relying on 100% wind, solar, and some hydroelectric power, could make climate mitigation more difficult and more expensive than it needs to be, the consequences of making the wrong policy decisions are significant.
A better approach is to transition to a diverse portfolio of clean energy technologies, creating a low-carbon-emission energy system that is both more feasible and less costly than other pathways, argued Jacobson's critics.
"There is a difference between presenting such visions as thought experiments and asserting, as the authors do, that rapid and complete conversion to an almost 100% wind, solar, and hydroelectric power system is feasible with little downside," wrote the PNAS group.
"It is important to understand the distinction between physical possibility and feasibility in the real world."
The group's wide-ranging discussion is worth a look. No wonder Jacobson was so furious. The flaws in his plan were exposed for all to see.
They questioned Jacobson's decision to exclude from consideration several commercially available technologies, such as nuclear and bioenergy, to potentially contribute to decarbonization of the global energy system, while also helping assure high levels of reliability in the power grid.
They wondered why the 100% renewables approach excludes carbon capture and storage technologies for fossil fuel generation.
They asserted that even with all the available technologies at our disposal, "achieving an 80% reduction in GHG emissions from the electricity sector at reasonable costs is extremely challenging, even using a new continental-scale high-voltage transmission grid." And decarbonizing the last 20% of the electricity sector as well as decarbonizing the rest of the economy that is difficult to electrify (e.g., cement manufacture and aviation) are even more challenging.
"These challenges are deepened by placing constraints on technological options," wrote the group.
The scholars pointed to modeling errors; "incorrect, implausible, and/or inadequately supported assumptions"; and the use of methods "inappropriate to the task".
Over-optimistic assumptions included replacing the current aviation system with yet-to-be-developed hydrogen-powered planes; batteries larger than the entire U.S. generation and storage capacity of today; underground thermal energy storage systems deployed in nearly every community to provide services for every home, business, office building, hospital, school, and factory in the U.S.
The scholars pointed out that even though Jacobson claims to favour hydroelectric power as part of the 100% renewable mix, in fact, the acceptance of hydro dams extends only to modifications like adding turbines to existing dams.
Jacobson's plan calls for the massive scale-up of hydrogen production and use, even though manufacturing hydrogen today requires an industrial process to separate the gas from the very fossil fuels that Jacobsen says will be eliminated.
The critical paper furthermore found poorly documented and implausible assumptions, including the cost and scalability of storage technologies, the use of hydrogen fuels, lifecycle assessments of technologies, cost of capital and capacity factors of existing technologies, and land use. It took issue with a climate/weather model used for estimates of wind and solar energy production, especially significant an energy system relying so heavily on intermittent energy sources.
And on top of all this, Jacobson apparently believes it's his job to stop countries like China from having access to cleaner fuel.
LNG Canada, the recently approved $40 billion liquefied natural gas project, will remove the equivalent of 19 million cars from the road if the gas is used to replace coal in electricity generation.
By threatening litigation instead of engaging in honest dialogue on transition issues, Jacobsen has done the broadly shared transition cause little service. Without a more open approach to dialogue, we are not going to be seeing the kind of progress that is urgently needed.
Jacobson (pictured below) will be giving the 2018 Gideon Rosenbluth Memorial Lecture, sponsored by the Canadian Centre for Policy Alternatives and UBC's Vancouver School of Economics, on October 25 at 7 p.m. at the Simon Fraser University Segal Graduate School, 500 Granville Street. Registration is required.
STAY INFORMED! Receive our Weekly Recap of thought provoking articles, podcasts, and radio delivered to your inbox for FREE! Sign up here for the HoweStreet.com Weekly Recap.