October 24, 2018 | Market Whiplash Rattles Investors!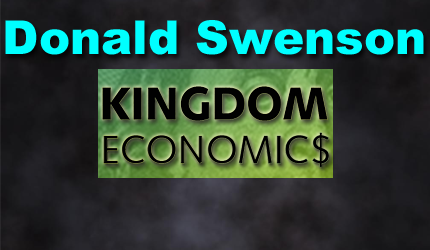 Donald B. Swenson: Born January 24, 1943, Roseau, Minnesota. Graduated H.S. 1961, Moorhead High, Minnesota. Graduated College 1968, Moorhead State University, Minnesota. Designated member of Appraisal Institute (MAI), 1974. Employed with Western Life Insurance Company, 1968 – 71; Iowa Securities Company, 1971 – 73; American Appraisal Company, 1974 – 81. Part-time teacher/valuation consultant/bartender, 1979 – 2008 (taught workshops at Waukesha County Technical Institute, Wi. and Madison Area Technical College, Wi.). Retired 2008 (part time teacher/blogger), AZ. Self educated economist/philosopher/theologian: http://kingdomecon.wordpress.com.
Today's Wall Street Journal, front page, reveals the 550 point drop in the Dow Index on Tuesday and then a recovery of over 400 points by the close. Do investors even understand what is occurring? I doubt it! We now live with cyber money and cyberspace markets. This means that the up and down activity is totally an 'inner' experience for our investors. Imaginary digits are going up in one's head and then down in one's head (also called our consciousness). Is this meaningful economics?
Do investors, pundits, and the public have any clue as to what is happening within our global cyber markets? I don't think so! What I have learned is that people think all this up and down action is real value being exchanged between real traders. In reality, however, all this trading and up/down action is merely an 'inner' emotion within my/your consciousness. The so-called money being exchanged within cyberspace is all imaginary money which technically does not EXIST.
Traders think that the 'numbers' in their accounts are real money (physical units). This is a total deception. In reality, all the 'numbers' live in cyberspace and this is an imaginary space within our extended consciousness. What deception! What illusion! What delusion! Traders, investors, pundits, media, Mr. Trump, the Fed administrators, and our public are all fooled by visualizations within their computer screen. The entire market is now living within cyberspace.
Cyberspace. A consensual hallucination experienced daily by billions of legitimate operators, in every nation, by children being taught mathematical concepts… A graphic representation of data abstracted from the banks of every computer in the human system. Unthinkable complexity. Lines of light ranged in the non-space of the mind, clusters and constellations of data. Like city lights, receding.
In this silent world, all conversation is typed. To enter it, one forsakes both body and place and becomes a thing of words alone. You can see what your neighbors are saying (or recently said), but not what either they or their physical surroundings look like.
Current technology allows the integration of a number of capabilities (sensors, signals, connections, transmissions, processors, and controllers) sufficient to generate a virtual interactive experiencethat is accessible regardless of a geographic location.
The entire cyber marketplace (now global) is a hallucination within our mind. The numbers being traded are 'imaginary'. The money being traded is a mental abstraction. The entire experience is mere illusion and deception within one's mind. Look out the window and witness real time and space. Look out at the trees, roads, houses, and cars. Look up in the sky and witness the objects rotating in space (the sun, moon, clouds, and stars). Look and realize that our monetary system is a total illusion within our mind.
There is no such 'thing' as the dollar. There is no such 'thing' as the euro, pound, yen, peso, krona, shekel, etc. All these units of money are cyber units. Cyber units are units within cyberspace. Cyberspace is a hallucination within the mind. Wake-up and smell the roses. Smell the illusions within all our cyber markets. Smell the delusions within people trading our markets. We are all living a hallucination (and don't know it)! It's time to notice these realities!
Buy some silver coins or gold coins to discern the difference between a cyber dollar and a real silver dollar. Look at the silver dollar in your hand. Feel the physical nature of this dollar. Then look in cyberspace (your computer screen) and try access this cyber dollar. Cyber money is a hallucination and a delusion. It does not EXIST within our greater material universe. Is it time to wake-up? Is it time to think about one's own 'thinking'? I think so! Living a hallucination is not a meaningful long-term enjoyment!
Enjoy your illusion for now. It is coming to an end soon. Buy some silver and gold coins at: http://www.jmbullion.com to discern the difference between cyberspace money and REAL MONEY. Let's honor Thomas Jefferson for his contribution to real monetary affairs and let's dishonor our bankster community which controls all this fake cyber money. Cyber money is not real. Try access a cyber dollar within your consciousness (the computer screen). It's time to get real and get out of all this cyber FAKE money. My view! Enjoy!
STAY INFORMED! Receive our Weekly Recap of thought provoking articles, podcasts, and radio delivered to your inbox for FREE! Sign up here for the HoweStreet.com Weekly Recap.