October 19, 2018 | Let's All Honor Thomas Jefferson's Contributions to America! How?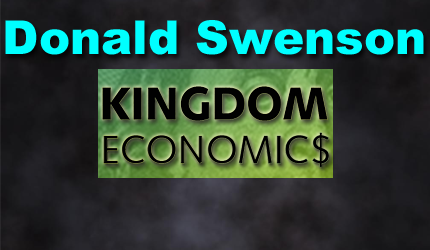 Donald B. Swenson: Born January 24, 1943, Roseau, Minnesota. Graduated H.S. 1961, Moorhead High, Minnesota. Graduated College 1968, Moorhead State University, Minnesota. Designated member of Appraisal Institute (MAI), 1974. Employed with Western Life Insurance Company, 1968 – 71; Iowa Securities Company, 1971 – 73; American Appraisal Company, 1974 – 81. Part-time teacher/valuation consultant/bartender, 1979 – 2008 (taught workshops at Waukesha County Technical Institute, Wi. and Madison Area Technical College, Wi.). Retired 2008 (part time teacher/blogger), AZ. Self educated economist/philosopher/theologian: http://kingdomecon.wordpress.com.
Our great founding father, Thomas Jefferson, not only wrote most of the Declaration of Independence (giving Americans real freedom) but he also contributed in so many other areas (astronomy, paleontology, agriculture, art, language, history, economics, religion, and money). Are you aware that Thomas Jefferson's logic was key to establishing our monetary system? Yes, Jefferson was the key mind behind our monetary logic. What did he do?
Thomas developed a numerical system of accounting which allowed America to separate from the British system of money and establish their own monetary system. His mental acuity allowed him to give us a system of weights and measurements and currency units which we could use to 'value' all production within a marketplace. It was T.J.'s system which was codified into law with the Coinage Act of 1792. You can read all about it by googling this Act here:  https://en.wikipedia.org/wiki/Coinage_Act_of_1792
Thomas Jefferson started the first mint in Philadelphia, Pennsylvania which coined our first physical dollar (a silver coin). This silver dollar was part of his logic for determining what has 'value' in the marketplace and how to measure this 'value' logically. His definition of our American dollar was 371.25 grains of pure silver (Ag). All subsidiary money units were created from this core definition. Think about the acuity of this founding father when it comes to monetary affairs.
We all need to HONOR this founding father today by taking the time to purchase some silver and gold coins as representations of his logic and acuity. You can do this today by going to:  https://www.jmbullion.com/.  Why accept today's funny/fake/digital money for your savings when you can purchase real silver and gold and give our great founding father, Thomas Jefferson, some honor and credit. Thomas thought up the logic of money for Americans. He developed a logic for the 'valuation' of all products in our marketplace.
Thomas and his system of logic continued until 1971, when our then President, Richard Milhous Nixon, slammed the gold window and disallowed any exchange into this metal called gold (Au). The decision by Nixon essentially closed any real options of using a precious metal as the reference point for 'valuation' (in official transactions). Today, we live with fake/digital/cyber money which gets created out-of-nothing (the mind of select commercial bankers) and which has no real logic when we 'value' alternative products.
What we have today is a monetization (or dollarization) of a product but not a real 'valuation' of a product. It is impossible to officially 'value' a product when there is NO reference point for 'value'. Our silver dollar (defined as 371.25 grains of pure silver) created a reference point for all of us. All other products could be 'valued' using this measuring stick. All this is now impossible as our dollar is now a mere 'imaginary' symbol/number ($1.00) in the computer screen (pure fakery). Think of this when you go to: http://www.jmbullion.com/ and buy your real precious metal coins.
We all need to HONOR this great historical founding father of America for all his contributions to our success and prosperity. Without the logic of this person, America may have died years ago. America is now dying rapidly as we have NO real leader within our political/economic system. The entire edifice of economics and money are now phony and false. A serious collapse of this system is emerging. But let's all honor a real hero of our monetary history. Let's go out and buy some real money to HONOR a man who saved American freedom, Thomas Jefferson (1743 – 1826). Enjoy!
I am: https://kingdomecon.wordpress.com. Go to: http://www.jmbullion.com or a similar website and buy real silver and real gold. You will learn why later as our current funny money system collapses to nothingness!
STAY INFORMED! Receive our Weekly Recap of thought provoking articles, podcasts, and radio delivered to your inbox for FREE! Sign up here for the HoweStreet.com Weekly Recap.