October 12, 2018 | Financial Emergency: As Forecast "Economic 9/11?"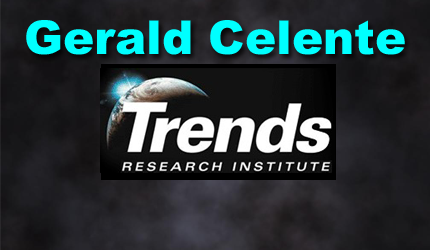 Gerald Celente, who developed the Globalnomic® methodology to identify, track, forecast and manage trends, is a political atheist. Unencumbered by political dogma, rigid ideology or conventional wisdom, Celente, whose motto is "think for yourself," observes and analyzes the current events forming future trends for what they are — not for the way he wants them to be. And while Celente holds a U.S. passport, he considers himself a citizen of the world.
KINGSTON, NY, 11 OCTOBER 2018—In our September 19 Trend Alert "Economic 9/11," we warned "…a market crash was coming … that will rock the world."
World equity markets have been rocked.
Even before the Dow dropped some 830 points on Wednesday, global equities were diving lower and sinking deeper into bear territory.
While Asian markets were hardest hit with losses in excess of 5 percent and the MSCI Emerging Market stock index has now tumbled 24 percent from its January peak, the bear market contagion is worldwide: Turkey, South Africa, Brazil, Venezuela, India, Hong Kong, Australia, Argentina, Italy, Indonesia, Singapore among others are in bear territory.
What is causing the global sell-off?
Virtually ignored for months, media and financial "experts" are finally getting right what we have repeatedly forecast would crash markets and sink economies worldwide.
Month after month, week after week, day after day they kept screaming that trade wars and tariffs would bring down markets.
But while they were anticipating what would happen, we identified what was happening and its immediate and long-term implications: Rising interest rates.
In fact, it was one of our Top Trends of 2018: "Market Shock," which we sent to Trends Journal subscribers last December:
"As U.S. interest rates rise and the dollar strengthens, the cost burden to Emerging Markets, whose debt, much of it dollar based, has soared, will be difficult to service."

We concluded that "…global economies, particularly in China, India, Europe and EMs will shift significantly downward to bear territory and some will sink into recession."
That's precisely what happened. World economies and world equity markets addicted to cheap money can't kick their habit.
Indeed, it was cheap money that pulled the world economies and equities out of the Great Recession over the last decade and as we had forecast, it's rising interest rates that's triggering the "Economic 9/11."
TREND FORECAST: While the Fed, possibly under pressure from President Donald Trump, who said they're "going crazy" and "going loco" for raising rates, may be pressured to delay future rate hikes, doing so will temporarily slow, but not prevent a global economic meltdown.
STAY INFORMED! Receive our Weekly Recap of thought provoking articles, podcasts, and radio delivered to your inbox for FREE! Sign up here for the HoweStreet.com Weekly Recap.