October 23, 2018 | Are You Ready for Gold's Next Surge?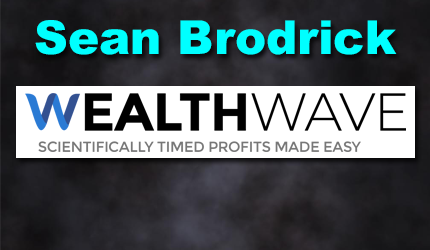 Sean is the natural resource analyst for Weiss Group. You can read his thoughts on gold, oil, cannabis, uranium and other natural resources at Wealth-Wave.com
I just put my Supercycle Investor subscribers into a new gold pick. And my Wealth Supercycle (monthly) subscribers have one coming up in their next issue, which hits their inboxes at noon Eastern on Friday.
Am I too early? I don't think so. For one thing, our previous precious metals picks are doing well. For another, I have two charts to back me up.
The Safest of Havens
It's a cruel market out there. Some stocks are getting fed into the shredder. Overseas, it's worse! The MSCI World Index was recently down more than 5% for the month. Stocks are getting pummeled as investors flee from the protracted trade war between the U.S. and China, the Italian debt crisis and rising interest rates.
Meanwhile, gold is up about 3% in the month of October. In fact, gold just clocked a third week of gains. That may not sound like much, but it's gold's biggest winning streak since January.
Gold has stopped going down. Now, it's going up. When something changes its big trend, it's time to take notice.
Take a look a chart of the SPDR Gold Shares (NYSE: GLD), an ETF that holds physical gold. It tracks the metal closely.
You can see that after months of decline, GLD and gold are putting in a bottom. On the bottom of the chart is MACD, a momentum indicator that most people agree is good at catching big turns.
The last time we had a cross like this, gold rallied 13%.
The coming rally may be bigger than that. I'll explain why in just a bit.
And let's say it's "just" 13%. That kind of move can trigger a blast-off by miners leveraged to the metal.
You know who's watching this move? Hedge funds. Last week, I told you in my article, "The Shoot-out at the Gold Corral," that hedge funds and other big speculators had raised their short positions in gold to a record level. I also told you it was my firm belief they were probably wrong.
Take a look at the next chart. I grabbed it off my Bloomberg terminal. It shows what hedge funds are doing with those short positions in gold now.
Hedge funds are chopping those short gold positions like a pack of rabid lumberjacks!
Hedge funds and other large speculators just cut their short gold positions by the most this year.So we had a record short position followed by record buying. That's what fueled part of gold's surge higher last week.
That's the good news. The better news is that, despite some covering when prices moved against them last week, money managers are still sitting on more than 140,000 bearish futures bets. So, there is room to run.
Golden Hoofprints
If, and I say IF, gold can rally further then this run on the bears can turn into a rout. The precious metals bulls could charge down Wall Street, leaving golden hoofprints in their wake.
How high could it go? When money managers moved to a net long in 2015, prices jumped 30%. If we saw that kind of move now, then gold would rally to above $1,500 an ounce.
I use "if" because we've been teased and fooled before. That's why I'm putting my subscribers in only the best names. Those names that have been beaten down with a shovel, beaten down so far that they are shining with value.
My subscribers just bought a gold miner that is a screaming bargain. And rising gold prices put the wind at its back. To get this pick and more, click here >>
My subscribers are ready for the next gold surge. Are you?
If you are doing this on your own, be careful. Not all gold miners have to go up. If you have less appetite for risk, the VanEck Vectors Gold Miners ETF (NYSE: GDX) will reduce your risk, while also lowering your potential reward.
All the best,
Sean
STAY INFORMED! Receive our Weekly Recap of thought provoking articles, podcasts, and radio delivered to your inbox for FREE! Sign up here for the HoweStreet.com Weekly Recap.