October 28, 2018 | A Golden Key Can Open Any Door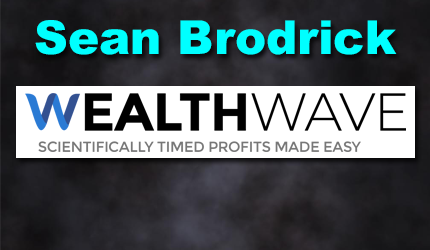 Sean is the natural resource analyst for Weiss Group. You can read his thoughts on gold, oil, cannabis, uranium and other natural resources at Wealth-Wave.com
I've pounded the table about gold lately. You can read examples here and here. While gold has moved higher, gold miners are still grinding along in second gear. The good news is we're about to see them shift into overdrive.
The door is opening to potentially massive profit potential. A door that opens with a golden key.
I'll get to that. First, let me show you the latest charts on gold.
You probably know that gold is up for the fourth week in a row. But did you know that this is the longest run of gains for the metal since January?
The best part about this chart is the momentum indicator I have put on the bottom. I don't want to get too technical, but gold's bullish shift is stronger, and coming from lower levels. Nice!
This is happening despite a dollar that keeps climbing. I've told you that I think the dollar is going to top out sooner rather than later. Let's look at another chart. This is a chart of the U.S. Dollar Index, which I grabbed from my Bloomberg terminal …
Looking at the U.S. Dollar Index, you can see that it approached the top of its range, then turned around. Now, it may yet test the top of that range. But a good rule of thumb is that something that is rangebound will stay rangebound until something external happens.
Until the Federal Reserve surprises the market or there's a thaw in chilly U.S.-China trade relations, it's tough to see how the dollar gets unstuck.
And where is the most likely place for a rangebound dollar to go? Down — to the bottom of its range.
Maybe that's one reason why we're seeing what's happening in this next chart — a chart of holdings in the world's physical gold ETFs …
In fact, holdings in gold ETFs just hit an eight-week high. It's not just anticipation of dollar weakness boosting gold. The rout in global stocks, a ballooning financial crisis in Italy and other fear-stokers get credit, too. Because, as I've said before, gold IS the ultimate safe harbor.
So what about gold miners, then? Why do I think they're about to shift into higher gear? I'll show you …
In technical analysis, one pattern people look for is called an "inverse head and shoulders." In this case, imagine the chart pattern is gold standing on its head. When price action pushes back up above the "neckline" of the pattern, that's bullish.
Often, such a break of the neckline is followed by a retest. That's what we saw on Thursday. The easiest path for gold miners now is higher.
To be sure, chart patterns don't have to work out. There's an old saying on Wall Street: "Every sunken ship has a chart." Chart patterns are great when they work … until they don't work.
But put it together with the other charts I've shown you. Add in the fact that central banks are buying gold at a pace not seen in years. Add in the fact that gold miners are so cheap, it's now cheaper for big companies to buy ounces — by buying other companies — than explore for them.
Yeah, I'd say both gold and gold miners are going higher. Silver miners too! Oh, I'm bullish on silver. That's why I just recommended a new silver miner to my Wealth Supercycle subscribers on Friday.
You can check out Wealth Supercycle and get my precious metals picks. Or do your own due diligence, and the hard work, yourself. But the golden key is opening the door. Opportunity is unlocking right now. You don't want to miss it.
All the best,
Sean
STAY INFORMED! Receive our Weekly Recap of thought provoking articles, podcasts, and radio delivered to your inbox for FREE! Sign up here for the HoweStreet.com Weekly Recap.