October 12, 2018 | 5% Mortgage Rates…Slowing Markets!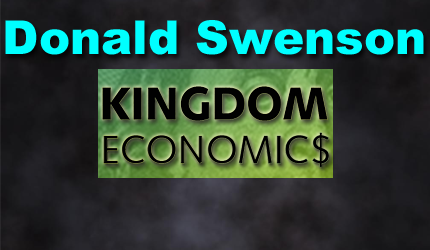 Donald B. Swenson: Born January 24, 1943, Roseau, Minnesota. Graduated H.S. 1961, Moorhead High, Minnesota. Graduated College 1968, Moorhead State University, Minnesota. Designated member of Appraisal Institute (MAI), 1974. Employed with Western Life Insurance Company, 1968 – 71; Iowa Securities Company, 1971 – 73; American Appraisal Company, 1974 – 81. Part-time teacher/valuation consultant/bartender, 1979 – 2008 (taught workshops at Waukesha County Technical Institute, Wi. and Madison Area Technical College, Wi.). Retired 2008 (part time teacher/blogger), AZ. Self educated economist/philosopher/theologian: http://kingdomecon.wordpress.com.
Average rates are now up to 5% for first time buyers in my area. Some 45% of Freddie Mac lending goes to first time buyers (according to Wall Street Journal). This is up from 30% in normal times. All this means that real estate will suffer big time in a few months. Applications will decline, home sales will slow, new permits will dry up. The beginning of 2019 is my estimate of when the 's…' hits the fan.
The real estate cycle is key to the overall business cycle IMO. As real estate goes 'so goes' the general economy (eventually). We could witness a few more months of side-ways action as many buyers do act at the last-minute to get into a home or condo. But by early 2019 we should witness a serious slow-down in our real estate sectors. Prices will need to drop to get the existing inventory occupied.
My area of the country is over-building at the present time. Subdivisions are going up and new developments appear monthly. I witness many builders using the marketing tool of building on 'Spec' and then hoping that buyers will arrive to buy their 'Spec' homes. The word in my area is 'move-in ready' homes. But as the market slows these 'move-in ready' homes will not sell at the current prices.
Values must decline in 2019 if builders are to sell their existing and growing inventories. But the awareness of a slow-down is missing among all the sales people as of today. I talked to a lady who sells homes here in the Tucson area. She admitted that rates are now up to 5% for many buyers but she sees no slow-down in buying. This mindset is typical of sales people, builders, and most investors. They can not discern a change in the prior trend until it happens in spades.
The big picture is that our business cycle is changing from BULL to BEAR. It changes subtly at first and few can discern the significance of the change. Our Fed and the global Central Banks may try to 'mask' this change with trading gimmicks for a time. But by 2019 (say March) I think most pundits will acknowledge that a cycle change has occurred. Interest rates and real estate buying is my key to discerning this change.
My sense is that some liquidity is drying up and borrowing is slowing in most markets around our planet. This means that inflation in asset prices will change to deflation at some point. The big picture is DEFLATION for 2019 and after. Today's money disappears and vanishes as equity values decline. This reduction in the quantity of cyber digits (our overall money supply) will change our markets to a deflationary environment at some point down the road.
Did you notice how quickly an Index market can decline? The 1300 point decline in our Dow Index (over two days) happens in minutes and the digits vanish and disappear. To offset this decline our Central Planners must add new liquidity to the market system. This is not happening at the moment. QE has mostly dried up and new borrowing is not increasing. All this implies a slow-down and eventually a deflationary environment.
The average price of a home in my area is $300,000. Mortgage payments (at 5%) mean that the monthly outlay is up some $300 and with taxes and insurance also going up this means an increase of around $350/month for an average home. First time buyers will find that these numbers can not be met (on average). As a prior underwriter of mortgages I know how affordability works. Affordability is now a serious problem for many buyers (those who need a mortgage to qualify for a purchase).
Keep watching the market in real-time and over the next 6 months for evidence that our business cycle has changed. I sense the change but few in my area agree with me. Most think that we will return to a BULL market for 2019 and after. Predicting the future is impossible (I agree) but my sense is that the evidence for a slow-down is everywhere. Mr. Trump is right in his perception that 'interest rates' are the problem. But will the Fed change course? I have my doubts. Think for yourself on all these issues!
STAY INFORMED! Receive our Weekly Recap of thought provoking articles, podcasts, and radio delivered to your inbox for FREE! Sign up here for the HoweStreet.com Weekly Recap.