September 28, 2018 | 'Until it Bursts'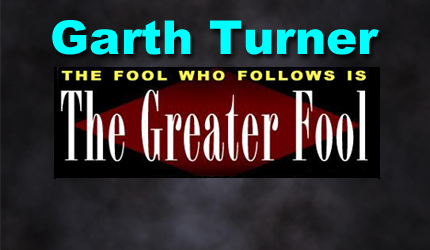 A best-selling Canadian author of 14 books on economic trends, real estate, the financial crisis, personal finance strategies, taxation and politics. Nationally-known speaker and lecturer on macroeconomics, the housing market and investment techniques. He is a licensed Investment Advisor with a fee-based, no-commission Toronto-based practice serving clients across Canada.
The good news? The economy's steamy. Our GDP just blew past estimates. Factories humming. Eighteen months of consecutive gains. Despite grief with oil.
The bad? Growth means inflation. And higher rates. Given what the Fed did this week, rest assured our guys will repeat. (Markets figure an October hike is 80% done.) Regardless of what the orange guy does about a trade deal. Your mortgage is going up. Real estate markets, not so much.
But this is a good thing, as far as financial giant UBS is concerned. At least in the GTA, YVR and the LM. Because compared to the rest of the world, people there still live in a bubble. And according to CMHC, many of them are engaged in destructive behaviour. Yes, even before Weed Day arrives.
First, consider this: The UBS Global Real Estate Index of poochedness says there are 5 housing bubbles on the planet. Little Canada owns two of them. On their index a score of 1.5 means a giant gasbag likely to collapse. Vancouver scores a 1.92. Toronto gets a 1.95. The most unaffordable place in the world is Hong Kong, at 2.03. (The population density of HK is 6690 people/km, by the way. Canada's density is 3.7/km.)
Says UBS: "tighter mortgage lending rates, rising interest rates or an economic downturn could turn the lights out on the party given the high valuations and strained affordability." The organization's definition of a bubble is interesting: "a substantial and sustained mispricing of an asset, the existence of which cannot be proved unless it bursts."
Okay, bubble. We get it. Rising rates or an economic downturn are the threats. Check. The interest rate thing is happening. The NAFTA crash (if Trump is correct) might bring a made-in-Washington recession to Canada. Both of these are well-known, fully documented and headline-making issues.
And what are Canadians doing?
For that, let's bring in the analysts at CMHC. This week they churned out a new report on what beavs in those markets are doing to prepare for an inevitable correction.
Ah… er, well, nothing actually. In fact, the polar opposite of what they should.
The fed agency says 3.1 million families now have HELOCs, or home equity lines of credit.
Is that a lot?
Well, there are (according to the last census) 8.5 million homeowners in the country, which means 36% have arranged to borrow against their houses. Two-thirds of them have drawn on those lines. In addition (according to StatsCan) 57% of homeowners have a mortgage. So, yeah, they're swimming in debt. Plus, HELOC borrowing is swelling as folks refinance higher-interest car loans, unsecured LOCs and credit cards. And don't forget about using the line to fund Junior's condo down payment – increasing exposure to one, single asset class.
Why would so many families have HELOCs?
Here is how CMHC sees it: "Borrowers can draw on a set amount at their discretion, similar to credit cards and other types of revolving credit. The variable interest rate on a HELOC tends to be lower than that on an unsecured loan. Additionally, the repayment schedule is highly flexible. These are also less risky and have substantially lower delinquency rates compared to other consumer credit products."
HELOCs appeal for their relatively low interest rates and (especially) because borrowers can make interest-only payments. In fact Ottawa says four in ten borrowers pay nothing back, letting their balances increase with interest payments that are essentially unmade.
And here's CMHC's warning:
"The use of these credit lines can lead to greater persistence of indebtedness and wealth erosion as homeowners tap their home equity. Higher debt service costs could become problematic for deeply indebted households during periods of rising interest rates. This type of debt can also become more problematic during periods when house prices decline. HELOC loan limits could be reduced, or the loan could even be called (since they are demand loans)."
Does it make sense to borrow on a HELOC at prime plus half a point (4.2%) to, say, invest in a balanced/diversified portfolio which may yield 7% over an extended period of time?
Sure, if you're in a high tax bracket and can write off 100% of the interest; if you're truly a long-term investor; if your portfolio is liquid and can be cashed if rates spike; if market volatility won't spook you into selling into dips; if this debt is a small part of your net worth; and if you have some professional help to mitigate volatility, reduce risk and control emotion.
But, unfortunately. The top HELOC usages are (1) home renovations, (2) debt consolidation and (3) buying more real estate. So, in bubble markets folks are increasing their risk by borrowing against a threatened asset class to get even more of it. Or they're taking high-interest, short-term debt and making it lower-interest, long-term debt backed by something that's inflated and far from liquid.
Now consider RBC's latest report:
Unaffordability is "off the charts" in Vancouver, Toronto and Victoria, with RBC's index (amount of income needed to own) at 88 percent, 76 percent and 65 percent respectively — the highest in records going back to the mid-1980s. The measure uses an aggregate of all housing categories, including single-family detached homes and condos.

While rising prices had been the culprit behind the loss of affordability between 2015 and 2017, mortgage-rate increases accounted for the entire rise in carrying costs over the past year.

"We expect the Bank of Canada to proceed with further rate hikes that will raise its overnight rate from 1.50 percent currently to 2.25 percent in the first half of 2019," the report said. "This will keep mortgage rates under upward pressure and boost ownership costs even more across Canada in the period ahead."
Tell me how this ends well.
STAY INFORMED! Receive our Weekly Recap of thought provoking articles, podcasts, and radio delivered to your inbox for FREE! Sign up here for the HoweStreet.com Weekly Recap.