September 25, 2018 | Trump's U.N. Speech – not realistic! Why?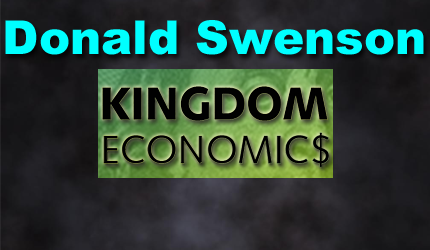 Donald B. Swenson: Born January 24, 1943, Roseau, Minnesota. Graduated H.S. 1961, Moorhead High, Minnesota. Graduated College 1968, Moorhead State University, Minnesota. Designated member of Appraisal Institute (MAI), 1974. Employed with Western Life Insurance Company, 1968 – 71; Iowa Securities Company, 1971 – 73; American Appraisal Company, 1974 – 81. Part-time teacher/valuation consultant/bartender, 1979 – 2008 (taught workshops at Waukesha County Technical Institute, Wi. and Madison Area Technical College, Wi.). Retired 2008 (part time teacher/blogger), AZ. Self educated economist/philosopher/theologian: http://kingdomecon.wordpress.com.
I just listened to Mr. Trump's U.N. speech to the General Assembly in New York. The speech was excellent (the basic rhetoric) but his understanding of reality does not seem valid or accurate. Let's cover some of the bullet points of his speech and then discuss why his view of reality is not valid for today's global society:
Trump wants to reject Globalism and promote U.S. Sovereignty.
He claims that the U.S. will not tell other countries how to live.
He says that the U.S. stands for self-government, rule of law, and individual freedom.
He says U.S. does not support the International Criminal Court as this court violates U.S. Sovereignty.
U.S. will increase sanctions on Iran.
U.S. will challenge China's trade policies as many are unfair to the U.S.
U.S. is now the largest producer of energy on the planet.
OPEC is ripping off the whole world with their oil price policies.
Germany's energy policy with Russia is unwise.
U.S. foreign aid polices being reviewed and friends only to get aid.
U.S. to pay not more than 25% of U.N. budget.
Socialism in Venezuela not wise. There will be new sanctions on Maduro.
Illegal immigration leads to drugs, crime, and poverty.
Progress is evident in India, Poland, and Saudi Arabia.
Iran's policies create terrorism and must be rejected by everyone.
U.N. has unlimited potential going forward.
U.S. military budget to increase to $716 billion so U.S. Sovereignty can continue.
U.S. not to participate in Globalization where international bodies rule over the world.
My Comments and my review of Trump's thinking as it applies to our world:
Let's think about how our world is currently governed. First of all, our economic system is now governed by Central Planning. Our Central Banks rule over all money and finance and control what happens economically (everywhere). Is this situation promoting national Sovereignty? I don't think so. We now have a Socialistic system within economics which Mr. Trump did not address. How can his vision of national sovereignty prevail when all of finance is governed by a few Central Banking institutions? We have Socialism now and Mr. Trump seems unaware of this reality.
Just look at this website for details on our own problems within finance and economics:  http://www.usdebtclock.org. This site reveals that we should focus on getting our own house in order and quit trying to rule the entire planet.
Mr. Trump's rejection of the ICC (International Criminal Court) is wise policy but does he also reject the IMF (International Monetary Fund), the BIS (Bank for International Settlements), the WTO (World Trade Organization), the CFR (Council of Foreign Relations), the WB (World Bank), the U.S. Fed, and all the military organizations which promote globalism (such as NATO and his new Star Wars militarization of space)? His selection of the ICC is valid but his lack of understanding on all the other global institutions reveals that his thinking is not valid or realistic.
Mr. Trump is promoting a mindset of the 'past' which is unrealistic for our global internet world of today. Putting sanctions on anyone who does not follow U.S. beliefs and goals (such as Iran, Russia, Turkey, Syria, Venezuela) is a foreign policy of globalism and control and this mindset does not let each country follow their own sovereign policies. So is Mr. Trump allowing each nation to be Sovereign over their own affairs or is he 'cherry picking' policies so that the U.S. can continue ruling our planet? His speech reveals that he has much to learn about how our current world operates.
Mr. Trump's mindset reveals his lack of understanding of our current global system. We now live (today) with a global internet society where everyone participates in our global problems (if not directly, then vicariously). Our world is global and some 7.6 billion people all participate in what is happening globally. Smart phones have created this new reality for our planet. To ignore this reality is unrealistic IMO. The idea that we can return to a world of yesteryear is not realistic or valid. That is my view. Think for yourself on all this!
STAY INFORMED! Receive our Weekly Recap of thought provoking articles, podcasts, and radio delivered to your inbox for FREE! Sign up here for the HoweStreet.com Weekly Recap.