September 15, 2018 | Trading Desk Notes – Sept 15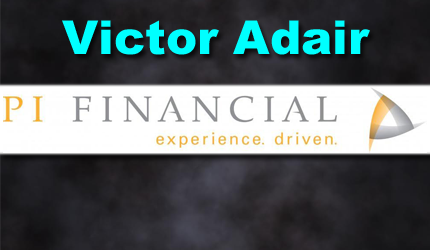 Senior Vice President and Derivatives Portfolio Manager. Victor began trading financial markets over 45 years ago and has held a number of senior executive positions during his career as a commodity and stockbroker. Over the years he has provided considerable market analysis via radio and television and at financial conferences. His primary brokerage business is providing corporate accounts with risk management services using exchange traded derivatives. He actively trades currencies, interest rates, precious metals, stock indices and commodities for his own accounts.
Trade Wars with China: Bloomberg reported mid-day Friday that Trump had instructed aides to proceed with tariffs on about $200B more of Chinese products. Market reaction was surprisingly muted. US stocks fell back (a bit) and the US Dollar rallied (a bit) on the news. Trump's instructions seem to run counter to Mnuchin's comments earlier in the week that China and the US might enter talks to settle their differences. Mnuchin's comments had boosted stocks and weakened the USD.
US stock indices bounced back this week after last week's dip. The small business optimism index hit 50 year highs and U. Mich consumer sentiment index is at 14 year highs. It's just possible that the strong stock market and these indices are in a positive feedback loop. Goldman Sachs has forecast that American share buybacks will hit a record $1 Trillion this year…which would bring the post GFC share buyback total to ~$4 Trillion…a sum greater than the increase in the Fed's balance sheet during that same period. The "supply" of shares in the S+P 500 index has shrunk to an 18 year low as a result of the buybacks.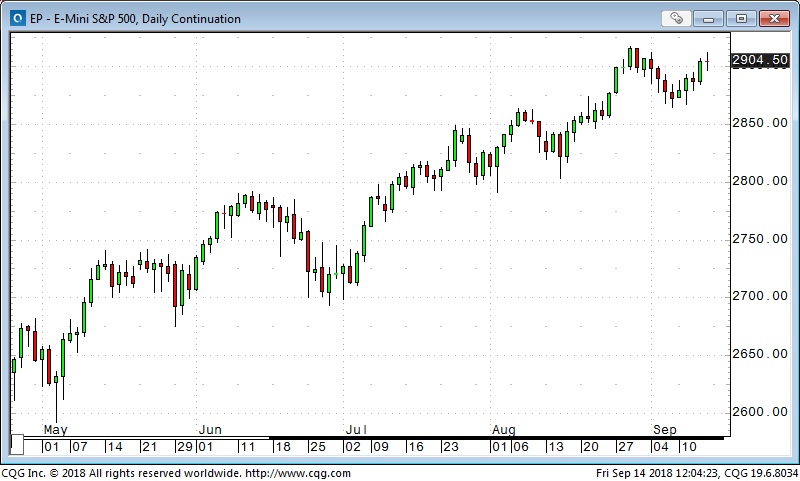 Trade wars/rising US Dollar have caused two major divergences:
US stock market indices have been rising relative to stock market indices in the Rest Of the World (ROW) since April…which is when the US Dollar started to rally against most currencies…and when "Trade Wars" started to heat up. It's like there's been 2 different markets: 1) The US indices, with ~30% of total market cap, are near All Time High, while 2) the ROW indices, with ~70% of total market cap are down about 15% from their January highs, with Emerging Markets (EM) down the most.
The US Dollar has been rising against most currencies since April but here too there have been 2 different markets, 1) weak EM currencies such as Turkey, Argentina, South Africa, Indonesia, Brazil, India…which have fallen sharply against the USD and 2) Developed Market currencies such as the G10 countries which are down but are down much less than EM currencies.
Where's the trade?
One of my central market views the past few months has been that "politics" has replaced "central bank policy" as the main market driver (thank you Chris Wood, CLSA). Trade Wars have been a major "political" factor. The up-coming US mid-term elections are a major "political" event. Trump's popularity seems to be slipping and polls are indicating that the Democrats will win control of the House. Trump wants a lower US Dollar. Will Trump try to settle the Trade Wars before the mid-term elections…claiming a "Big Win" for America? I don't know…but if there was a "lessening" of Trade War tensions then the above "divergences" might "converge."
"Convergence" trade ideas: 1) short the DJIA (the weakest of the major US indices…it didn't take out its January highs) and buy the Euro Stoxx Index or buy the Emerging Markets ETF, 2) buy other currencies against the US Dollar, 3) short the USDX, 4) buy gold (it's down ~$200 from its April levels on the strength of the USD and is truly "unloved," 5) Buy AUDCAD which is around an 8 year low (Australia is seen as more tied to Asia while Canada is, despite Nafta concerns, tied to the USA so CAD has risen about 9% relative to AUD since March 2018.)
STAY INFORMED! Receive our Weekly Recap of thought provoking articles, podcasts, and radio delivered to your inbox for FREE! Sign up here for the HoweStreet.com Weekly Recap.