September 4, 2018 | The Spoiler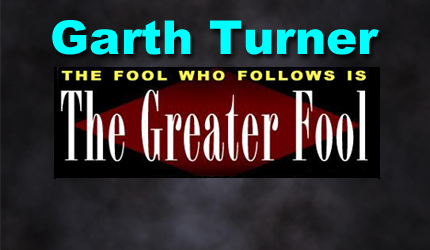 A best-selling Canadian author of 14 books on economic trends, real estate, the financial crisis, personal finance strategies, taxation and politics. Nationally-known speaker and lecturer on macroeconomics, the housing market and investment techniques. He is a licensed Investment Advisor with a fee-based, no-commission Toronto-based practice serving clients across Canada.
In 1988, when most blog readers were laying rubber in their Huggies, I was elected as a federal Progressive Conservative MP. It was an upset, of course. I was a maverick. Beat out a big party insider. Had a beard, for God's sake.
Anyway, my plurality of votes was the largest in Ontario. The prime minister was naturally suspicious, but Mulroney was a tolerant guy, and gave me lots of rope. Over the next four years I did my thing, and held over 100 Town Hall meeting across the sprawling rising to ensure everybody was heard (blogs weren't yet mainstream). Local Liberals were despondent. At their annual meeting, pre-election, nobody would stand as a candidate against me. "Hey, I'll do it, as a favour" said an ancient, ex-provincial MPP from the back of the room (as he told me later).
He was acclaimed. It was a suicide mission.
And then came Preston Manning. The Reform Party attracted the hard-right, anti-deficit, anti-immigration, Triple-E Senate, direct democracy conservatives away from the moderates. The support was never enough to elect members in Ontario (my riding included), but it was sure enough to split the vote. The downfall of the PCs (now led by Kim Campbell, with me as a minister) was epic. When the smoke cleared there were but two seats left of the former ruling party. Mine wasn't one of them. In terms of votes nationally, I came third. Close. No cigar.
The next eight years went to the Liberals. Reform fizzled back into oblivion. Conservatives were zeroes until they re-united. (In 2005 I re-entered Parliament. Big mistake.)
Politics is mathematics. With a first-past-the-post system, we elect majorities with a minority of voters. Splitting support between the right or left yields results most people never actually wanted.  It makes it almost impossible for some parties (like the Greens) to gain representation. And because Canadians more often vote against the bums in power than for the new bums, swings can be extreme. Look what happened in Alberta, BC or Ontario lately.
Anyway, enter Max.
After losing the leadership of the Conservatives last year, Quebec MP, former Cabinet minister and right-leaning libertarian dude Max Bernier has been a pain in the tailfeathers of young Andrew Scheer, who did win. He wants fewer immigrants, flat tax rates, looser gun control, sharply less government, no supply management, a private post office, no capital gains tax, no carbon tax, chops in foreign aid and the feds out of health care.
Bernier represents a Canadian version of the populism which has bubbled up globally wherever middle class voters feel screwed over by modern times. The enemy is big government, globalized markets, porous borders and over-regulation. Sound familiar? It should. Such sentiment helped elect Trump, wrench Britain out of the EU, defeat the TPP, gut the Paris Accord on climate change and brew turmoil across Europe, including Germany, France and Italy.
Where Max may differ (and I know the man) is in his attitude towards trade. He is an utterly no-barrier guy, a free-trader, free-enterpriser who refused to kowtow to the cow industry in his native Quebec. That stance against supply management cost him the leadership, as the dairy guys rallied around Scheer, despite his western roots.
As you know, Bernier bolted from the Cons at a moment carefully designed to cause the greatest amount of damage – as the annual party conflab opened, this one in Halifax. He announced his departure, plus plans to start a new political party which would contest every riding in the election next autumn. In response, the leader was apoplectic. Justin Trudeau, when asked his reaction, merely smirked.
Now, a few weeks later, where are we?
In a word, if you are young Andrew, pooched. While 70% of Canadians would not consider supporting Mad Max, according to a new Nik Nanos poll, 17% would and another 12% are willing to be convinced. Of course this doesn't translate directly into votes, and it's always easier to lie to a pollster than actually do something, but seventeen per cent is humungous. Not enough to win many (if any) MPs, but certainly enough to elect a slew of Liberals in ridings where Cons today are competitive.
Remember, it's all about math, not ideology.
Said pollster Nanos in releasing the results: "The narrative that the Conservatives are divided, that there is an individual who was almost the leader of the Conservative Party of Canada who has walked away very stridently because of his belief that the party has lost its way, is probably more damaging to the Conservative Party than the actual number of votes that he would get."
So, Max understands what he's doing. Part ambition, part ideology, part revenge. He may attract those who love none-of-the-above, who seek a maple-coated Trump, who think government is the enemy or just want to see fewer immigrants. But if the next year brings more support, 2019 will be the one and only time Mr. Scheer runs to be prime minister.
STAY INFORMED! Receive our Weekly Recap of thought provoking articles, podcasts, and radio delivered to your inbox for FREE! Sign up here for the HoweStreet.com Weekly Recap.