September 27, 2018 | The Mother Lode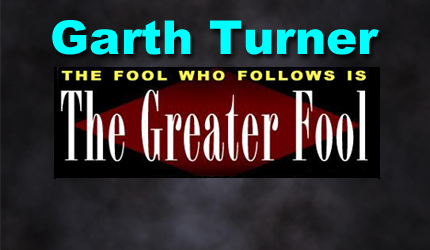 A best-selling Canadian author of 14 books on economic trends, real estate, the financial crisis, personal finance strategies, taxation and politics. Nationally-known speaker and lecturer on macroeconomics, the housing market and investment techniques. He is a licensed Investment Advisor with a fee-based, no-commission Toronto-based practice serving clients across Canada.
This week the high-end house floggers at Sotheby's said the GTA luxury market was rocking. (Vancouver's is crashing.) Meanwhile Re/Max's latest 'market report' claims everything's peachy. Sales up, listings reasonable, prices stable. The realtors among us insist the correction is over, before it has actually begun.
This is akin to yesterday's tale of IMBY, the $1-per-share, app-based, blockchain-loving platform luring in the furry, tattooed Instagram cohort with claims of a return-on-investment of an spectacular 35%. Just as the threats to Canadian residential real estate gather speed, the marketing ratchets up. Too bad, icebergs ahead.
First, the Fed. US rates swelled again Wednesday for the eighth time. What was 0% is now 2.25% – a Herculean jump. But the latest quarter-point rise is coming with baggage. The American central bankers made it clear in their comments more increases lie ahead. Another in December. Two more in the Spring. And it won't end there.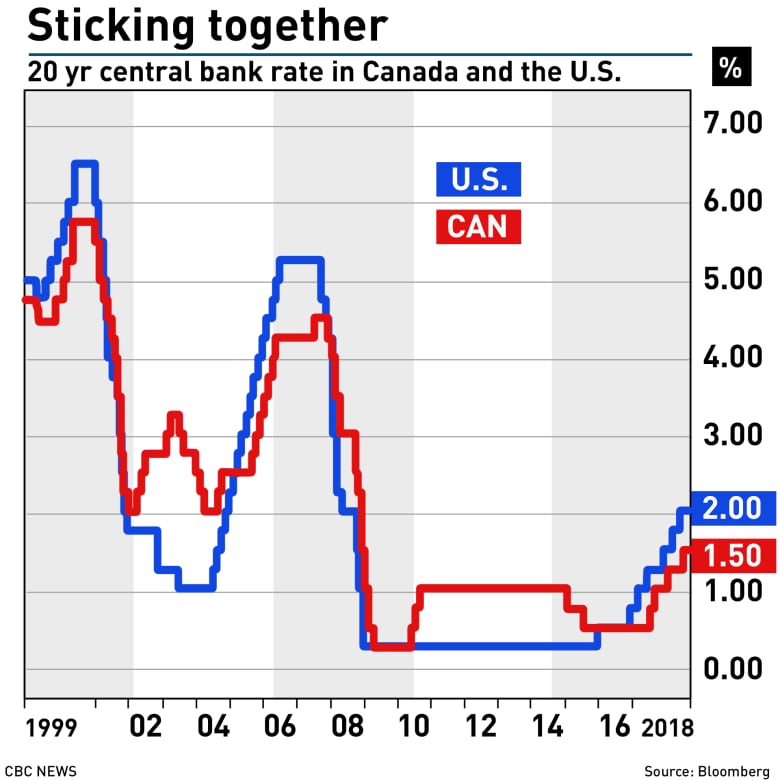 "This is a pretty good moment for the U.S. economy," was the way Fed boss Jerome Powell put it. Translation: we're not listening to the  orange guy moaning about rising rates. The economy is pumping and so long as it happens, monetary policy will tighten. So by making credit more expensive, the bankers are trying to contain growth, inflation, wages, prices.
But Trump wants the opposite. He will continue to push an America-first agenda designed to maximize expansion, hiring, spending and the national GDP. Normally markets would start to worry a little after 8 or 9 rate increases that a recession is possible. But with Trump in the cockpit, engines at full throttle, flaps up, the next recession is a long ways off. When we get there the Feds fund could be well beyond what is considered "neutral."
In Canada, well, just wait. North American bond markets listen to the same master and usually move in lockstep. The Bank of Canada follows the Fed, nine times out of ten (see the chart). If we don't raise rates the dollar croaks, creating more trade tensions as our exports plunge in price.
So here's the second problem besides mortgage rates which are likely to pop a lot higher. Jobs. In yesterday's rant from the podium, Trump said some shocking things. Listen…
Have you ever heard an American president say he refused to meet a prime minister? Nah, never happened before. Plus Trump stated "we don't like" Chrystia Freeland (our chief negotiator), that Canada is not "playing fair" and, "we're thinking about taxing cars coming in from Canada…that's the mother lode."
Shortly afterwards T2 commented that, yeah, okay, Canada might not be in the USM agreement – and the dollar stumbled.
Well, put this together. US protectionism helps stoke domestic American growth, pumping rates. Our central bankers have limited room to move and follow suit, albeit reluctantly. Meanwhile NAFTA is kaput, Trump nukes southern Ontario and 130,000 car jobs are on thin ice. This is not idle conjecture. It's happening. The combination of higher rates, less employment and a pissy president of our largest trading partner is not conducive to bubbly house prices. Just the opposite. Sorry, Re/Max, Sotheby's and app boys. Facts.
Now, all this could change.
Chrystia could bully the yanks into a deal. Trump could be spanked in the mid-terms. Or impeached. The new lefty Mexican prez could nix USM. The Fed could cower and roll back rates. Trudeau could show some spine and storm Washington. We could embargo sirop d'erable and recall Celine Dion.
Or, current events could unfold.
I'll leave you to decide.
STAY INFORMED! Receive our Weekly Recap of thought provoking articles, podcasts, and radio delivered to your inbox for FREE! Sign up here for the HoweStreet.com Weekly Recap.