September 6, 2018 | The Fake News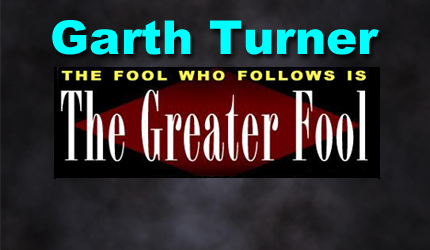 A best-selling Canadian author of 14 books on economic trends, real estate, the financial crisis, personal finance strategies, taxation and politics. Nationally-known speaker and lecturer on macroeconomics, the housing market and investment techniques. He is a licensed Investment Advisor with a fee-based, no-commission Toronto-based practice serving clients across Canada.
Yesterday this pathetic blog did an excellent job of lighting afire the underwear of the house horny. As you may recall, the most recent stats from Vancouver, the Fraser Valley, Victoria and Calgary were trotted out, showing buyers are in a bad mood and sellers are shedding equity.
A potent mixture of rising mortgage rates, trade uncertainty, the mortgage stress test, idiotic new anti-house taxes, tighter lending and stupid prices is taking hold. In many markets this negates economic growth, rising inflation, immigration and an army of house-lusty moisters. So the thesis remains. After almost a decade of real estate excess, over-buying and galloping debt, we now face years of declines. Yes, even in the mighty GTA and the Kingdom of 6ix.
So a few listings gathered by one real estate brokerage were published to prove there's downward momentum gathering. Sale prices vastly less than the asks. Sellers happy to get out. And right on cue, the real estate bulls said the examples were cherry-picked and meaningless. Thursday morning when the local real estate cartel released its monthly report, they were ecstatic. Market, 1. Garth, 0.
Toronto Real Estate Board President Garry Bhaura announced sales and price increases on a year-over-year basis in August.  Greater Toronto Area REALTORS® reported 6,839 sales through TREB's MLS® System in August 2018 – an 8.5 per cent increase compared to August 2017. Both the average selling price, at $765,270, and the MLS® Home Price Index Composite Benchmark for August 2018 were up compared to the same month in 2017, by 4.7 per cent and 1.5 per cent respectively.
In fact, the head realtor of the largest board in North America stated clearly the market is strong, moving ahead, and my head should be on a stick (in essence).
"It is encouraging to see a continued resurgence in the demand for ownership housing.  Many home buyers who had initially moved to the sidelines due to the Ontario Fair Housing Plan and new mortgage lending guidelines have renewed their search for a home and are getting deals done much more so than last year.  In a region where the economy remains strong and the population continues to grow, ownership housing remains a solid long-term investment," said Mr. Bhaura.
But wait. Something's off here.
Catching a whiff of hyperbole, exaggeration and misrepresentation, GreaterFool's extensive research and canine tracking department sprang into action to see if there really is evidence of "a continued resurgence in the demand for ownership of housing." After all, when a public official says something like that, most people would think it true. Certainly the easily-confused souls who are attracted to this site.
However, is it?
Turns out this is not the case, and the industry's own published statistics suggest the market is, at best, flatlining and more likely in a slow melt. As predicted.
Look, for example, at the gold standard – a detached house in the urban 416 area. Last month the average price was $1,244,275. No, it was not up from recent months and shows absolutely no evidence of a 'resurgence.' This was a decline of $100,000 from the previous month. In fact, it was a drop of over $180,000, or 12.7%, from May. More significantly, it was the second-lowest value for a detached house in two years. The decline from the spring of 2017 is now 21.2%.
So, if a detached 416 house was a stock, it would officially be in a bear market.
Remember that the average was almost $1.6 million in April of 2017, and since then prices have gone sideways, and now down. Some renaissance.
How about overall GTA sales? This is a massive market of about six million people, with more than 90,000 real estate transactions annually. So is it true that "many home buyers who had initially moved to the sidelines due to the Ontario Fair Housing Plan and new mortgage lending guidelines have renewed their search for a home and are getting deals done much more so than last year?"
Nope. More fake news.
Sales last month were 6,839. In June they were over 8,000. In fact this is the worst sales performance since the depths of winter, last January. The pace of deals has declined 15% since June and has plunged 41% from last spring. In early 2017, in contrast, almost 12,000 sales a month took place.
These numbers, to repeat, are from the realtors themselves – taken from their polished, well-spun, massaged public reports. Go look on your own. They show a massive market losing momentum, deflating slowly, misrepresented to consumers by self-centred salesguys desperate to bring back glory days.
Believe them if you want. But don't blame me for stating the obvious. They lie.
STAY INFORMED! Receive our Weekly Recap of thought provoking articles, podcasts, and radio delivered to your inbox for FREE! Sign up here for the HoweStreet.com Weekly Recap.