September 6, 2018 | Silver, Emerging Currencies, Algorithms!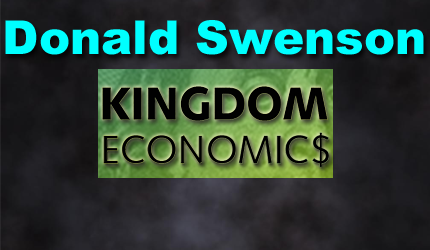 Donald B. Swenson: Born January 24, 1943, Roseau, Minnesota. Graduated H.S. 1961, Moorhead High, Minnesota. Graduated College 1968, Moorhead State University, Minnesota. Designated member of Appraisal Institute (MAI), 1974. Employed with Western Life Insurance Company, 1968 – 71; Iowa Securities Company, 1971 – 73; American Appraisal Company, 1974 – 81. Part-time teacher/valuation consultant/bartender, 1979 – 2008 (taught workshops at Waukesha County Technical Institute, Wi. and Madison Area Technical College, Wi.). Retired 2008 (part time teacher/blogger), AZ. Self educated economist/philosopher/theologian: http://kingdomecon.wordpress.com.
Today's Wall Street Journal had an interesting article on silver, entitled: "Silver's Skid Hints at Economic Weakness". The writer maintains that the price of silver is determined by market forces and that the silver price is weak because investors desire the strong dollar. Is this a valid interpretation of what has happened to the silver price?
Silver is off some 17.2% for the year and it has declined some 6.9% in August alone. Today, the spot price is $14.19/ounce. The price is held at this low-level, not by market forces, but by a trading 'algorithm'. If real market forces governed the spot price then silver would be multiples of its current price. That is my assessment.
I have watched the spot price of silver for some 10 years. I invest in silver on a regular basis. Since its high price of $48 in 2011, silver has been in a general decline and I maintain that this decline is intentional. The decline is engineered by a trading 'algorithm' which is administered by our centralized policy makers. The same goes for the gold price.
Since 2008, trading 'algorithms' set most of our commodity prices. Why? Because our markets are electronic. Trading 'algorithms' are used to buy, sell, and trade most every commodity on our planet. Prices are determined by these trading 'algorithms'. Real human traders are unnecessary for setting our spot prices today. Robots and automated trading set our prices. Where is the Open Out-Cry trading of yesterday?
Real human traders used to set our spot prices in a trading pit. This has changed since the advent of electronic trading (mostly since 2008). Electronic trading uses trading 'algorithms' (sourced with trading 'codes') which operate 'automatically'. This is what happens in our markets today. Silver is NOT traded on the open market as a commodity (among live traders). It is traded using 'algorithms', source codes, electronically, and in real-time. Speed of light computers do all the trading today!
Silver can now be manipulated daily and the spot price can be controlled by trading 'algorithms' (via an official policy which determines the price). Mr. Ira Iosebashvili, writer of the WSJ article, needs to update his knowledge of our markets. We live today with electronic markets, algorithms, source codes, automated trading, robots, and rigged markets. Silver is a prime EXAMPLE. This price is controlled by an 'algorithm(s)'. Wake-up to our electronic markets and automated trading!
What is happening with our emerging market currencies today? Have you noticed the many declines which are happening to these weak currencies? Emerging market digital currencies are declining relative of the U.S. dollar daily. Why? I would maintain that the change in policy by our Fed is the culprit. Our Fed is now increasing the dollar 'interest rates' globally. This is changing the 'value' of all these weak digital currencies. It's cause and effect!
Turkey, Indonesia, Venezuela, Iran, Russia, Argentina, and even Sweden are finding that their digital currencies are declining relative to our dollar. Emerging market DEBT is now being exposed as vulnerable to huge declines in value as a result of this situation. The WSJ article on the Indonesian Rupiah reveals that this currency is now trading at levels last seen during the Asian financial crisis of 1998.
All weak emerging market currencies are likely to experience huge declines if our Fed continues with their policies of higher dollar 'interest rates'. This is cause and effect in action. Our markets are now changing rapidly and this could accelerate as these weak currencies discover that they can not compete with our dollar. The American dollar is KING for now. But all digital currencies will eventually decline to zero. Why?
Digital currencies are 'imaginary' units. Think of a digital dollar living within cyberspace. What is it? Where is it? What substance does it contain? A digital dollar is a 'unit' of nothing, located nowhere, and lives in our imagination. I call it a unit of my 'consciousness'. Consciousness has no physical substance. Think for yourself! We live within our consciousness (financially) but unaware of this reality.
I am: https://kingdomecon.wordpress.com. Check out my donate button if you desire to promote my status as a market pundit. I can use your help! Enjoy!
STAY INFORMED! Receive our Weekly Recap of thought provoking articles, podcasts, and radio delivered to your inbox for FREE! Sign up here for the HoweStreet.com Weekly Recap.