September 8, 2018 | JPMorgan: Now Long Silver in the COMEX Futures Market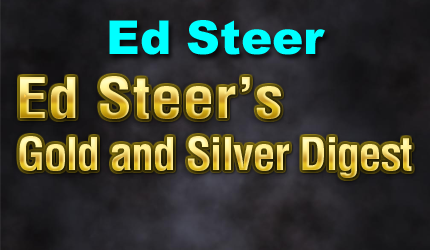 "Ed wrote the daily precious metal commentary for Casey Research starting in 2008. His stand-alone column became their most highly-rated blog [either free or paid] almost from the outset—and remained that way until he started his own subscription-based website in June of 2015."
YESTERDAY in GOLD, SILVER, PLATINUM and PALLADIUM
The gold price chopped unsteadily sideways around the $1,200 spot mark through all of Far East and most of London trading on their respective Friday's.  The price got smacked a bit at the 8:30 jobs report in New York, but began to head higher about 9:01 a.m. EDT.  That rally was allowed to last for about forty minutes before 'da boyz' showed up — and they set the low tick of the day about fifteen minutes before the COMEX close.  It crawled a few dollars higher over the next hour — and then didn't do much until trading ended at 5:00 p.m. in New York.
The high and low ticks certainly aren't worth looking up.
Gold was closed in New York on Friday at $1,196.20 spot, down $3.30 on the day.  Net volume was  pretty heavy once again at around 260,500 contracts — and roll-over/switch volume was just about 11,700 contracts on top of that.
Silver's price pattern was much more 'volatile' yesterday.  It was up a nickel or so in early morning trading in the Far East on their Friday morning, but then was kicked downstairs [like gold and platinum] shortly after 11 a.m. CST.  It chopped very unsteadily higher from there once trading began in London and, like gold, was sold lower on the 8:30 a.m. EDT jobs report.  Also like gold, it rallied sharply — and obviously had to be restrained, with the high tick of the day, such as it was, coming around 11:30 a.m. in New York.  It was sold down to below unchanged on the day by the COMEX close — and crawled a bit higher and back into the green by the time trading ended at 5:00 p.m. EDT.
The low and high ticks are barely worth looking up, but the criminal CME Group recorded them as $14.105 and $14.29 in the December contract.
Silver was closed yesterday at $14.165 spot, up 3.5 cents from Thursday.  Net volume was pretty heavy once again at a hair over 74,000 contracts — and there was close to 3,250 contracts worth of roll-over/switch volume on top of that, in this precious metal.
Platinum traded pretty flat in Far East trading on their Friday, with the exception of the bump down shortly after 11 a.m. CST — and at 2 p.m. over there, it began to rally weakly to its high of the day, which came around 10:45 a.m. CEST in Zurich trading.  It was all down hill from that point until 9 a.m. in New York — and after that, it was forced to follow a similar price path as both silver and gold.  Platinum was closed on Friday at $780 spot, down 11 dollars on the day.
Palladium traded flat in the Far East on Friday — and then there was a big down/up spike shortly before 10 a.m. in Zurich, which may or may not have been a data feed error.  It rallied very unsteadily from there — and looked to be running into a decent amount of price resistance on its way to its $986 spot high tick that came at the Zurich close.  It wasn't allowed to get a penny above that price — and 'da boyz' hammered it lower starting shortly after 1 p.m. in New York trading — and came close to getting it back at unchanged on the day.  That would have been a considerable feat considering it was up $15 at its high.  It rallied a few dollars off that low almost immediately — and then didn't do much for the remainder of the Friday session.  Palladium was closed at $976 spot, up 5 bucks from Thursday.
The dollar index closed very late on Thursday afternoon in New York at 95.03 — and proceeded to chop quietly sideways the moment that trading began at 6:00 p.m. EDT on Thursday evening.  It began to drift lower starting around noon China Standard Time on their Friday — and the 94.87 low tick was set sometime during morning trading in London.  It began to edge higher starting around 11:45 a.m. BST — and then blasted higher on the jobs report in New York.  'Gentle hands' managed to get it up to its 95.46 high tick by the 1:30 p.m. EDT COMEX close — and it proceeded to drift a few basis points lower until it was sold down a bit more at the end of the trading day.  The dollar index finished the Friday session at 95.34 — up 31 basis points from Thursday.
And here's the 6-month U.S. dollar index chart — and absolutely nothing should be read into it, as it's just as managed as the rest of the financial markets these day.
The gold shares gapped down a bit over a percent at the open in New York on Friday morning — and rallied to their respective highs, which came a minute or so before the London close…11 a.m. EDT.  They sold off from there — and back into negative territory until about 1:20 p.m. in New York trading — and then crawled quietly but unsteadily higher from there until trading ended at 4:00 p.m. EDT.  The HUI closed up 0.64 percent.
Here are the usual charts from Nick that show what's been happening for the week, month-to-date — and year-to-date.  The first one shows the changes in gold, silver, platinum and palladium for the past trading week, in both percent and dollar and cents terms, as of their Friday closes in New York – along with the changes in the HUI and the Silver 7 Index.
The month-to-date chart and weekly charts are the same for this week only, so I won't bother posting it.
And with yet another stunning COT Report in silver and gold yesterday, the above seas of red is what major price bottoms are made of.  And I as I said last week [and the week before — and the week before that] in this space…they're ugly…with this last swing for the fences by JPMorgan being the worst I've very seen in the eighteen years that I've been watching the precious metal market.
---
For the first week of September deliveries, there have been 526 gold contracts issued and stopped so far — and that number in silver is already up to 5,601 contracts.
---
Month-to-date…one week…the mint has sold 10,500 troy ounces of gold eagles — 6,500 one-ounce 24K gold buffaloes — and 1,037,500 silver eagles.  This has been the best start to any month since January.  I'd guess that this would be the final call for purchasing precious metals at these ridiculously low prices.
The U.S. Mint also came out with a note yesterday saying that they were temporarily out of stock of the 24K one-ounce gold buffaloes as well — and it only took sales of 6,500 coins to do it.  They certainly don't carry much inventory.  I thank reader Mark Barooshian for pointing that out.
---
They arrived at that number by selling 6,117 long contracts, but they reduced their short position by a further 19,313 contracts — and it's the difference between those two numbers that represents their change for the reporting week.
The internal changes of the Big 8 traders is no longer relevant — and has been that way for many weeks, as there are so many Managed Money Traders now in that category, that the numbers are meaningless…but here they are anyway if you're keeping score.  Ted said that the Big 4 traders reduced their short position by approximately 800 contracts — and the '5 through 8' large traders decreased their short position by about 300 contracts as well.  The really big heavy lifting was done Ted's raptors, the 38-odd small Commercial traders other that the Big 8, as they increased their long position by a chunky 12,100 contracts, which is another new record I'm sure.
---
They arrived at that number by adding 3,151 long contracts, plus they covered an additional 11,636 short contracts — and it's the sum of those two numbers that represents their change for the reporting week.
Like for silver, the positions of the Big 8 commercial traders are totally meaningless, as they are now completely contaminated by the presence of many Managed Money traders, but here are the numbers anyway.  Ted said the Big 4 traders didn't do much of anything during the reporting week, as their change was less than 100 contracts, which isn't even a rounding error.   The '5 through 8' large traders decreased their short position by about 8,100 contracts — and Ted's raptors, the 46-odd small commercial traders other than the Big 8, added approximately 6,700 long contracts.
As I mentioned briefly a few paragraphs ago, their is no longer a Commercial net short position in gold, as they are now net long by a tiny amount…6,525 contracts…or 652,500 troy ounces of paper gold.  Ted said a few weeks ago that JPMorgan had covered its short position in gold — and after the last couple of COT Reports, is probably long the COMEX futures market in gold by a good bit now.  That doesn't include the 20 million troy ounces of physical gold that Ted says they own.
A double cross in silver — and in gold as well.  These crooks at JPMorgan are masters at their craft — and you have to give them credit for that.  I just hope that the CFTC's new enforcement director, Jamie McDonald, is getting his cut — and he should be getting a big one for covering for them, plus lying about it all with a straight face.
---
For the current reporting week, the Big 4 traders are short 115 days of world silver production-and the '5 through 8' large traders are short an additional 64 days of world silver production-for a total of 179 days, which is 6 months of world silver production, or about 417.8 million troy ounces of paper silver held short by the Big 8.  [In the COT Report last week, the Big 8 were short 181 days of world silver production.]
In the COT Report above, the Commercial net long position in silver was reported as 73.1 million troy ounces.  As mentioned in the previous paragraph, the short position of the Big 8 traders [almost all Managed Money traders now] is 417.8 million troy ounces.  The long position of the Managed Money traders is now up to 417.8 plus 73.1 equals 490.9 million troy ounces.
The Big 4 traders are short about 29 days of world silver production each.
The four traders in the '5 through 8' category are short 64 days of world silver production in total…which is unchanged from last week's COT Report.  They're short, on average, 16 days of world silver production each.
As you've already heard, JPMorgan is no longer part of the Big 8…or short silver at all — and is now net long the COMEX futures market.  The remaining Big 8 traders…four U.S. banks, plus Canada's Scotiabank, plus many others, mostly Managed Money traders…have been left holding the short bag.
The set up for Ted's double cross scenario by JPMorgan of the other commercial/Managed Money traders in all four precious metals is more extreme now than he ever could have imagined in his wildest dreams, so it's even more 'locked and loaded' now after three blockbuster COT Reports in a row for silver…and gold.
And as I keep saying — and will keep on saying…all we're waiting for now is CME CEO Terry Duffy's "event" to set it off.  And after all their efforts, it's virtually inconceivable that JPMorgan will return as short seller of last resort.  But if they do, it will be at prices that we can only dream about at the moment.
---
Also in gold, 28 non-U.S. banks are net short only 7,310 COMEX gold contracts, which is barely a rounding error per bank…261 contracts each.  In the August BPR, 28 non-U.S. banks were net short 24,895 COMEX contracts, so the month-over-month decline is a very chunky 17,585 contracts.  I suspect that there's at least one large non-U.S. bank in this group [probably Scotiabank] that might holds all of that amount, plus more, all by itself…as the 7,310 contracts is a net number — and the remaining contracts…which are already an immaterial amount…divided up between the remaining 27 non-U.S. banks, would be even more immaterial.
The world's banks, with the exception of the remaining four U.S. banks, plus most likely Scotiabank, are basically gone out of the gold market.  They, along with the Managed Money traders, have been left holding the bulk of the remaining short positions in gold…courtesy of JPMorgan.
It's a good bet that JPMorgan has not only covered its short position in platinum, but it is now position entirely on the long side as well, just like they are in both gold and silver.
Also in platinum, 17 non-U.S. banks are net short 1,192 COMEX contracts, which is down 58.3 percent from the 2,861 contracts they were net short in the August BPR.
Also in palladium, 12 non-U.S. banks are net short 1,847 COMEX contracts-which is up a bit from the 1,666 COMEX contracts that these 12 non-U.S. banks were short in the August BPR.  When you divide up the short positions of these non-U.S. banks more or less equally, they're also immaterial…especially when you compare them to the positions held by the 4 U.S. banks.  But having said that, the short positions in palladium held by the U.S. banks are pretty much immaterial as well.
However, it's obvious from the increase that the banks having been adding to their short positions during this continuing rally in palladium, most likely to prevent it from running away to the upside, which is precisely what it would do if they weren't there to hold the price back.
But, having said all that, as of this Bank Participation Report, 16 banks [U.S. and foreign] are net short 29.3 percent of the entire COMEX open interest in palladium.  In August's BPR, the world's banks were net short 20.9 percent of total open interest, so there's been a noticeable increase in the concentrated short position of the banks in this precious metal.
It's apparent that the banks can move palladium prices around even with small amounts of trading, as they are a large part of total open interest in a very tiny and illiquid market at the best of times.
Along with today's Commitment of Traders Report, the above data in the September Bank Participation Report proves beyond all doubt that the world's bullion banks…principally JPMorgan…have been covering their short positions in all four precious metals at a furious pace for the last seven months.  That process has accelerated in the last two months…especially during the last two weeks — and for all intents and purposes [expect for the remaining short position in silver already discussed above] there are no material short positions held by any of the U.S. or non-U.S. banks in any precious metal.
We're somewhere far beyond Ted's "locked and loaded" scenario, depending on what adjective one cares to use.  'Explosively bullish' is the best I can do, but even that description doesn't do the current set-up justice.
All we're [still] waiting for is CME CEO Terry Duffy's "event" that will set it off.
I have a very decent number of stories for you today.
CRITICAL READS
The crisis was a predictable failure in inflationism. Sure, it's reasonable to blame the reckless behavior of Wall Street. But risk-taking, leveraging, speculation and chicanery were all incentivized by policy measures employed to inflate both asset prices and the general price level.
---
In August, the Federal Reserve was supposed to shed up to $24 billion in Treasury securities and up to $16 billion in Mortgage Backed Securities (MBS), for a total of $40 billion, according to its QE-unwind plan – or "balance sheet normalization." The QE unwind, which started in October 2017, is still in ramp-up mode, where the amounts increase each quarter (somewhat symmetrical to the QE declines during the "Taper"). The acceleration to the current pace occurred in July. So how did it go in August?
The Fed released its weekly balance sheet Thursday afternoon. Over the period from August 2 through September 5, the balance of Treasury securities declined by $23.7 billion to $2,313 billion, the lowest since March 26, 2014. Since the beginning of the QE-Unwind, the Fed has shed $152 billion in Treasuries:
The Fed is also shedding is pile of MBS. Under QE, the Fed bought residential MBS that were issued and guaranteed by Fannie Mae, Freddie Mac, and Ginnie Mae. Holders of residential MBS receive principal payments as the underlying mortgages are paid down or are paid off. At maturity, the remaining principal is paid off.  To keep the balance of MBS from declining after QE had ended, the New York Fed's Open Market Operations (OMO) kept buying MBS.
---
You'll recall that it turned America from a big importer of oil to a major exporter… and revived much of the heartland with big fracking projects in woebegone regions of Texas and North Dakota.
The shale oil boom was even credited with having scuttled the oil market, which dropped from a high of around $130 a barrel in mid-2008 to under $30 in late 2016, thanks to so much new supply.
But guess what? The whole boom was fake. It didn't add to wealth; it subtracted from it.
Accumulated losses over the last five years tote to more than $200 billion, with $36 billion lost in the Bakken shale fields in North Dakota alone.
The 60 biggest exploration and production firms are not generating enough cash from their operations to cover their operating and capital expenses. In aggregate, from mid-2012 to mid-2017, they had negative free cash flow of $9 billion per quarter.
These companies have survived because, despite the skeptics, plenty of people on Wall Street are willing to keep feeding them capital and taking their fees. From 2001 to 2012, Chesapeake Energy, a pioneering fracking firm, sold $16.4 billion of stock and $15.5 billion of debt, and paid Wall Street more than $1.1 billion in fees, according to Thomson Reuters Deals Intelligence. That's what was public. In less obvious ways, Chesapeake raised at least another $30 billion by selling assets and doing Enron-esque deals in which the company got what were, in effect, loans repaid with future sales of natural gas.
But Chesapeake bled cash. From 2002 to the end of 2012, Chesapeake never managed to report positive free cash flow, before asset sales.
---
Kelly and Mattis both denied making the comments.
A pedestrian piece of prose containing nothing about Trump one cannot read or hear daily in the media, the op-ed caused a sensation, but only because Times editors decided to give the disloyal and seditious Trump aide who wrote it immunity and cover to betray his or her president.
The transaction served the political objectives of both parties.
For what is afoot here is something America specializes in – regime change. Only the regime our establishment and media mean to change is the government of the United States. What is afoot is the overthrow of America's democratically elected head of state.
---
The worst drought in years in the western half of the United States has sparked hundreds of wildfires, has crippled thousands of farms, and has produced what could ultimately be the worst water crisis in modern American history.
As you will see below, Lake Powell and Lake Mead have both dropped to dangerously low levels, and officials are warning that we may soon be looking at a substantial shortfall which would require rationing.  Unfortunately, many in the eastern half of the country don't even realize that this is happening.  The mighty Colorado River once seemed to be virtually invulnerable, but now it doesn't even run all the way to the ocean any longer.  Demand for water is continually increasing as major cities in the Southwest continue to grow, and this is happening at a time when that entire region just keeps getting drier and drier.  To say that we are facing a "water crisis" would be a major understatement.
---
---
In a recent article, Paul Craig Roberts directly asked me a very important question. Here is the relevant part of this article (but please make sure to read the full article to understand where Paul Craig Roberts is coming from and why he is raising this absolutely crucial issue):
 

So, the questions for Andrei Martyanov, The Saker, and for Putin and the Russian government is: How long does turning your other cheek work? Do you turn your other cheek so long as to allow your opponent to neutralize your advantage in a confrontation? Do you turn your other cheek so long that you lose the support of the patriotic population for your failure to defend the country's honor? Do you turn your other cheek so long that you are eventually forced into war or submission? Do you turn your other cheek so long that the result is nuclear war?

 

I think that Martyanov and The Saker agree that my question is a valid one.
First let me immediately state that I do find this question valid, crucial even, and that is a question which I have been struggling with for several years now and that still keeps me up at night. I think that this question ought to be raised more often, especially by those who care for peace and oppose imperialism in all its forms and I am grateful to Paul Craig Roberts for raising it.
---
This even though one of the Pentagon's main justifications for being on Syrian soil in the first place – the destruction of ISIS – has already essentially happened as the terror group now holds no significant territory and has been driven completely underground.
---
During the night hours Friday protesters have reportedly stormed an oil facility and are holding two staff workers hostage. The incident is unfolding at the West Qurna 2 oilfield, which is run by the Russian multinational energy company Lukoil.
The precise identities of the hostages or the particular group holding them is still unknown at this point. Lukoil is a Moscow-based corporation.
Iraqi authorities in Basra have declared a city-wide curfew as well as a state of emergency.
---
The rial has this week plummeted 140 percent since the United States withdrew from the Iran nuclear deal a mere four months ago in May.
Local and international reports indicate that on Wednesday the national currency began trading at over 150,000 rials to $1USD in the currency exchange shops of Tehran.
---
Gazprom's Power of Siberia natural gas pipeline from Russia to China is 93 percent complete, the Russian gas giant said in an update on its major projects.
A total of 2,010 kilometers (1,249 miles) of pipes are laid for the Power of Siberia gas pipeline between Yakutia and the Russian-Chinese border, or on 93 percent of the route's length, Gazprom said in a statement.
The natural gas pipeline is expected to start sending gas to China at the end of 2019 and its completion is among Gazprom's top priorities.
The two-string submerged crossing of the Power of Siberia pipeline under the Amur River is 78 percent complete, and the Atamanskaya compressor station adjacent to the border is also under construction, the Russian company says.
Gazprom has a 30-year contract with CNPC for the supply of an annual 1.3 trillion cu ft of natural gas via the infrastructure.
---
The Friday moment everyone has been waiting for, namely whether or not Trump would greenlight the next $200BN in China tariffs now that the comment period is over. Moments ago we got the answer when Trump, speaking to reporters on board of Air Force 1, just said that he is ready to impose another $267BN in China tariffs in addition to the $200 billion proposed that his administration is putting the final touches on.
This would mean that Trump would be taxing a grand total of $517BN in Chinese exports ($50BN + $200BN +$267BN). Putting China's exports to the U.S. in context, it was $505BN in 2018, suggesting Trump's total proposal would more than cover all of Chinese trade with the U.S. It was also not clear what tariff rate Trump had in mind for either the new $267BN or existing $200BN in tariffs.
The news comes one day after the Dept of Commerce announced that the US trade deficit with China hit an all time high $36.9 billion in July.
---
The battle to end taxation of constitutional money has reached the federal level as U.S. Representative Alex Mooney (R-WV) today introduced sound money legislation to remove all federal income taxation from gold and silver coins and bullion.
The Monetary Metals Tax Neutrality Act – backed by the Sound Money Defense League, Money Metals Exchange, and free-market activists – would clarify that the sale or exchange of precious metals bullion and coins are not to be included in capital gains, losses, or any other type of federal income calculation.
Acting unilaterally, the Internal Revenue Service has placed gold and silver in the same "collectibles" category as artwork, Beanie Babies, and baseball cards, a classification that subjects the monetary metals to a discriminatorily high long-term capital gains tax rate of 28%.
Sound money activists have long pointed out it is inappropriate to apply any federal income tax, regardless of the rate, against the only kind of money named in the U.S. Constitution. And the IRS has never defended how its position squares up with current law.
---
Gold swaps and gold derivatives undertaken by the Bank for International Settlements appear to have declined by about 24 percent in August, according to the bank's statements of account for that month and July:
The information provided in the BIS' monthly statements is not sufficient to calculate a precise amount of gold-related derivatives, including swaps, but the bank's total estimated exposure as of August 31 was about 370 tonnes of gold, down 115 tonnes from the approximately 485 tonnes as of July 31.
The bank's gold swaps and derivatives had increased by 17 percent from June through July. During this period the gold price fell by about $100 per ounce.
The BIS provides little information on what it is doing in the gold market, why, and for whom and refuses to answer questions about its activity in the market.
---
In less than five minutes, orders placed Sept. 6 for the Proof 2018-W American Eagle $25 palladium coin were sufficient to put the numismatic product into "Currently Unavailable" status.
The product is limited to a maximum release of 15,000 coins; the Mint sold 14,782 examples.
 Customers ordering the numismatic product were restricted to purchasing one coin per household. The Mint-determined price for each coin was $1,387.50.
Mint spokesman Michael White said the orders placed are being reconciled to ensure proper processing of orders. Some orders are likely to be canceled because of expired credit cards or because the person placing the order chooses to cancel the sale on their own, White said. Any coins that are available after the order reconciliation, provided the maximum is not reached, will be offered first to customers in the order in which orders were placed but not filled because of the ending of initial sales, White said.
---
The issue is still being discussed, and now there is an additional impulse to solve it, he said.
Now, citizens buying gold in the bank are obliged to pay VAT, which is now 18 percent, and will be increased to 20 percent starting next year. At the same time, when selling ingots, the bank is not returning VAT. The question of canceling the tax has been discussed in the ministry since last year, but initially, the ministry wanted to solve the issue via a system much alike the trade-in in the car sales. It planned to exempt from VAT only gold bought for investment purposes, and not the one used by jewelers.
---
The Bank of Mongolia said Thursday that it had purchased 12.2 tonnes of gold from legal entities and individuals in the first eight months of this year.
The figure is the same as the amount of gold purchases in the first eight months of 2017, the central bank said in a statement.
As of August, the bank's average gold purchase price was 95,042.34 Mongolian tugrik (about 38 U.S. dollars) per gram.
The PHOTOS and the FUNNIES
STAY INFORMED! Receive our Weekly Recap of thought provoking articles, podcasts, and radio delivered to your inbox for FREE! Sign up here for the HoweStreet.com Weekly Recap.