September 25, 2018 | Ballistic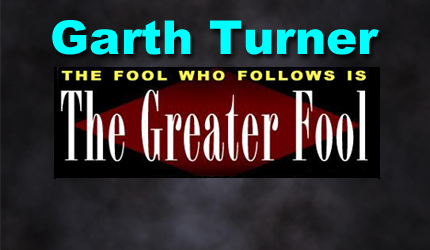 A best-selling Canadian author of 14 books on economic trends, real estate, the financial crisis, personal finance strategies, taxation and politics. Nationally-known speaker and lecturer on macroeconomics, the housing market and investment techniques. He is a licensed Investment Advisor with a fee-based, no-commission Toronto-based practice serving clients across Canada.
This may not end well, Part Deux. Days ago we told you the beavs are borrowing again.  Household debt's rising even as interest rates snake higher and real estate wobbles. The decline in new mortgage originations is being made up by refis and home equity LOCs. It may be hard to believe on this blog where our grapes are peeled and the divvies keep rolling in, but the masses are pooched. They borrowed bigly, are swamped with monthlies, and would rather swap a new HELOC for a 19% credit card balance.
Remember mortgage broker Rob McLister's warning? Rates could easily spike, not just swell. Five-year mortgages could be at 5.5% before you know it, with the mortgage stress test at 7.34%, squishing moister dreams of owning anything. If that were to occur, real estate might do a Cat 5 correction, rolling us back to 2010 pricing. (The average Toronto property way back then sold for $427,329, or 44% less than today.)
That warning is based on some simple assumptions: Trump  continues to gas the economy with tax cuts, weaker regs and protectionist walls; the US federal deficit goes wild, taking the bond market with it; unemployment stays at half-century lows and inflation pops because of wage demands. All of which, ahem, is now occurring.
And that brings us to Wednesday afternoon.
The US Fed and its new boss, Jerome Powell, will announce the eighth rate increase in this cycle. What's also expected is a hawkish tone on what comes next. Markets think there'll be another increase in December, two more in the first half of 2019 and then… maybe more. A Fed rate of 3% is considered "neutral" – not stimulating or choking the economy, and we'll be there in a few months. That much is assumed. Listen to some of the voices:
"While the US dollar has been strong throughout the year, it hasn't translated to weakness in US markets or economic numbers, so we have no doubt that as long as the stock market continues its upward trajectory it is an all clear sign to this Fed," says Brett Ewing of First Franklin. Meanwhile Scotiabank's Derek Holt adds: "I suspect that one of the Fed's goal this week will be to nudge market rate expectations higher. It will seek to do so in a way that doesn't derail U.S. economic momentum and is consistent with medium-term stability. To that end, several Fed officials have already come out individually to make a stronger analytical case for a more aggressive path of future hikes."
At this point "aggressive" means a quarter point hike every quarter. That will get us to 3% lickety split – and add about 1% to Canadian mortgage rates. But some think there's no stopping at that point.
"Tomorrow they will hike rates again. That won't be it," says Bay Street analyst Ed Pennock. "Bilton of JPMAM global Multi Asset Strategy says that next year the FED will push rates past neutral, "ushering in a Period of genuinely tight monetary policy".  It's just going to increase the cost of capital. We know how that ends. In line with this, the 10 year Treasury is close to breaking out at 3.106%.  It's a crowded trade."
The danger, then, is that Trump loses control of the economy. Or, rather, that it does just as he hopes – getting more wired, extreme and ballistic than Elon Musk. The deficit hits $1 trillion and stays there as tax money ends up in the bottom lines of Apple and Amazon. Wages spike as corps compete for qualified workers (there are already over 6.9 million job openings – more than one for every unemployed person). Inflation soars. Bond yields spike towards 4%. Trade wars turn into trade deals, flooding markets with speculative optimism. The Fed repeatedly taps on the brakes, then jams them hard. And uppa she goes. The McLister scenario arives – in which case you will may not believe what happens to real estate here in maple.
This ain't that far-fetched. Every element for an American melt-up is in place. Tax cuts. Reg reform. Full employment. Swelling prices. Consumer confidence. Record markets. Runaway profits. And a bully as the world's most powerful person. The Fed's job will be to ride herd on a stampede. Two hundred basis points is no fantasy.
Anyway, pay some heed to Jerome on Wednesday.  Then go lock your loans.
STAY INFORMED! Receive our Weekly Recap of thought provoking articles, podcasts, and radio delivered to your inbox for FREE! Sign up here for the HoweStreet.com Weekly Recap.