September 26, 2018 | Avoid Media False Flags. These Warning Signs Are Flashing Market Crash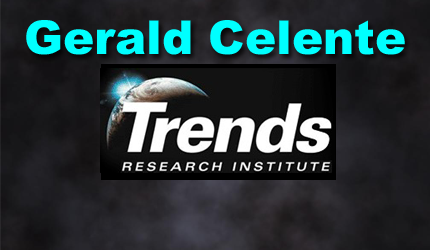 Gerald Celente, who developed the Globalnomic® methodology to identify, track, forecast and manage trends, is a political atheist. Unencumbered by political dogma, rigid ideology or conventional wisdom, Celente, whose motto is "think for yourself," observes and analyzes the current events forming future trends for what they are — not for the way he wants them to be. And while Celente holds a U.S. passport, he considers himself a citizen of the world.
KINGSTON, NY, 26 SEPTEMBER 2018—Business news reporting has dumbed down to juvenile, non-journalistic stupidity. Each day they give one simplistic reason for markets moving up or down.
For most of the year it's been trade war and tariff fears. Earlier it was North Korea, and just this past Monday they blamed the equity market decline over concerns Deputy Attorney General Rod Rosenstein will be fired by President Donald Trump.
Who would follow these simplistic explanations in making financial investment decisions while discounting core market fundamentals, such as earnings, P/E ratios, Gross Domestic Product forecasts, real estate trends, retail sales, industrial production, etc.?
But while the media obsessed with false flags, we have repeatedly warned of alarming developments that could trigger sustained downward trending in equities should they continue to intensify: Spiking oil prices and rising U.S. interest rates.
On the oil front, Brent Crude hit $82 a barrel on Tuesday, its highest mark since 2014.
OIL RISES AS ECONOMIES WEAKEN
While the cost of oil, which is dollar denominated, is climbing, many developed and Emerging Market currencies and economies are declining. Thus, as oil prices spike, a perfect storm is forming because the higher oil prices rise and the lower their currencies fall, the cost burden adds more downward pressure to their economies.
For example, in India, which imports 80 percent of its energy, the combination of the rupee hitting new lows against the dollar and oil prices rising has resulted in the cost of crude oil rising 47 percent over last year.
To varying degrees, the India scenario is playing out across the globe, and as witnessed by President Trump's address to the United Nations on Tuesday, it will intensify. Promising that "Additional sanctions will resume November 5th, and more will follow" on Iran, the world's fifth largest oil producer, we forecast these measures will drive oil prices yet higher.
Clearly, spiking oil prices, coupled with a hawkish Fed interest rate policy – a rate hike expected today, another in December and three or more next year – will hit economies hard in both EM and developed nations.
TREND FORECAST: The prospects for an oil shock are escalating as tensions rise in the Middle East, especially in Syria after 15 people were killed last week when a Russian reconnaissance plane they were on was mistakenly shot down by Syrian air defenses attempting to repel Israeli jets on a bombing raid.
And in Yemen, the war launched by Saudi Arabia and its oil-producing allies in March 2015, has no end in sight. Considering Yemen's strategic location and the nations at war, oil supply and delivery is extremely vulnerable.
Considering these and other Middle East destabilizing factors, should oil prices move beyond $100 per barrel or more by year end, EM and developed nations' economies will sink into recession and stagnation.
And since the last five market crashes were preceded by sharply rising oil prices, we forecast a global market meltdown should oil prices climb above $100 a barrel and interest rates continue to rise.
STAY INFORMED! Receive our Weekly Recap of thought provoking articles, podcasts, and radio delivered to your inbox for FREE! Sign up here for the HoweStreet.com Weekly Recap.