September 18, 2018 | An American State Becomes the Newest "Member" of OPEC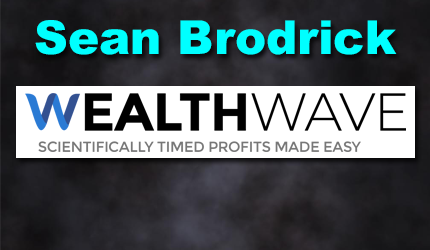 Sean is the natural resource analyst for Weiss Ratings. You can read his thoughts on gold, oil, cannabis, uranium and other natural resources at Wealth-Wave.com
We have met the newest "member" of OPEC — and it is one of America's 50 states. That's just one of the wild forces pushing the oil markets around. It's going to make oil prices more volatile … but could also put more profits in your pocket.
Here's the scoop: North Dakota pumped 1.27 million barrels a day in July, the latest figures available. Meanwhile, the shattered socialist hellhole Venezuela — an OPEC member in good standing — is in dire straits. And I'm not talking in a "Money for Nothing," "Sultans of Swing" kind of way. I'm talking about how that country's oil production fell to 1.24 million barrels per day in August.
In other words, North Dakota is pumping more oil than Venezuela, as this chart from Bloomberg shows …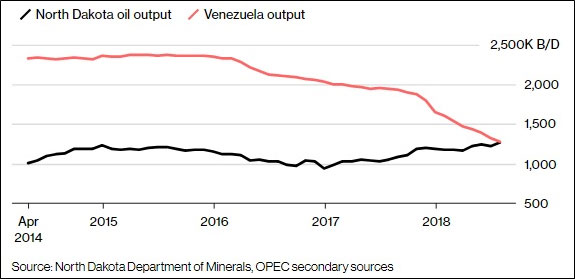 Image Source: Bloomberg
That's why I say North Dakota could replace Venezuela in OPEC! Of course, we all know the cartel isn't going to come knockin' on North Dakota's door anytime soon. But man, what a wild reversal of fortune this is.
North Dakota's prolific production has helped push America into the top slot as the world's largest crude oil producer.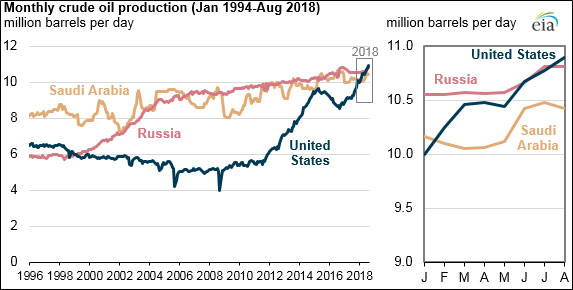 Image Source: Energy Information Agency
As the Energy Information Agency reports:
"In February, U.S. crude oil production exceeded that of Saudi Arabia for the first time in more than two decades. In June and August, the United States surpassed Russia in crude oil production for the first time since February 1999."
Production is booming in the Bakken region in North Dakota, as well as the Permian region in west Texas and eastern New Mexico, and the offshore Gulf of Mexico. They're all booming.
So, Saudi Arabia and Russia — and Venezuela – can all go suck a barrel of sour crude. There's a new boss in the world's oil patch.
Some other forces that could push oil prices around …
U.S. Sanctions on Iran. Those go into effect in November. India and China will probably ignore the new sanctions, but the rest of the world will go along. That means that Europe, Japan and other countries will have to source oil from other producers. And that could pinch global supply and demand.
Slowing Growth in U.S. Shale. Sure, North Dakota just muscled past Venezuela. But many experts expect growth in the U.S. oil patch to slow going into 2019. Part of this is pipeline restraints — there simply aren't enough pipes to get oil out of the Permian. There's no point in pumping more oil if you can't get it to market.
More Storms. We haven't seen a major hurricane hit the U.S. Gulf of Mexico … yet. But this is a busy storm season, and all it takes is the right storm in the wrong place to wreak havoc on offshore oil production. Never mind refineries that are clustered along the coast.
Demand Growth Uncertainty. The more forecasts I see for global oil demand, the less sure I am about anything. Growth estimates for next year range from an increase of 1 million barrels per day to an increase of 1.4 million barrels per day. That's a huge range.
So, black swans could rear their heads at any time in the oil fields — on both the bullish and bearish side.
Two funds give you easy ways to play this. The ProShares Ultra Oil & Gas (NYSE: DIG) tracks twice the performance of a basket of leading oil stocks. And the ProShares UltraShort Oil & Gas (NYSE: DUG) is double-inverse those same oil stocks.
These funds are fairly liquid, and they tend to move in ranges.
Don't Cry for Me, Venezuela
As the global oil markets twist and turn, smart speculators will have opportunities to make the most of the next piece of news that is going to confound the markets.
Just remember, when everyone turns bullish, you want to turn bearish. And when everyone is putting on bear claws, it's time to run with the bulls.
All the best
Sean
STAY INFORMED! Receive our Weekly Recap of thought provoking articles, podcasts, and radio delivered to your inbox for FREE! Sign up here for the HoweStreet.com Weekly Recap.