August 31, 2018 | Weak Currencies – Blame the Central Banks!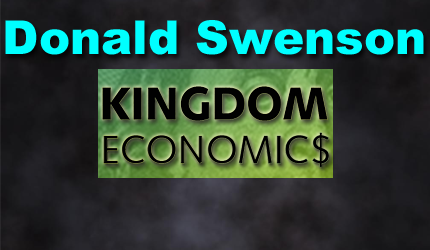 Donald B. Swenson: Born January 24, 1943, Roseau, Minnesota. Graduated H.S. 1961, Moorhead High, Minnesota. Graduated College 1968, Moorhead State University, Minnesota. Designated member of Appraisal Institute (MAI), 1974. Employed with Western Life Insurance Company, 1968 – 71; Iowa Securities Company, 1971 – 73; American Appraisal Company, 1974 – 81. Part-time teacher/valuation consultant/bartender, 1979 – 2008 (taught workshops at Waukesha County Technical Institute, Wi. and Madison Area Technical College, Wi.). Retired 2008 (part time teacher/blogger), AZ. Self educated economist/philosopher/theologian: http://kingdomecon.wordpress.com.
All currencies are compared to our U.S. dollar! What is happening to many national currencies as Fed policies increase U.S. interest rates?
Today's Wall Street Journal had a couple of articles on currencies which are weak and getting weaker relative to our dollar. The Argentine currency has lost some 108.2% of its value relative to the dollar YTD. The Turkey lira has lost some 75.4% YTD. And the Swedish Krona (a supposedly strong Western currency) has lost some 11.4% YTD. Why this situation? Who causes these results? Why this loss in the Swedish krona?
A major reason for this situation are the policies of our Central Banks. Central banks can change interest rates within their nation and this change (in rates) can weaken or strengthen their currency relative to a strong currency like the U.S. Dollar. Let's focus on this currency called the Swedish krona for this missive. The WSJ article, B12, is entitled "Krona's Fall Catches Investors Napping". What has this person at the Riksbank, called Stefan Ingves, done to cause this weakening of the Swedish krona?
This summer at my Swedish/American reunion in Colorado many Swedes were complaining about the cost of goods here in America. They were spoiled from prior years when the exchange rate (for their krona) was 10% or more less (lower). Today, as I write, the exchange rate between the krona and the dollar is 9.16 (a 12% increase from 2017). This means that my Swedish friends must pay some 12% more for travel and other goods as compared to earlier in 2017. Who causes this change in purchasing power?
Some currency experts are saying that this weakening of the krona (relative to the $) will continue and get worse as the results of the coming political elections get internalized. The elections in Sweden are on September 9 and many think that the Swedish Democrats could rock the boat (politically) as they may gain a majority over all the other seven contenders (after the voting results are fully counted). This might change some policies and possibly some policies at the Riksbank in Stockholm.
The Social Democrats party (the current ruling party) may not be supported to the level which was prevalent in the past. This could cause a type of re-thinking and further weaken this digital currency called the krona (some say). My sense is that this is quite likely. Swedes are generally not happy with the current political situation and they just might elect this Euroskeptic party called the Swedish Democrats. This would be significant if it happens. Policies at the Riksbank could change.
The real culprit in the past weakening of the krona (relative to the $) was this Central Banker, Stefan Ingves. This guy sits in Stockholm at the Riksbank and creates lower interest rates via his policies. He has done this for years. He has even created negative interest rates these past three years. All this is done via his QE injections (new digital krona being created to buy bonds, etc.) so as to drive down Swedish interest rates. As I write the Swedish interest rates are – 0.50%. See here:  https://www.riksbank.se/en-gb/
Stefan has created more inflation in Sweden (now 2.2%) and the real estate prices have sky-rocketed in many cities as a result of his past policies. Stockholm real estate prices are in a bubble which is historic (now starting a decline). They are the 12th most expensive city in the world.
12.  Stockholm
Country: Sweden
Price Per Sq. Meter: $9,439
The main culprit in all this corruption has been Central Bank policies and especially this administrator called Stefan Ingves in Stockholm. He is driving the krona down (relative to the $) and he is driving prices up (a serious bubble in real estate prices everywhere in Sweden). Few comprehend the role of a central banker in one's economy. But we now can blame our central bankers for all the distortions, manipulations, and rigging of our economies. Interest rates are key to currency values and also to new bubbles in stocks and real estate.
As I write, the policy of the U.S. Fed is to continue to increase $ interest rates for 2018 and 2019. This policy will continue to affect most emerging countries (in negative ways) and this includes this currency called the Swedish krona. Traveling to Sweden will become cheaper for me, but it will become much more costly for my Swedish friends (assuming Stefan holds rates down continually). The culprit is mostly this Swedish Central Banker who works at the Riksbank in Stockholm.
Think for yourself and watch what this individual does after the coming election (now only nine days away). His name is Stefan Ingves!
STAY INFORMED! Receive our Weekly Recap of thought provoking articles, podcasts, and radio delivered to your inbox for FREE! Sign up here for the HoweStreet.com Weekly Recap.