August 4, 2018 | Trading Desk Notes – August 4th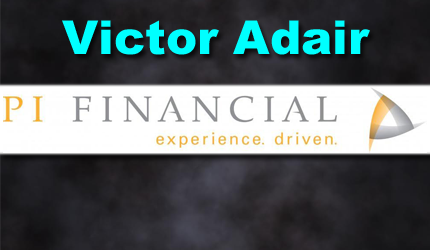 Senior Vice President and Derivatives Portfolio Manager. Victor began trading financial markets over 45 years ago and has held a number of senior executive positions during his career as a commodity and stockbroker. Over the years he has provided considerable market analysis via radio and television and at financial conferences. His primary brokerage business is providing corporate accounts with risk management services using exchange traded derivatives. He actively trades currencies, interest rates, precious metals, stock indices and commodities for his own accounts.
Summer doldrums…low volume choppy price action with the occasional headline driven flurry of activity. I was away late last week for a family event, started this week flat, did a little in-and-out trading and ended the week flat. I'm expecting some serious market moves once we get into September so I'm watching several markets now for possible foreshadowing clues.
Tax cuts created a strong US economy in Q2…the Big Question is: was that a cyclical peak or is there more to come? The US Dollar rallied against nearly all currencies and gold, Emerging Markets took a hit, US stocks rallied strongly (while other markets didn't – notably Shanghai down 24%,) 10 year Treasury yields rose to ~3%, American employment levels rose and the Fed is making plans to keep raising interest rates. If the market begins to think that Q2 was a cyclical peak then those moves could be reversed.
The US Dollar rose more against 2nd and 3rd tier currencies (I've been calling it "stealth strength") than against G10 currencies. The Turkish Lira fell ~35% the last 3 months, the Indian Rupee fell to All Time Lows, the Argentine Peso fell ~50% this year, The Chinese Yuan fell 8% in 6 weeks and gold fell ~12% in just over 3 months. Off the radar screen the black market Iranian Rial has collapsed. If US economic growth continues to outpace the rest of the world, with American interest rates continuing to rise, and especially if trade tensions intensify (Commerce Sec. Wilbur Ross now says that, "We have to create a situation where it's more painful for them(China) to continue their bad practices than it is to reform) I'd expect "stealth strength" of the USD to continue.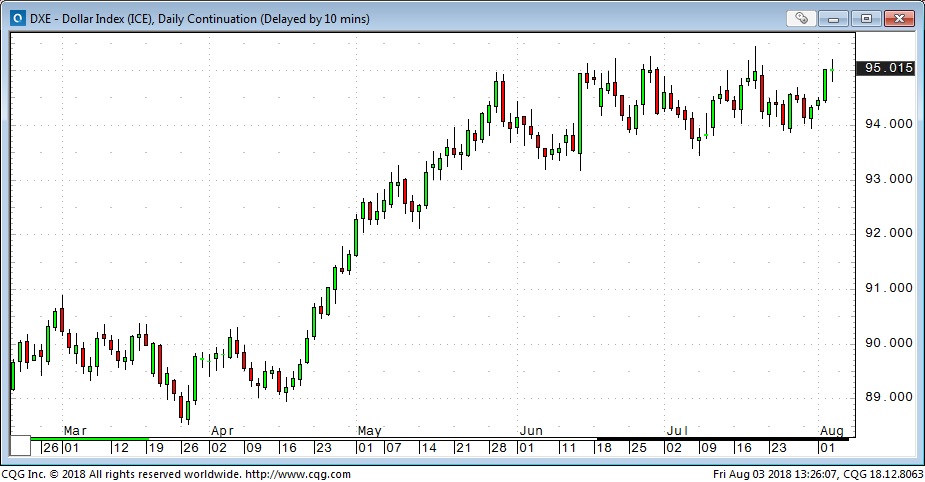 The Achilles heel for the Euro Currency is that it ruptures…the classic "existential crisis"…and we had a taste of that in late May with Italy. The EURCHF spread and Italian/German bond spreads may be the best barometers of sentiment and they were both flashing a low level warning this week. I could see the USD, German and US bonds and gold catching a bid if Euro tensions increase.
The Canadian Dollar hit a one year low in June at 75 cents and has rallied 2 cents since. I've got a bearish CAD bias thinking that interest rate spreads favor the US and those spreads probably widen, Western Canada Select is at a deep $26 discount to WTI, and Canada's negotiating leverage on NAFTA is weakening. I'm looking for evidence that the rally of the last 6 weeks has petered out and then I'll get short CAD.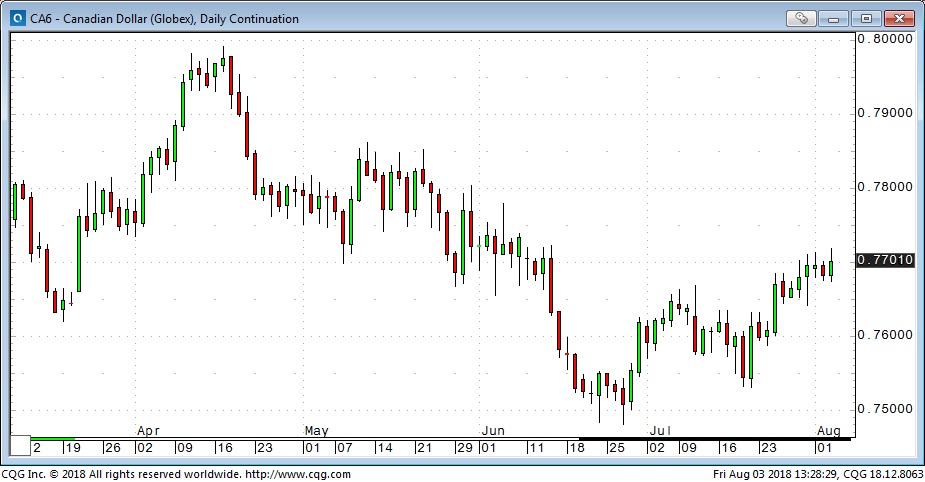 The S+P 500 Index had its 2nd highest weekly close this week and came very close to registering a classic Weekly Key Reversal Up. Buybacks hit an All Time Record high ($185B) in Q1 and were probably higher in Q2. That's real buying, not just day traders BTD. The market has momentum and (so far) doesn't seem to be worried by rising trade tensions. I'm sympathetic to the "overvalued" call on US stocks so its "hard" to buy the market…but I'm not going to short it until or unless it gives me evidence that a top has been made.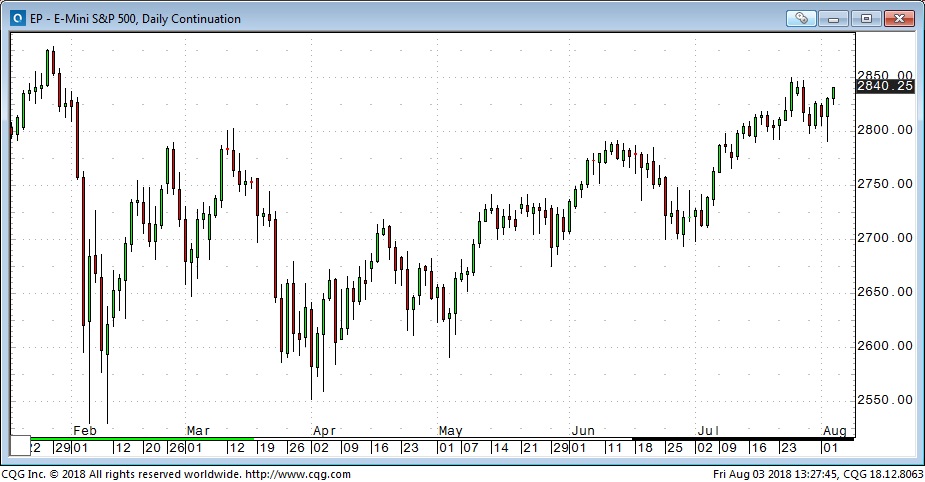 Crude Oil speculative sentiment appears to be extremely bullish. The backwardation profile, whereby deferred months are deeply discounted to spot, is typical of bull markets. I've commented before that it's amazing that in a supply/demand market of ~100MBD a change or an anticipated change of a few 100,000 barrels can cause prices to move 2 – 3% in a heartbeat. I'm watching for an opportunity to get short.
PI Financial Corp. is a Member of the Canadian Investor Protection Fund. The risk of loss in trading commodity interests can be substantial. You should therefore carefully consider whether such trading is suitable for you in light of your financial condition. In considering whether to trade or the authorize someone else to trade for you, you should be aware of the following. If you purchase a commodity option you may sustain a total loss of the premium and of all transaction costs. If you purchase or sell a commodity futures contract or sell a commodity option or engage in off-exchange foreign currency trading you may sustain a total loss of the initial margin funds or security deposit and any additional fund that you deposit with your broker to establish or maintain your position. You may be called upon by your broker to deposit a substantial amount of additional margin funds, on short notice, in order to maintain your position. If you do not provide the requested funds within the prescribe time, your position may be liquidated at a loss, and you will be liable for any resulting deficit in your account. Under certain market conditions, you may find it difficult to impossible to liquidate a position. This is intended for distribution in those jurisdictions where PI Financial Corp. is registered as an advisor or a dealer in securities and/or futures and options. Any distribution or dissemination of this in any other jurisdiction is strictly prohibited. Past performance is not necessarily indicative of future results
STAY INFORMED! Receive our Weekly Recap of thought provoking articles, podcasts, and radio delivered to your inbox for FREE! Sign up here for the HoweStreet.com Weekly Recap.