August 18, 2018 | Trading Desk Notes – August 18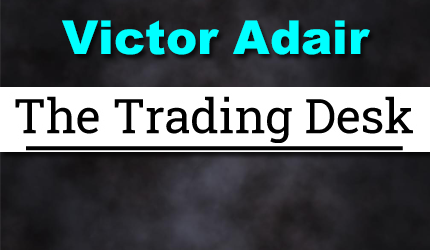 Victor Adair, author of The Trading Desk Notes, began trading penny mining shares while attending the University of Victoria in 1970. He worked in the mining business in Canada and the Western United States for the next several years and also founded a precious metals trading company in 1974. He became a commodity broker in 1977 and a stock broker in 1978. Between 1977 and his retirement from the brokerage business in 2020 Victor held a number of trading, analytical and senior management roles in Canada and the USA. Victor started writing market analysis in the late 1970's and became a widely followed currency analyst in 1983. He started doing frequent media interviews in the early 1980's and started speaking at financial conferences in the 1990's. He actively trades his own accounts from The Trading Desk on Vancouver Island. His personal website is www.VictorAdair.ca.
Emerging Markets, which have borrowed trillions of US Dollars,  have been in the spotlight with some EM currencies down hard. For the past few months I have referred to the weakness in 2nd and 3rd tier currencies as the "stealth strength" of the US Dollar. I think we are at the point in the cycle where capital flows to America for safety and opportunity…lifting the USD and the American share market.
US Stock markets: Last week I noted that contagion risk from EM had inspired a sharp "risk off" move across markets. The DJIA fell over 700 points from last week's highs to this Wednesday's lows but sentiment reversed to "risk on" Wednesday and the DJIA recovered all of those losses by Friday's close. The bounce back seemed to key off of initial reports (Wednesday and again Friday) that China and the US were beginning talks to resolve their tariff disputes.
Share buybacks have been a major bullish factor for the stock market with Goldman Sachs predicting buybacks will total a record $1 trillion this year which would mean over $4 trillion of buybacks since the GFC…a sum greater than the amount of stimulus provided by the Fed during that same period of time.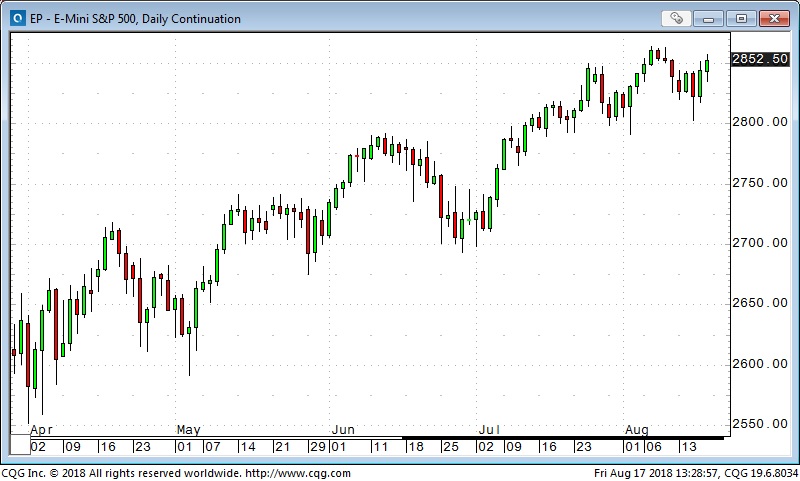 Currencies: American fiscal stimulus and monetary tightening have been bullish for the USD index the past few months, as have trade war fears, and it hit a 14 month high on Wednesday before backing off as market sentiment turned "risk on." The Euro broke sharply last week and I think its rally off Wednesday's lows is only a correction in a continuing downtrend…key an eye on Italy.
Gold fell more than $200 (15%) since the USD started to rally in April…closing lower 9 of the last 10 weeks. By this Friday's close it had bounced ~$20 off its lows as the USD retreated from its 14 month highs. Sentiment is extremely negative with futures market net speculative positioning at 15 year lows. The decline in the gold price has been very much the mirror image of the USD rally but it is also at 2 ½ year lows Vs. the Euro. Since gold made its All Time high in September 2011 it fell ~38% against the USD. In that same time period it fell ~75% against the S+P 500 Index.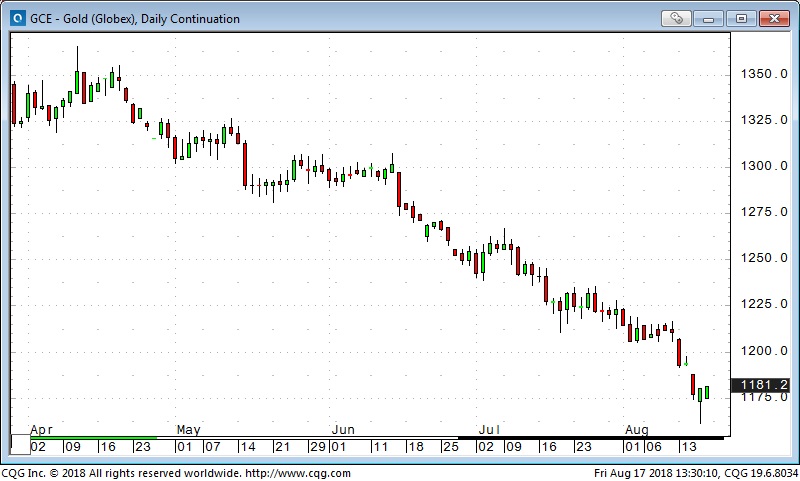 The Canadian Dollar has traded sideways against the USD between 75 and 77 cents the past 2 months but has rallied against nearly all other currencies during that same time period. This CAD strength has occurred despite weakness in the major commodity indices (CAD is usually correlated with the commodity indices.) It's possible that CAD may be benefiting from a "spillover" effect of "capital flowing to America for safety and opportunity" and may also be benefiting from the billions of dollars flowing into the Canadian marijuana industry.
Leveraged risk is an agressive form of "Reaching for Yield" and it works wonderfully until it doesn't. When money is freely available at low or negative rates it's inevitable that some of it will be poorly invested…creating parabolic chart patterns that inevitably fall precipitously.
PI Financial Corp. is a Member of the Canadian Investor Protection Fund. The risk of loss in trading commodity interests can be substantial. You should therefore carefully consider whether such trading is suitable for you in light of your financial condition. In considering whether to trade or the authorize someone else to trade for you, you should be aware of the following. If you purchase a commodity option you may sustain a total loss of the premium and of all transaction costs. If you purchase or sell a commodity futures contract or sell a commodity option or engage in off-exchange foreign currency trading you may sustain a total loss of the initial margin funds or security deposit and any additional fund that you deposit with your broker to establish or maintain your position. You may be called upon by your broker to deposit a substantial amount of additional margin funds, on short notice, in order to maintain your position. If you do not provide the requested funds within the prescribe time, your position may be liquidated at a loss, and you will be liable for any resulting deficit in your account. Under certain market conditions, you may find it difficult to impossible to liquidate a position. This is intended for distribution in those jurisdictions where PI Financial Corp. is registered as an advisor or a dealer in securities and/or futures and options. Any distribution or dissemination of this in any other jurisdiction is strictly prohibited. Past performance is not necessarily indicative of future results 
STAY INFORMED! Receive our Weekly Recap of thought provoking articles, podcasts, and radio delivered to your inbox for FREE! Sign up here for the HoweStreet.com Weekly Recap.