August 11, 2018 | Trading Desk Notes – August 11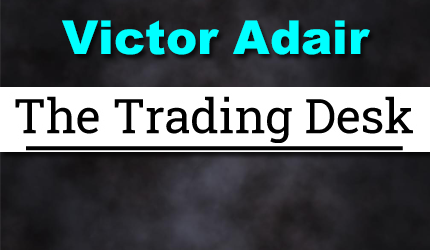 Victor Adair, author of The Trading Desk Notes, began trading penny mining shares while attending the University of Victoria in 1970. He worked in the mining business in Canada and the Western United States for the next several years and also founded a precious metals trading company in 1974. He became a commodity broker in 1977 and a stock broker in 1978. Between 1977 and his retirement from the brokerage business in 2020 Victor held a number of trading, analytical and senior management roles in Canada and the USA. Victor started writing market analysis in the late 1970's and became a widely followed currency analyst in 1983. He started doing frequent media interviews in the early 1980's and started speaking at financial conferences in the 1990's. He actively trades his own accounts from The Trading Desk on Vancouver Island. His personal website is www.VictorAdair.ca.
Contagion risk inspired a sharp swing to "risk off" across asset classes this week. The US Dollar Index (USDX) surged to 14 month highs while the "stealth strength" of the US Dollar against 2nd and 3rd tier currencies was spectacular.
The Turkish Lira (TRY) has been weakening against the USD for the past 5 years but the rate of change really picked up speed since April and went ballistic this week as TRY tumbled over 30%. Markets are wondering how Turkey can repay/service their massive foreign currency loans…the "contagion question" is who has loaned money to Turkey and what are their chances of getting it back?
The Swiss Franc, Japanese Yen and US Dollar all surged higher against the Euro as European banks are most exposed to Turkey…and of course the Italian problem never really went away.
The major American stock indices looked set to challenge All Time Highs early this week but they turned sharply lower on Friday while the American bond market had a strong rally. Speculators are massively short bond futures and if they start covering those trades we may see a new definition of "positioning risk."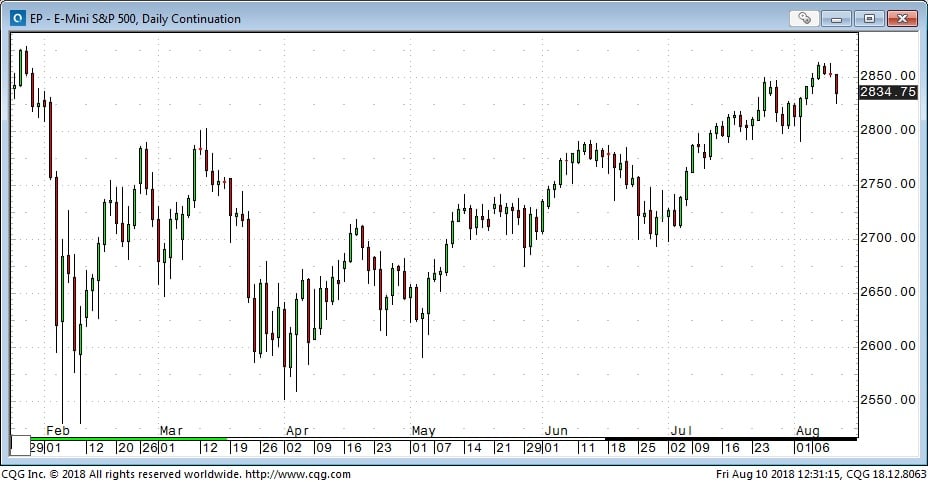 Emerging markets…stocks, bonds and currencies got clobbered. Don Coxe said it best years ago…"Emerging markets are markets you can't emerge from in an emergency!"
Gold is remarkably steady given the Dollar's strength. Negative gold sentiment hit extreme levels last week as the mood of the market seemed to be, "Who needs gold?"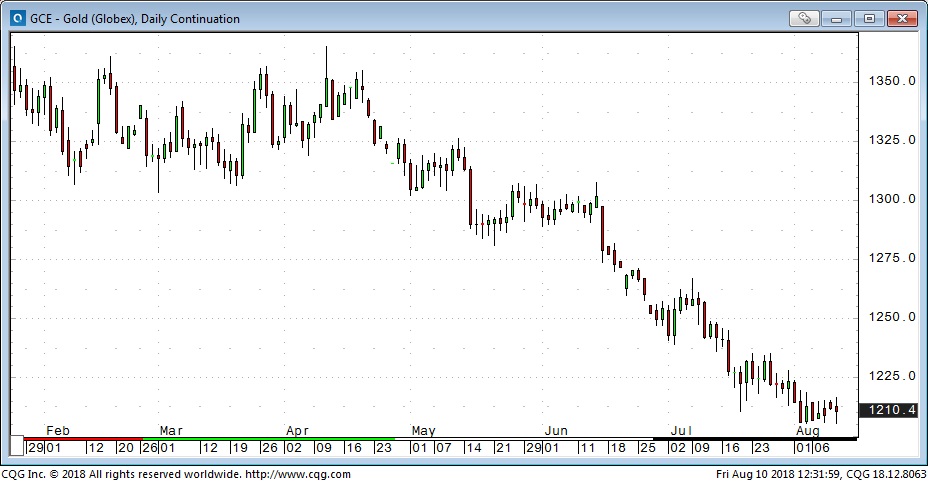 WTI crude hit 3 ½ year highs in June and has backed off about 10%. Western Canada Select is discounted to WTI by more than $30BBL this week…the steepest discount is 5 years.
My short term trading: The floor traders in Chicago used to say that there is never a good time to take a holiday! I got flat ahead of a brief vacation in the gulf islands this week and missed the opportunity to jump on some of these risk off moves…but I did short the S+P Friday morning. Thankfully I've got accounts managed by my "mates" that are long bonds and gold, short Euros and Canadian dollars.
What's next? Following the brief Italian inspired "existential crisis" at the end of May EURUSD chopped sideways for 2 months but has now broken down decisively. The major American stock indices have rallied the past few months as if they didn't have a worry in the world…but this week may have been an inflection point. I've thought that the market was seriously underpricing risk (vol has been near record lows) and that "reality" could come back big time once we got into September. I've been waiting for signs that risk was back…and I probably got a little "slow witted" during the summer doldrums…but they may have "rung the bell" this week and I think there's a good chance we'll see some significant "fear" inspired repricing immediately ahead.
PI Financial Corp. is a Member of the Canadian Investor Protection Fund. The risk of loss in trading commodity interests can be substantial. You should therefore carefully consider whether such trading is suitable for you in light of your financial condition. In considering whether to trade or the authorize someone else to trade for you, you should be aware of the following. If you purchase a commodity option you may sustain a total loss of the premium and of all transaction costs. If you purchase or sell a commodity futures contract or sell a commodity option or engage in off-exchange foreign currency trading you may sustain a total loss of the initial margin funds or security deposit and any additional fund that you deposit with your broker to establish or maintain your position. You may be called upon by your broker to deposit a substantial amount of additional margin funds, on short notice, in order to maintain your position. If you do not provide the requested funds within the prescribe time, your position may be liquidated at a loss, and you will be liable for any resulting deficit in your account. Under certain market conditions, you may find it difficult to impossible to liquidate a position. This is intended for distribution in those jurisdictions where PI Financial Corp. is registered as an advisor or a dealer in securities and/or futures and options. Any distribution or dissemination of this in any other jurisdiction is strictly prohibited. Past performance is not necessarily indicative of future results 
STAY INFORMED! Receive our Weekly Recap of thought provoking articles, podcasts, and radio delivered to your inbox for FREE! Sign up here for the HoweStreet.com Weekly Recap.