August 31, 2018 | The Pups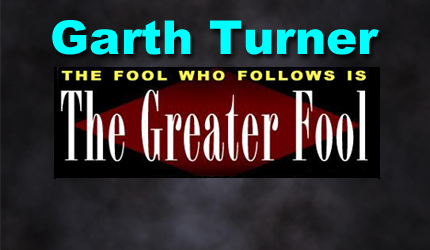 A best-selling Canadian author of 14 books on economic trends, real estate, the financial crisis, personal finance strategies, taxation and politics. Nationally-known speaker and lecturer on macroeconomics, the housing market and investment techniques. He is a licensed Investment Advisor with a fee-based, no-commission Toronto-based practice serving clients across Canada.
It's probably fake news, but worth noting. As the final weekend of the summer unfolded a new survey commissioned by a major, shameless, house-pumping, propagandistic marketing org that shall remain nameless (Re/Max), confirms a sad fact. The children are now infected.
We're talking Gen Z here – the 18-to-24 crowd – still years away from careers, stable incomes or the sad grind into middle age, obligation and financial struggle. So are most of them looking forward to travel, freedom, romance, adventure and discovery?
Nah. Of course not. They want to turn into their parents. The Leger poll found 51% of Zers in Vancouver are focused on becoming homeowners "within the next few years." The numbers are similar, but slightly less, for the GTA. And the young pups are already worrying about amortization, property taxes and the impact of monetary policy. This house thing has caused 71% of those in YVR and 75% in the 6ix to become, "stressed when thinking about buying a home."
Who cares? Re/Max, of course. This is music to marketers' ears. There are apparently scads of these people, set to outnumber Millennials within a year. Hopefully this new crop will rebel against rampant tats, nose hardware, lumberjack beards and manbuns. (Sometimes I miss goth and guyliner.) Anyway, with a big, house-horny cohort coming down the pipe, realtors hope for lots of action as the wrinklies cash out and the virginal set moves in.
Is this likely?
Sure, but only if real estate prices revert to the mean – pushed down by normalized interest rates, a mountain of household debt, escalating taxes and tight government regs. All of those will continue to influence values in the years ahead. After all, if the buyers next in line – the moisters now and the pups behind them – have scant savings and less credit, how can $1.2 million urban semis and seven-figure particleboard suburban McMansions exist?
They can't. The market must continue its melt. Don't fall for the Re/Max BS.
But you can, and should, lament for the children. So young and yet so pooched.
$    $    $
We had a good chat here this past week about FIRE, the financial-independence and retire-early movement that's caught the attention of many 30-year-olds who hate their jobs. Lots of people decided I'm a patronizing dino for expressing reservations about the ability (or wisdom) of people retiring at 35. Obviously for an entire generation (or big chunks of it) the notion of a career path is kaput. In a gig economy, employees are loyal to their values, not their employers. It can make for a tough, and short, workplace relationship.
I referenced my two former clients (one code-named FIREcracker) who are central to this movement and squished their bank careers when they achieved a seven-figure portfolio. Of course, I was not slavishly supportive, which wounded them considerably. (Have you ever tried to criticize a moister employee??)
Once they recovered, I received this note:
Always an honour to be featured on your blog. I get a kick out of it every time.

Out of curiosity, what do you think of the FIRE movement that we're now part of? You seem suspicious/hostile to it for some reason, and that's fine. You're entitled to your opinion, but I thought you'd be for it since it encourages people to save their money and invest it rather than spend it on a house.

Or has it generated a flood of emails from annoying millenials with no money expecting to retire in their 30's that's clogging up your inbox?
In short, the FIRE movement is worthy in preaching frugality, saving, investing and financial literacy. How can you dis any of that? Most people in this nation suck at managing money and will pay a large price for their sloth, emotionalism and inattention. And as this blog continually points out, we've become a country where a one-asset strategy is mainstream. The result is record house prices, record debt and historic levels of risk. No, this will not turn out well.
But, yeah, the FIRE movement and my clients' championing of it, has resulted in massively unrealistic expectations on the part of some people who think DIY investing is simple, that they can live on twenty grand a year for the rest of their lives or that work-for-pay cannot be enriching, absorbing and fulfilling. Besides, who's gonna buy all the Audis and Wifi-enabled garage door openers? The economy hates the FIRE people.
But let's leave this on a constructive note. Here's blog dog Amanda. She may be a labour organizer, but I still like her:
Longtime reader, please let me start by saying thank you for taking the time to share you knowledge.

I thought I would provide a more moderate counterpoint to the cringe-worthy FIRE movement letters you presented earlier this week. I'm early/mid 30's living in Toronto with a husband, toddler, and a profusely hair dog, no debt, happily renting. Over the past 8 years I've diligently saved and invested (while also enjoying life) building up a nice nest egg that will hit seven figures before our 40th birthdays.

While the money certainly isn't enough to retire on, it allows my husband to work a less demanding job that doesn't involve shift-work, and it provides me with the safety net I need to do what I love. I'm a labour activist (love it or hate it I'm not asking for approval) and though I'm highly skilled and doing well professionally I'm sure you can imagine that this predilection impacts my overall employability. Our "financial independence" money ensures that if things go south and I end up having to work at a lower paying job our savings yield can make up the difference.

Rather than seeing FIRE as all or nothing, look at it as a way to work on your own terms. Part-time hours, a lower paying field, starting a business, the options are limitless. Early financial independence sucks as a retirement strategy but it's an amazing investment in flexibility and a way to do what you love while still enjoying a reasonably comfortable standard of living. As you always say time is the most valuable (and fleeting) thing that any of us has…an investment in that is priceless.

Thank you,
Amanda
STAY INFORMED! Receive our Weekly Recap of thought provoking articles, podcasts, and radio delivered to your inbox for FREE! Sign up here for the HoweStreet.com Weekly Recap.