August 29, 2018 | Smoke & FIRE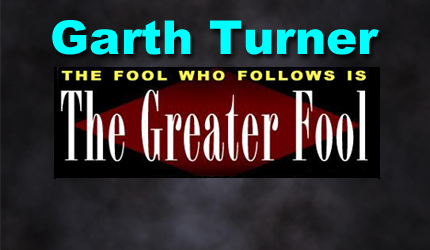 A best-selling Canadian author of 14 books on economic trends, real estate, the financial crisis, personal finance strategies, taxation and politics. Nationally-known speaker and lecturer on macroeconomics, the housing market and investment techniques. He is a licensed Investment Advisor with a fee-based, no-commission Toronto-based practice serving clients across Canada.
Brittany's 28, married, pregnant, rents, has an inuksuk tat on her forearm and two degrees. "We want to retire in seven years," she said in our meeting.
After I'd mopped up the coffee exiting my nose, we continued. Perhaps she had a million or two coming from her mom. Was that the plan? But, nope, it was all desire, visioning, entitlement, expectation, hope and ignorance. B and her furry husband actually expect they can go from (literally) zero savings or investments now to a million bucks in less than a decade, while raising a family. That's the first mistake. Ain't gonna happen.
And then, they believe they'll be able to live off a seven-figure portfolio for the rest of their lives – about 40 years – and have a cool time doing it. Mistake two. Lastly, they figure if you don't have any investments you should go to an Investment Advisor and get some. Like Whole Foods. Or the Apple Store.
This, trust me, is not an isolated instance of money myopia. It's all over Moisterville these days. An amazing number of people who have barely started into their careers are looking hard for the exit. Not only do they focus on quitting, instead of achieving, but there's no concept whatsoever of how long, expensive or full of crap the average life turns out being.
I have an admission, though. This is partly my fault.
Years ago I took on as clients two aggressive, self-confident, unusually irritating Type A kids then in their late twenties working as IT flunkies for the banks. They eschewed buying a house, lived on air, saved prodigiously, and pumped every extra dollar into their balanced portfolio, which in a few years plumped from $500,000 to a million. They brought champagne to my office, then went to their jobs and loudly quit. Boom, Retired at 30.
This was followed by travelling, partying, book-writing, partying, cavorting, more travelling and then some partying. When we met they enthused about wanting to help other moisters live their dream. So write a blog and start a revolution, I said. And they did. The Millennial Revolution.
Now I can't keep up with emails like this:
Love your blog. I've been reading it for years and really respect your work.

I never thought I'd write to you, but I've been thinking about something recently and wondered if you would give me your two cents on the topic.  Perhaps some other blog readers would be interested in it, too.

I'm sure you've heard of the financially independent and retire early movement (FIRE is what a lot of bloggers call it) that's popular with millennials.  What do you think of it?  My partner and I are playing with the idea.  We're in our early thirties, live in Toronto and rent.  I'm currently home with the kids and my husband works.  We want to move to a nicer neighbourhood for green space and better schools, but we can't swallow the price tag because it's so obvious prices will come down.  What's the point in this rat race when a family like ours feels like leaving the city?  We work in finance and our jobs only exist in Toronto, which is why we're thinking about FIRE and moving to a nicer city.  Are we nuts?

Many thanks,
Liz
So the FIRE movement has definitely caught a wave. Central to it (until Doug Ford arrived) was the notion of a guaranteed annual income – a basic amount every citizen would receive for, well, citizenship. Kind of like a gold star Participation Award for being special. And aren't we all?
It's a corollary of the gig economy, in which the notion of career is pffft. Resumes are cacophonous. Officeplace longevity is scorned. Pensions aren't even on the radar. But there is a curious attraction to Big Government and a belief the future is all about sharing, not rugged individualism. An entire generation, and no cowboy boots. Few conservatives. Big expectations – like those of Liz and Brittany.
At the heart of FIRE are two tenets (which my now-famous clients excelled at): saving and side hustles. Nobody's going to retire in their thirties without spending nothing, salting away everything and mooching incessantly. Now you might understand why 44% of Boomers still have spawn in the basement. As for the hustling part, FIRE devotees would rather run a website flogging junk financed through PayPal or supported by clicks than go to work for some company in exchange for a paycheque. Selling time is so, like, paleo.
Of course being cheap and non-linear makes for lousy spenders. So FIRE is also about anti-consumerism and do-it-yourselfism. Why pay anyone to do anything when you've got YouTube and Google? Better to life-hack, get by, build the nestegg, then check out.
Is there something to learn here? Maybe. But really smart people spend their lives doing what they want, erasing that line between work and the rest. Retirement for them is irrelevant.
By the way, my two clients have been living off a modest 4-5% income stream from their million bucks, yet now work far more hours than they did when the bank owned them. They're obsessed with creating a FIRE franchise, online, in speeches, books and the media. The party ended. The big gig started. Selling vapours is really hard work. Who knew?
STAY INFORMED! Receive our Weekly Recap of thought provoking articles, podcasts, and radio delivered to your inbox for FREE! Sign up here for the HoweStreet.com Weekly Recap.