August 28, 2018 | Prices can be Controlled with an Algorithm and Source Code!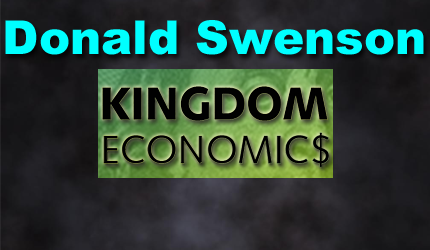 Donald B. Swenson: Born January 24, 1943, Roseau, Minnesota. Graduated H.S. 1961, Moorhead High, Minnesota. Graduated College 1968, Moorhead State University, Minnesota. Designated member of Appraisal Institute (MAI), 1974. Employed with Western Life Insurance Company, 1968 – 71; Iowa Securities Company, 1971 – 73; American Appraisal Company, 1974 – 81. Part-time teacher/valuation consultant/bartender, 1979 – 2008 (taught workshops at Waukesha County Technical Institute, Wi. and Madison Area Technical College, Wi.). Retired 2008 (part time teacher/blogger), AZ. Self educated economist/philosopher/theologian: http://kingdomecon.wordpress.com.
Most of our trading today is done using algorithms as the means of execution. When I buy a stock an algorithm executes the trade in milliseconds and when I sell a stock an algorithm executes the trade automatically. Human market makers do not need to execute any trades today. Algorithms operate automatically as we trade and execute a trade transaction. We live in a machine driven marketplace.
This is very important to understand as most retail investors still think in terms of humans executing a trade transaction. When I talk to some of my investor friends, they think in terms of human market-makers as being in control of all price discovery and price results. Today, however, all is electronic and algorithms are used for most trades. The historical open-outcry system for establishing prices has been eliminated.
What does this mean for price discovery in today's markets? Price discovery happens as our trades are executed by algorithms. We don't need humans to initiate a trade execution today or to complete a trade. A robot can automatically execute a trade using a source code…with a pre-programmed algorithm as the means. This happens automatically and trades (including price discovery) can happen automatically 24/7.
Why does a commodity like gold or silver not move (pricewise) with normal supply/demand executions? Most financial pundits assume that human supply/demand negotiations move the prices of gold and silver. But this is not reality today. Prices of gold/silver can be monitored, controlled, and manipulated with a robot trading program where an algorithm does the trading. This means that price discovery happens automatically via the algorithmic program. No humans are involved.
An algorithm can determine the price of silver and/or gold automatically and this can control the 'spot price' of these metals in real-time and 24/7. Human beings are not necessary for price discovery today. A pre-programmed robot operating via an algorithm can trade continually and set prices within a range which is predetermined by a trader using the algorithm. Price discovery is monitored, controlled, and manipulated via this methodology (daily and in real-time). We live in a machine driven marketplace where robots and artificial intelligence rules over the system.
Pundits need to re-think their views on this concept called human supply/demand price discovery. Supply and demand price discovery (via human negotiation) is no longer necessary in today's electronic driven markets.  A trade execution can now happen via a pre-programmed algorithm which operates automatically via a source code which instructs the algorithm on execution of a trade(s). Machines can determine our spot prices today…with no human input. What a change from historical Capitalism where the open-outcry system was the methodology for price discovery.
Some info for your consideration: 
In finance, an electronic trading platform also known as an online trading platform, is a computer software program that can be used to place orders for financial products over a network with a financial intermediary. Various financial products can be traded by the trading platform, over a communication network with a financial intermediary or directly between the participants or members of the trading platform. This includes products such as stocks, bonds, currencies, commodities, derivatives and others, with a financial intermediary, such as brokers, market makers, Investment banks or stock exchanges. Such platforms allow electronic trading to be carried out by users from any location and are in contrast to traditional floor trading using open outcry and telephone based trading. Sometimes the term trading platform is also used in reference to the trading software alone.
The key take-away on all this is that human beings are no-longer necessary for setting our prices. All can happen automatically and via pre-programmed trading strategies. Algorithms and source codes can create a trading program which executes trades automatically and in real-time and 24/7. Pundits need to recognize that select traders (operating behind closed doors) can execute trades (automatically) to suppress, elevate, control, monitor, bracket, manipulate, and rig our prices.
We live in a machine driven marketplace which operates via software which can be pre-programmed for all trading actions. This allows our Central Bank traders (if they desire) to rig all our markets to some degree. All changed after the 2008 financial crisis as new computer technologies dominated our trading markets. The biggest change of all is allowing our Central Banks to trade these markets in real-time. Price discovery and historical supply/demand factors have changed as a result of these changes within our market system.
Automated trading using algorithms make up some 73% of all trading volume. Pre-programmed software is now ubiquitous for executing our trades in real-time. Algorithms and source codes are not revealed to the public. This lack of transparency means that digital prices can be rigged and manipulated by select traders. Our markets are now managed mostly via a centralized system. See my prior missive on 'managed' markets. Check out the central authorities who rule over all our markets at:  http://www.bis.org.
All has changed from the historical days of Capitalism (prior to 2008). We now live within a global digital marketplace which is monitored, controlled, rigged, and managed by our Central Banks and their proxies. Our Fed is the main culprit along with the other Central Bank authorities in Europe and Asia. The BIS website provides an overview of our situation: http://www.bis.org. Think for yourself and you will recognize many of these obvious changes. What does this mean going forward? Stay in touch with this website for more!
I am: https://kingdomecon.wordpress.com.
STAY INFORMED! Receive our Weekly Recap of thought provoking articles, podcasts, and radio delivered to your inbox for FREE! Sign up here for the HoweStreet.com Weekly Recap.