August 29, 2018 | Global News and Interpretations!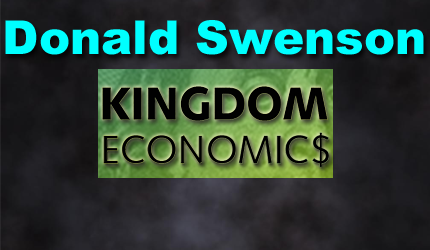 Donald B. Swenson: Born January 24, 1943, Roseau, Minnesota. Graduated H.S. 1961, Moorhead High, Minnesota. Graduated College 1968, Moorhead State University, Minnesota. Designated member of Appraisal Institute (MAI), 1974. Employed with Western Life Insurance Company, 1968 – 71; Iowa Securities Company, 1971 – 73; American Appraisal Company, 1974 – 81. Part-time teacher/valuation consultant/bartender, 1979 – 2008 (taught workshops at Waukesha County Technical Institute, Wi. and Madison Area Technical College, Wi.). Retired 2008 (part time teacher/blogger), AZ. Self educated economist/philosopher/theologian: http://kingdomecon.wordpress.com.
Events change but our markets are now mostly elevated to levels which seem like a bubble to me. I talked to an investor today who says he is shocked that our markets continue to go up with no sign of a correction. His view was that the markets should have corrected three years prior to today. I confirmed that I am also shocked at this situation. Let's review a few items in the news on all these issues and more.
This video from the website of the BIS is very revealing:  https://youtu.be/ZjYvXze5ht4. Claudio Borio, philosopher/economist reveals the centralization which has occurred since the crisis of 2008. It reveals that the BIS is primarily behind the centralization of strategies. It's called Macroprudential frameworks. A fancy word for 'rigging' of the global markets. See this video for details on this 'rigging' situation:  https://youtu.be/NbIG43R0A0g.
The goal of our Central Banks (under the guidance of the BIS) is to create a system for monitoring, managing, and controlling the entire global economy. All this has happened since the financial crisis of 2008.
It appears from today's WSJ that real estate is slowing gradually now that interest rates have increased some. My sense is that this slowing will accelerate substantially by the end of 2018. The bubble in real estate is obvious to me. As this bubble starts to deflate, the markets will also start to correct.
The situation in Venezuela is now a disaster. Mr. Maduro is attempting to force his new cryptocurrency ( the Petro) upon all his markets. This will backfire IMO. The situation in Venezuela will reveal the nature of our collapsing global monetary system as it spreads to other countries (say Iran and Turkey). All these digital currencies are suspect and none can last for the longer-term. Our dollar is strong (in relative terms as of today) but the unit is weak when we consider its nature. This means that our dollar will also return to its source (our inner consciousness). It will eventually be eliminated from use.
New vehicle sales are encountering a slowdown after nearly a decade of growth. This signals that our economy is slowing and that a crisis is brewing. This, along with real estate, should reveal that a major correction is on the horizon (later in 2018). See page 1 of WSJ of August 29, 2018.
Germany is considering emergency financial assistance to Turkey. All this is based on issues of concerning the immigration situation. The emergency loan package could reach $60 billion. Also the Turkey lira is losing credibility and value…it is now 6.46 to the dollar (a loss of 40% in less than one year).
The cover ups of Catholic Bishops and Priests continues to gain momentum. Pope Francis now must disclose and explain the truth on this issue or forfeit his moral authority. A resignation of this Pope is likely at some point. This issue could have serious ramifications for all religions at some point. The corruption is at a high level and coverups are now impossible given our global internet society.
Our world is in serious trouble and most everyone I talk with recognize this reality. Nothing will change, however, until the global economy turns down. People use money to avoid talking about all our problems. I notice this daily as I talk to seniors here in Arizona. If the markets are up and seniors are flush with $$$$$, they avoid talking about the problems underlying our markets. They assume that their money will allow them a means for escape. Do you sense a similar mindset in your area?
We could see the current slowdown within autos, real estate, and retail to spread and grow over the next few months. This will eventually lead to a major correction and a new trend for our markets. The USA Fed policies (higher interest rates) will accelerate this slowdown. The effect is slow to be noticed but I do sense that a slowdown has started. Check out the videos from the BIS website to discern what our Central Banks are saying and doing. See: http://www.bis.org. These elites are key to what might occur later in 2018. Enjoy!
I am: https://kingdomecon.wordpress.com. Continue to check with this blog for updates on all the above issues. 
STAY INFORMED! Receive our Weekly Recap of thought provoking articles, podcasts, and radio delivered to your inbox for FREE! Sign up here for the HoweStreet.com Weekly Recap.