August 15, 2018 | Economic Terror Strikes to Sink Markets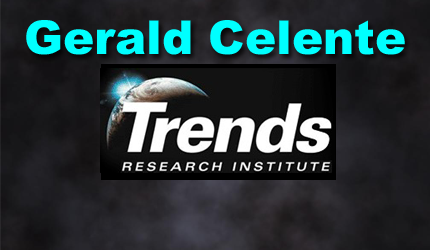 Gerald Celente, who developed the Globalnomic® methodology to identify, track, forecast and manage trends, is a political atheist. Unencumbered by political dogma, rigid ideology or conventional wisdom, Celente, whose motto is "think for yourself," observes and analyzes the current events forming future trends for what they are — not for the way he wants them to be. And while Celente holds a U.S. passport, he considers himself a citizen of the world.
KINGSTON, NY, 15 AUGUST 2018—It's warfare. Military strikes destroy nations and kill civilians. Cyberattacks take down power grids and cripple companies.
And then there are sanctions: Terror strikes launched against nations that crash their currencies and wreak havoc on their markets and economies.
There are no clearer examples of economic warfare than the damage caused by President Trump's recent sanctions against Turkey, Iran and Russia. Their currencies are crashing and their economies are destabilizing. Just last Friday, following the latest round of sanctions against Russia, its Prime Minister Dmitry Medvedev said: "this amounts to a declaration of economic war."
TURKEY TRAUMA
In response to the sanctions imposed on Turkey last Friday by Washington, its lira swooned some 14 percent … and was down 45 percent to the dollar this year.
Turkey President Recep Tayyip Erdogan responded to the sanctions by accusing the U.S. of "economic warfare" and stabbing the country "in the back."
Following the downward spiral of Turkey's lira, many emerging market currencies sank against the dollar, sparking fears it would trigger a currency panic similar to the 1997 Asian Financial Crisis that was set off when the Thai baht collapsed.
On Monday, the MSCI Emerging Markets exchange-traded fund dropped 1.6 percent. The ETF also closed 18.4 percent below its 52-week high, which is brushing a bear market.
STRONG DOLLAR, WEAK CURRENCIES
The more the dollar rises, the lower emerging market currencies fall. And the lower their currencies fall, the costlier it becomes for them to pay back their $40 trillion in debt they incurred in the decade since the global financial crisis.
And, the deeper their currencies sink, the higher their inflation rate rises. Indeed, Turkey's annual inflation rate is estimated to have soared 101 percent this year.
Turkey says it won't raise rates to stem inflation because, according to President Erogdan, higher rates slow down the economy and are "the mother and father of all evil." However, in Argentina, with inflation rising at 30 percent, and its currency down 38 percent against the dollar this year, the central bank raised rates five percentage points on Monday to 45 percent following the latest hit on the Turkish lira.
Is it bigger than Turkey? Is it a contagion?
EM currencies, already on a down-trend, are getting slammed: China's yuan, the euro, the Iranian rial, the South African rand, Indian rupee, Indonesian rupiah, Mexico's pesos, the Russian ruble, the Brazilian real, Kazakhstan's tenge … across the globe emerging market currencies are hitting new, yearly, and/or double-digit lows against the U.S. dollar
TREND FORECAST:
We have consistently forecast that weakening EM currencies against a strengthening dollar and rising interest rates were undercurrents for economic collapse, needing only a trigger to ignite the downslide. Escalating tensions and war in the Middle East could be that trigger, and that includes economic war.
Should the EM currency crash escalate, the U.S. Federal Reserve may lessen its aggressive interest rate policy, which in turn will weaken the dollar and be more bullish for gold.
STAY INFORMED! Receive our Weekly Recap of thought provoking articles, podcasts, and radio delivered to your inbox for FREE! Sign up here for the HoweStreet.com Weekly Recap.