July 15, 2018 | Where to Find Potential Trade War Profits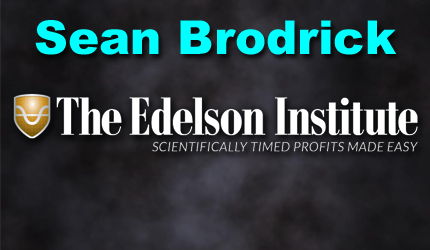 Sean is the natural resource analyst for Weiss Group. You can read his thoughts on gold, oil, cannabis, uranium and other natural resources at EdelsonInstitute.com
The trade war is on. Oh, it's on like Donkey Kong! And while President Trump is handing out heaping helpings of tariff tough talk to Mexico, Canada and Europe, he's saved his special ire for China. This could affect your investments a lot.
I'll explain.
President Trump just announced another 10% hike on $200 billion of Chinese imports. The list comes out next week. That's on top of the tariffs on $34 billion worth of Chinese goods from the week before. China responded to the first tariffs with an equal slam at U.S. goods — agricultural imports and so on.
It's holding its fire on the second round of tariffs … for now. Some analysts are saying cooler heads will prevail. The market chooses to believe them. Again, for now.
But Trump and China's President, Xi Jinping, have both invested a lot of machismo in this face-off. I don't see it ending soon.
We know who's on the firing line. You, me and everyone with a wallet. That's because inflation just hit a 6-year high …
And that's WITHOUT tariffs. Tariffs will only intensify that inflation pain.
You know what else is getting slammed? Commodities. After all, China is the world's biggest consumer of everything from copper to coal. Soybeans hit new lows. And take a look at this copper chart I snagged from Bloomberg …
Copper WAS one of the best-performing assets of 2018 until the trade war hit. It hasn't been targeted specifically. But traders and investors fear that China's economy will slow down as the trade war grinds on, and China uses a lot of copper.
So, how could China respond? Well, I wouldn't want to own Boeing (NYSE: BA), for example. China might just stop buying their planes. Heck, everything from cars to iPhones could be in trouble.
But when it comes to commodities, there is one area where China could hit us hard in the short term. Here's another chart I made on Bloomberg. This one shows monthly U.S. oil exports to China …
Wow! This is exports of oil only (not refined products) — 882 million barrels in the last month, or 28.4 million barrels per day.
President Trump is pushing Russia and Saudi Arabia to pump more oil. If he succeeds, China could turn around and buy that oil, replacing barrels from the U.S. with barrels from those countries. They'd only be able to replace a fraction of the oil they import from the U.S., yet it would likely drive down oil prices and oil stocks for a while.
But just a SHORT while. Why? Because they ultimately NEED our oil. And they need access to our economy because we absorb such a huge chunk of their exports!
Just consider the massive trade imbalance between the two countries. China's trade surplus with the U.S. just hit $28.97 billion. That's the highest in any month in data back to 1999.
This shows how China sure needs us more than we need them. It's very likely the U.S. will ultimately win the trade war.
Bottom line: If just the mere threat of a trade war is crushing copper, it's not hard to imagine the price of West Texas Intermediate taking a slide due to an import fight with China. But I'd say you'd want to go on a bargain-buying bonanza on stocks leveraged to that oil price. Because again, China can probably only do this short-term.
A Safe Port in the Storm
Meanwhile, if you're going to prepare for anything, be prepared for volatility. We could see even more huge and wild swings in prices.
In fact, all this market mayhem is already helping out the U.S. dollar. It's seen as a safe haven. And investors from Europe and emerging markets prefer to hide out in the mighty greenback when economic waters are stormy.
Investors are betting that the U.S. dollar will be less hurt by any potential slowdown in global growth caused by lower international trade.
This is something Dr. Martin Weiss and I have been talking about for months. The market is following the plan we outlined.
And there's that word again: "slowdown." Will we see a slowdown in China? Will we see global growth ease off the throttle? It's too early to say. But speculation on that is going to add … wait for it … more volatility.
Be ready to seize those opportunities. Fear is understandable, but inaction is the wrong response. Get crackin' finding the investments you want to buy on the next pullback.
And to help you do just that, Dr. Weiss and I are holding a special series of briefings this week, starting on Tuesday.
He and I are seeing things in the cycles we study that we feel compelled to bring to your attention. In fact, Martin is flying home from his farm in Brazil, just for these briefings!
We see a phenomenon that could impact global economies for the next five years, which we'll discuss in depth. We'll outline the dangers, as well as the numerous opportunities we see.
It's 100% free to attend, but reservations are required. Just click this link to let me know you're coming, and I'll send you instructions for attending.
All the best,
Sean
STAY INFORMED! Receive our Weekly Recap of thought provoking articles, podcasts, and radio delivered to your inbox for FREE! Sign up here for the HoweStreet.com Weekly Recap.