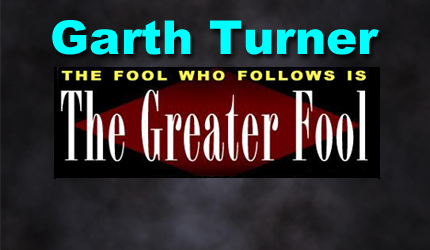 A best-selling Canadian author of 14 books on economic trends, real estate, the financial crisis, personal finance strategies, taxation and politics. Nationally-known speaker and lecturer on macroeconomics, the housing market and investment techniques. He is a licensed Investment Advisor with a fee-based, no-commission Toronto-based practice serving clients across Canada.
"I'll stick with the tradition of sucking up right off the bat," says thirtysomething Brian, wisely. "I have learned more about real estate, finance and economics from this blog than any course I've taken, any book I've read, by far. I've been reading for awhile now and even know some of the deplorables that populate the comment section. I try to keep my distance but here I am pitching a situation you know well."
Ah yes, the conundrum
"I'm in my early 30's and own a condo in the nice-ish city of Guelph. I paid 250k for it 4 years ago (when the building was brand new) and I figure the market will allow for 330k today (according to recent sales in the building). I'm thinking of unloading the condo for a number of reasons. A year from now I don't think I'll get as much as I can today with the stress test touching 6%. As time goes on this building will deteriorate and I don't want to be around for when the elevator breaks. In this city there are condos going up everywhere. I don't know why someone would choose an older building with higher maintenance fees when they can purchase a shiny new one with low fees.

I make 70k annually and my girlfriend is fresh out of school and a minimum wager. We have no debt and the small amount in my TFSA is invested in an ETF. We want to travel and work somewhere within the next year or two. I estimate I'll come out of the sale with 100k. I would like to get your opinion on whether or not it's the right move to sell and rent for the next two years, and where I should park this 100k.  I could also rent my place out. I just like the romantic idea of having cash invested and not being a slave to the bank for 25 years.

Keep up the great work, and the dog photos."
Smart boy. Apparently there is hope. Not all moisters are house-lusty helo kids begging to be mortgaged. Brian's arguments are valid. Yes, rates will be rising and as the stress test rate touches 6% prices will have to decline. Yes, condos are being massively overbuilt, even in a sleepy burg like Guelph. Yes, unlike me, condo units lose appeal every year they age. Monthly costs rise. Things stop being shiny. The herd moves on. And, yes, B has almost 100% of his net worth in a single asset. Since the point of investing is to make money, why doesn't Brian realize that tax-free gain and start acting his age (ie. more irresponsibly)?
Keep the condo, rent it out and lease somewhere else? What a ridiculous idea. All that would accomplish is to subsidize someone else's living costs. Nope, sell. Invest. Be liquid and free.
What of the argument that if Brian made good coin on the condo (about $12,00 a year) he should stay on the property ladder, maybe leveraging his capital gain into a detached house worth four or five hundred grand?
Bad idea. That would entail swallowing a bigger mortgage to buy in a vulnerable market at an uncertain time. The low rates that gave big price gains are over. The slow ascent higher will choke off credit and impact prices. Guelph – like Burnaby, PoCo, Milton or Whitby – is vastly more susceptible to price corrections than urban areas like YVR or the Six. Especially now in southern Ontario with the trade war bubbling. Ground zero for car production.
Besides, what's the point of having a detached with a fat mortgage when you have no money? That's just asking for trouble. Job loss. Ill health. Mat leave and kids. Divorce. Anyone who is married, likely to start a family, who puts all their eggs in one basket is irresponsible. B has decided to marry for love, not money, which only underscores what the correct path should be.
Finally, face facts.
Even the realtors are morose. Big price slide coming, some of them are telling the media in Vancouver. No surprise there. In the GTA sales of houses costing over a million (don't they all?) have fallen 46% year/year, says Sotheby's. Blames the CEO: "The collision of rising mortgage rates, stricter lending guidelines and cascading governmental policies and taxes."
Sure, the usual shameless pumpers (Royal LePage and Re/Max) are still at it, telling people the bottom is in and that there's never been a better time to buy (like they suggested last spring when prices peaked). But, as stated, facts are facts. The inverse correlation between rates and prices has not been broken. B20 has reduced available credit between 15% and 20%. Sales volumes have dropped and listings increased. This was the worst rutting season in memory. Over 80% of the top GTA real estate brokerages are struggling (RedPin vaporized recently). And while Trump may thump Canada, he's the inflation president who will keep interest rates, bond yields and mortgage costs rising.
As always, if you want a house, need a house or have a horny spouse, get one – provided you can afford it without putting all your precious eggs in one costly basket. Otherwise rent, invest and save, be liquid and flexible, flee the trap and await the inevitable.
STAY INFORMED! Receive our Weekly Recap of thought provoking articles, podcasts, and radio delivered to your inbox for FREE! Sign up here for the HoweStreet.com Weekly Recap.