July 7, 2018 | Trading Desk Notes – July 7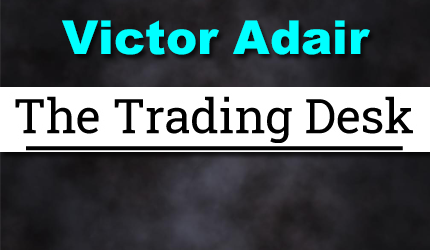 Victor Adair, author of The Trading Desk Notes, began trading penny mining shares while attending the University of Victoria in 1970. He worked in the mining business in Canada and the Western United States for the next several years and also founded a precious metals trading company in 1974. He became a commodity broker in 1977 and a stock broker in 1978. Between 1977 and his retirement from the brokerage business in 2020 Victor held a number of trading, analytical and senior management roles in Canada and the USA. Victor started writing market analysis in the late 1970's and became a widely followed currency analyst in 1983. He started doing frequent media interviews in the early 1980's and started speaking at financial conferences in the 1990's. He actively trades his own accounts from The Trading Desk on Vancouver Island. His personal website is www.VictorAdair.ca.
What I'm doing: I started this week long CAD and AUD against the USD. I was expecting the USD to correct after strong gains the past couple of months. I covered my positions Friday after the employment reports as the USD fell to 3 week lows and CAD rallied nearly 2 cents from the 1 year lows made June 27. I ended the week flat but I'm looking at trading opportunities shaping up in several markets.
Politics has replaced Central Banks as the most important driver of world markets according to Christopher Wood, financial analyst with CLSA, and I agree. It seems that for the last several years it was, "All about the Central Banks," but since Trump's election the markets have been buffeted at least as much by political developments as by Central Bank actions. The recent Italian "existential crisis" is a fine example of politics rattling the markets, as are Trump's harsher-than-expected Iranian sanctions. Trump's tax reform obviously had a big impact on markets and the political positioning ahead of the upcoming mid-term elections will likely also impact markets.
From a Bigger Picture perspective it's easy to imagine that politics will continue to "trump" Central Banks as voters are increasingly motivated to replace existing governments with radical alternatives…thereby producing risks and opportunities for investors and traders.
Trade wars are a subset of "politics" and the initial round of China/USA tit-for-tat tariffs kicked in Friday with each side hitting the other with $34B in tariffs. The irrepressible Donald Trump announced that American tariffs against other countries could hit $500B annually. A few weeks ago I wrote that Trump wasn't "negotiating" when he demanded that other countries reduce their trade surpluses with the US. My thought was that he believes the "rest of the world" (especially China and the EU) have taken advantage of America and he's on a mission to right those wrongs…and he's just getting started. In 2017 the US exported $2.4T worth of goods and imported $2.9T.
China's economy seems to be slowing...the Shanghai stock index is down ~24% from its January highs at a 2 ½ year low. The Yuan hit 2 ½ year highs in March but has fallen ~7% since then. Worries are rising about the housing market. General Motors sold a million more cars in China last year than they sold in the US. China may not want to see a trade war with the US escalate.
American soybean prices have been hit by trade tariff worries…down ~20% in the last 6 weeks to a 10 year low.
Copper prices have fallen to a one year low…down ~16% in the last month.
The JP Morgan Emerging Market FX Index touched a one year low this week…down ~11% from its March highs as the "stealth strength" of the USD continues.
The Canadian Dollar had its best weekly close in a month as 1) the USD weakened across the board, 2) the chances that the BoC will raise interest rates ¼ next week are nearly 100%, 3) WTI remains near 4 year highs. I made some money this week long CAD but I didn't want to overstay my welcome…I think CAD is at risk of making new lows this year.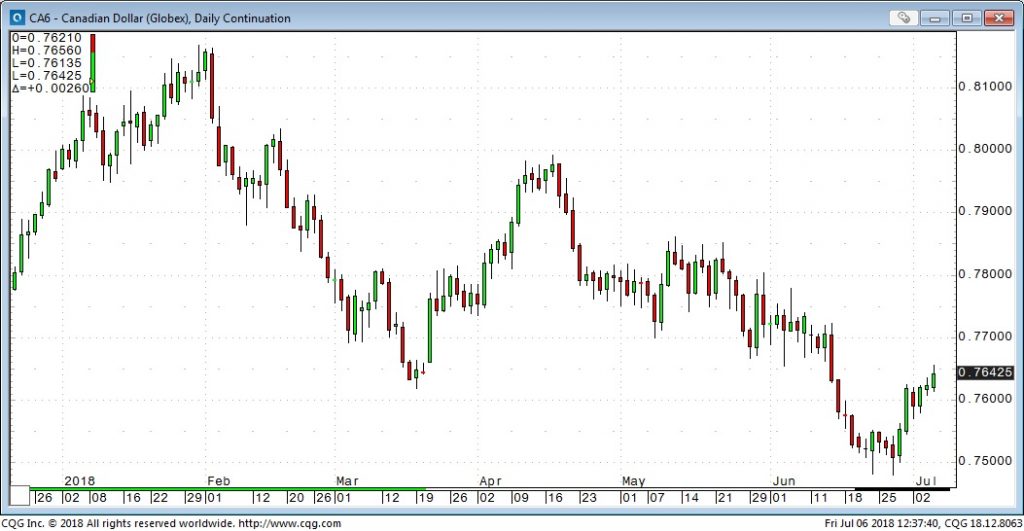 The major American stock indices softened in the 2nd half of June but turned higher this week lead by small caps and the Nasdaq. The DJIA is clearly lagging those indices. Stock buybacks in Q1 18 hit all-time highs and were probably even higher in Q2.
WTI was $42 a year ago and the front month is now around $74…its highest price since Nov 2014. The nearby WTI contracts made new highs on the Syncrude story but the October and back WTI (and all of the Brent contracts) did not take out their pre-OPEC meeting highs…and are down on the week…perhaps the market got too high and is rolling over.
Current global supply/demand is about 100 million BPD but the "balance" seems to be so tight that a loss (or an anticipated loss) of only a few 100 thousand barrels will cause prices to spike. Helima Croft, the head of commodity research for RBC in NY, has been very accurate with her crude oil price forecasts the past few years and she recently declared that there is very little "room for error" on the supply side. When you look at the world's oil producing regions it's easy to imagine lots of opportunity for additional supply disruptions…hence the growing "risk premium" in the market.
Iran is the wild card in crude oil price forecasts. Prices have jumped as Trump tries to force all countries to stop buying Iranian crude (while pushing OPEC to ramp up production to offset the Iranian shortfall.) Iran is struggling financially and may be "over-reaching" with their operations in Iraq, Syria and Yemen. Their currency is in free-fall and there are public demonstrations around the country. Is Trump trying to "break" Iran like Reagan "broke" the USSR? The threat by the Iranian government to close the Strait of Hormuz could be a sign of desperation…an attempt to rally the people against a common enemy. But what if the current Iranian government (or a new one?) wants to make a deal to keep the oil flowing?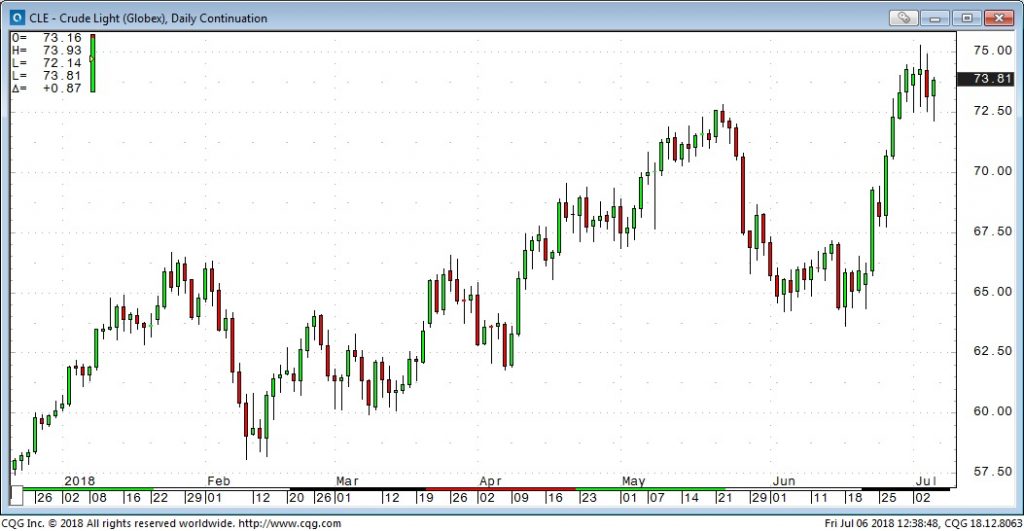 PI Financial Corp. is a Member of the Canadian Investor Protection Fund. The risk of loss in trading commodity interests can be substantial. You should therefore carefully consider whether such trading is suitable for you in light of your financial condition. In considering whether to trade or the authorize someone else to trade for you, you should be aware of the following. If you purchase a commodity option you may sustain a total loss of the premium and of all transaction costs. If you purchase or sell a commodity futures contract or sell a commodity option or engage in off-exchange foreign currency trading you may sustain a total loss of the initial margin funds or security deposit and any additional fund that you deposit with your broker to establish or maintain your position. You may be called upon by your broker to deposit a substantial amount of additional margin funds, on short notice, in order to maintain your position. If you do not provide the requested funds within the prescribe time, your position may be liquidated at a loss, and you will be liable for any resulting deficit in your account. Under certain market conditions, you may find it difficult to impossible to liquidate a position. This is intended for distribution in those jurisdictions where PI Financial Corp. is registered as an advisor or a dealer in securities and/or futures and options. Any distribution or dissemination of this in any other jurisdiction is strictly prohibited. Past performance is not necessarily indicative of future results
STAY INFORMED! Receive our Weekly Recap of thought provoking articles, podcasts, and radio delivered to your inbox for FREE! Sign up here for the HoweStreet.com Weekly Recap.