July 16, 2018 | The Dollar: A Unit of Consciousness – Circulating in Cyberspace!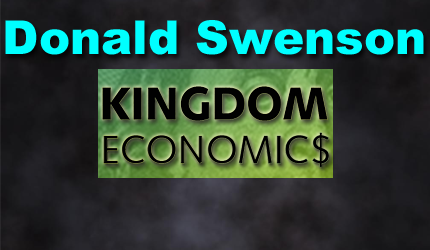 Donald B. Swenson: Born January 24, 1943, Roseau, Minnesota. Graduated H.S. 1961, Moorhead High, Minnesota. Graduated College 1968, Moorhead State University, Minnesota. Designated member of Appraisal Institute (MAI), 1974. Employed with Western Life Insurance Company, 1968 – 71; Iowa Securities Company, 1971 – 73; American Appraisal Company, 1974 – 81. Part-time teacher/valuation consultant/bartender, 1979 – 2008 (taught workshops at Waukesha County Technical Institute, Wi. and Madison Area Technical College, Wi.). Retired 2008 (part time teacher/blogger), AZ. Self educated economist/philosopher/theologian: http://kingdomecon.wordpress.com.
How should we think of today's currencies? The units are tied to nothing and derive from the human mind. The units are metaphysical. We witness our money units as numbers circulating in cyberspace. Cyberspace is this space which we witness as we look at our computer screen. Cyberspace has no matter or physical existence. The space is non-physical. Yet it provides us with an image and information.
As a banker I can now create a currency unit by typing a number ($1) in my digital computer account. All bankers can now merely type numbers into an account to create money (deposits). Money is now immaterial and non-physical. The unit derives from the human mind (also called consciousness). As a consumer I can now merely think about my purchase and then act to acquire the item by swiping my electromagnetic strip to record the transaction. A debit and a credit results. It's all imaginary numbers.
Money is now a unit of my consciousness. I no longer need paper notes or metal coins to purchase, invest, save, or sell. It's all done as an inner transaction within myself. What a change from yesterday. This metaphysical system works for the time being. Bankers can create these units of consciousness in unlimited amounts (quantities). All they do is think and click. Numbers go to infinity and money can now go to infinity.
What I witness today is a system of imaginary numbers for our money system. Some call these units mental abstractions. I call them units of consciousness. The units can be manipulated by those in control of our master computers at our Central Banks. Select bankers can increase, decrease, and vary the quantity of these units by merely typing numbers at the computer keyboard. Computer money is another name for this system. I call the money…cyber money.
Today, machines rule over all finance. Computers and algorithms create our prices. Prices change continuously and at near the speed of light. Robots and AI can trade our markets today. Human beings have been replaced with machines and algo's. It's a new world of finance which few seem to comprehend. Central planning is now possible as computers at select venues monitor, control, and manipulate the system. We live with rigged markets (nationally and globally).
All this is supposed to promote equality and growth. In reality, however, it promotes inequality and distortion. Those with special connections to the Central planners and bankers can obtain these units of consciousness in unlimited amounts at near zero interest rates. Those without these connections are victims of the system. Some 75% of all wealth is now controlled and owned by merely 5% of the investors. This disparity is growing over time. Central banks may eventually own all wealth on this planet.
Our current system works for the few and enslaves the many. But it is working as I write and many do not desire to change this metaphysical money system. Creating money from the human mind (allows for those in control to maintain control). Computers, robots, AI, and automation allow production to continue for the time being. My sense is that this metaphysical money system has a limited time horizon, however. When will it crash? Nobody knows!
Think of money today as a 'unit' of consciousness circulating in cyberspace. The dollar, euro, pound, yen, shekel, peso, yuan, real, etc. are all units of consciousness today. Numbers are money. Central planners control the system. The Mark of the Beast is here. Understanding money is essential for survival going forward. Take the time to think about the above changes. It may be key to your survival. I am: https://kingdomecon.wordpress.com.
STAY INFORMED! Receive our Weekly Recap of thought provoking articles, podcasts, and radio delivered to your inbox for FREE! Sign up here for the HoweStreet.com Weekly Recap.