July 11, 2018 | Reasons Why 'Money' Can Be Eliminated!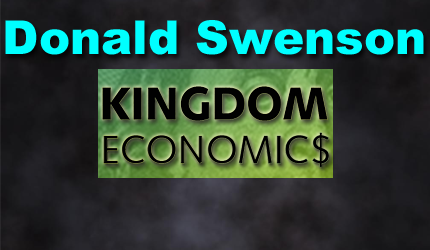 Donald B. Swenson: Born January 24, 1943, Roseau, Minnesota. Graduated H.S. 1961, Moorhead High, Minnesota. Graduated College 1968, Moorhead State University, Minnesota. Designated member of Appraisal Institute (MAI), 1974. Employed with Western Life Insurance Company, 1968 – 71; Iowa Securities Company, 1971 – 73; American Appraisal Company, 1974 – 81. Part-time teacher/valuation consultant/bartender, 1979 – 2008 (taught workshops at Waukesha County Technical Institute, Wi. and Madison Area Technical College, Wi.). Retired 2008 (part time teacher/blogger), AZ. Self educated economist/philosopher/theologian: http://kingdomecon.wordpress.com.
For the first time in all history, mankind has the opportunity to eliminate 'money' from this planet. A money less society is possible and probable in the very near future. Let's review what is now happening with our technology to understand why change is revolutionizing our world. I will list just a few tipping point items for your consideration.
By the end of this year (2018) it is estimated that up to 90% of all people in western countries will have unlimited and free mass storage of digital data. Deleting files to make room for more data because you lack storage capacity is a thing of the past. Experts now estimate that 90% of all data that has ever been created has been created in just the last two years. This doubling of data (every two years) may continue for many more years.
By 2021, the first robotic pharmacists will arrive in the USA and other Western countries. AI and robotics will soon take away huge swathes of domestic job markets leaving mass unemployment as a by-product for our governments. Robotics, AI, and 3-D printing will decimate most service-oriented jobs which can be automated. Increased automation will be the culprit but it will also be an opportunity for the elimination of all money on this planet. Money was invented for a world of scarcity…not a world of abundance. Abundance is now a reality!
Telemarketers, bookkeepers, benefit managers, receptionists, proofreader's, marketing research analysts, salesmen and women, and most truck drivers will lose their jobs due to automation and augmented AI. A workplace revolution is coming to our world which none can escape from. Even my own profession of teaching will be partially replaced by AI. It's all happening at near the speed of light.
Richard Branson and Elon Musk state that the impact of robotics, AI, and 3-D printing will be so great that governments will be required to initiate a Universal Basic Income to prevent unemployment from becoming extreme. A UBI is a must according to these experts or mass unemployment will create worldwide chaos as job loss becomes extreme. Even guns are now being produced using 3-D printing technology. We need to recognize that all this change is happening in the NOW and it is changing our past traditions and beliefs.
Censuses are also coming to an end. Governments will not be required to collect information in the traditional way as vast social media profiles will provide detailed information on each and every person. Big data will be used by governments to replace censuses. Online records and general connectivity to the internet will give governments all the real-time information they desire on each and every person. All secrets will be revealed as the digital world becomes ubiquitous. Governments and politicians may become controlling and/or dictatorial.
By 2023, scientists and sociologists believe that 80% of all people on our planet will have a digital profile which governments can access. Even to buy and sell will require a digital profile. Crypto- currencies will replace cash and the digital blockchain ledgers will replace today's records. All this change is a result of recent computerization of data and the global interconnectivity of our markets.
As I write the digital stock markets are pumping out dubious valuations for all historical assets. Speed of light computers and real-time trading via algorithms allows prices to change in milliseconds. A stock can go from $100 to Zero in seconds (price is all that traders seek today as they trade electronically). Money has become a 'digit' in the computer screen and valuations can change with merely a 'word' spoken by our President or some authority figure. Who understands all this change?
Comments: My sense is that all this revolutionary change must eventually lead to a NEW MODEL for economics, politics, and social relationships. Elimination of money is one option which could revolutionize our world. If we eliminate money we could create a world of liberty for mostly everyone. Why was money invented in the first place?
Are you aware that money was invented for a world of scarcity? Scarce resources helped to create this concept called 'money'. Today, we are entering a world of potential abundance. This abundance is possible because of all these new technologies which have arrived on the scene. We can now develop a NEW MODEL for our planet which utilizes these new technologies for the benefit of society as a whole. Abundance can be multiplied so that all in society benefit.
Let's wake-up to the reality that our world has changed. We need to think in terms of a NEW MODEL for this planet. Kingdom Economics is my alternative for our planet. Read my prior missives for reasons and the logic. Millennials and those younger (age 10 to 35) need to think in terms of supporting a NEW MODEL for this rapidly changing world society. The time to start this new model is now. Think on this idea at your leisure. Send me your view after serious consideration and contemplation. I am: https://kingdomecon.wordpress.com.
STAY INFORMED! Receive our Weekly Recap of thought provoking articles, podcasts, and radio delivered to your inbox for FREE! Sign up here for the HoweStreet.com Weekly Recap.