July 24, 2018 | Gold Extremes Scream Bullish Reversal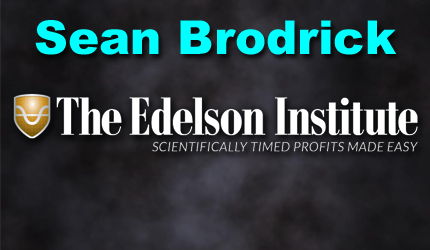 Sean is the natural resource analyst for Weiss Group. You can read his thoughts on gold, oil, cannabis, uranium and other natural resources at EdelsonInstitute.com
The market hates gold right now. Hates it!
I'm OK with that, though. That's because gold and gold miners are going to pull off a massive rally when you least expect it.
Let me show you two reasons why.
This shows that short positions in gold are at a record high. That's according to the latest data from the Commodity Futures Trading Commission (CFTC).
What does this mean? Two things. It means hedge funds and other large speculators raised their bets that the gold price will fall further. And the number of people making that bet is at its highest level since at least 2006.
This is a sentiment indicator. And right now, everyone who wants to sell gold has sold. Everyone who wants to go short the metal is short.
In such extreme sentiment, it's harder for gold to go down than it is to go up.
And if gold rips to the upside, what will all those shorts have to do? Cover, that's what.
Now, on to chart #2.
This is a weekly chart of the VanEck Gold Miners ETF (NYSE: GDX). I've put a momentum indicator on the bottom.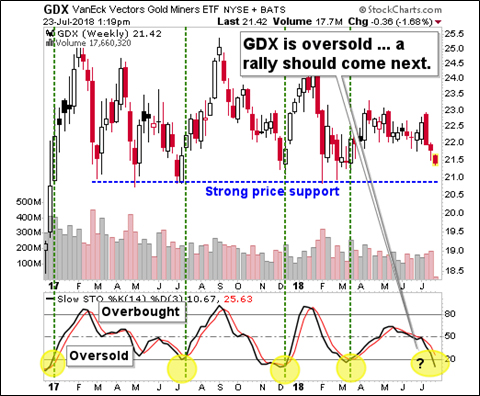 Image credit: StockCharts.com
You can see that GDX is coming down to test strong price support. At the same time, that momentum indicator on the bottom is oversold right now.
Oversold is where strong rallies start. And because this is a weekly chart, it carries more weight than a daily chart.
To be sure, bears will be happy to kick holes in any argument for a gold rally. The moribund metal has been hitting the snooze alarm since February of last year. People are bored with gold.
But I'd say this "barbarous relic" has a few more surprises for the bearish crowd. Did you know …
The U.S. deficit will soar past $1 trillion next year. That's a year earlier than even the most pessimistic Congressional Budget Office projections in February. They're printing paper money. You know what you can't print? Gold!
The European Union is careening toward multiple crises. Britain's "Brexit," or exit from the EU, is barreling ahead like a driverless train. Trade wars are rearing their ugly heads around the globe, and threatening the EU economy. Add in uproars over unchecked immigration, and the EU is a boiling pot. And you know what is always a calm port in a storm? Gold.
War clouds are looming. The leaders of the U.S. and Iran are swapping threats. Iran's President Hassan Rouhani warned the U.S. that war with Tehran would be the "mother of all wars."
As this brouhaha blew up, President Trump tweeted:
Now, Iran is rattling sabers about closing the crucial Strait of Hormuz over U.S. sanctions.
Let's hope this blows over. But if it doesn't …
Well, you know, gold is historically financial armor in wartime.
I've opened up enrollment in Supercycle Investor precisely because of the political and economic chaos we're experiencing. The investments I recommend are designed to soar in times like this, including some of my favorite gold-related plays.
Go here to learn more about my service and enroll. But do so quickly: The large discount I've arranged expires the day after tomorrow.
Add it all up, and I think bears should reconsider poking the sleeping gold bull. It could wake up and rally at any time. And the next one could be a rip-snorting move.
Let the market hate gold … for now. The next rally will be worth it.
All the best,
Sean
STAY INFORMED! Receive our Weekly Recap of thought provoking articles, podcasts, and radio delivered to your inbox for FREE! Sign up here for the HoweStreet.com Weekly Recap.