July 11, 2018 | Bigger than Tariff Talk: Oil, Dollar, Dr. Copper Moving Markets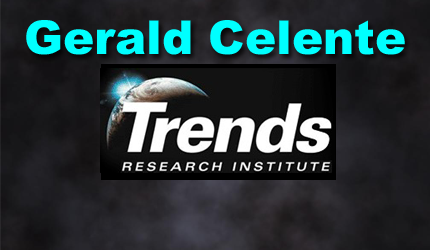 Gerald Celente, who developed the Globalnomic® methodology to identify, track, forecast and manage trends, is a political atheist. Unencumbered by political dogma, rigid ideology or conventional wisdom, Celente, whose motto is "think for yourself," observes and analyzes the current events forming future trends for what they are — not for the way he wants them to be. And while Celente holds a U.S. passport, he considers himself a citizen of the world.
KINGSTON, NY, 11 JULY 2018—Yes, global equities are diving as trade war fears heat up, but there are much greater fundamentals that are moving the overvalued and overleveraged markets, whose nine-year bull run, as we had forecast in February, has ended.
While the business media is focused on tariffs, there are three major trend indicators that are more formidable determinants of sustained market performance: oil, dollar and copper.
Bigger than the fear of trade wars, is the oil-war, accelerated by the Trump Administration's actions against Iran, which has, in part, driven prices up over 60 percent this year already.
Oil prices are dollar based. As the dollar rises and currencies of oil-importing countries decline, they are facing powerful downward economic pressures far greater than tariff threats.
For example, India imports some 80 percent of its energy needs. With its economy slowing and its rupee down 7.4 percent against the dollar, while brent crude prices plunged over 6 percent today, should oil again move toward the $80 a barrel range, it will put further downward pressure on its economy.
So too with China, the world's second largest economy. As we have detailed in previous Trend Alerts, China's economic indicators across a broad spectrum are falling, along with its yuan, which is now at an 11-month low against the dollar. Thus, should oil prices moderately slide, and the dollar rally continues, China's economy will be negatively impacted.
COPPER'S DECLINE A WARNING SIGNAL
Another key market indicator is copper. From high-tech to heavy industry … across the construction, infrastructure and production spectrum, Dr. Copper is a bellwether of economic growth.
In just four weeks, copper has sunk 14 percent from a four-year high set June 7. Its sharp decline is a reflection of weakening demand, especially in China, which consumes some 50 percent of the world's copper.
TREND FORECAST: Again, it's rising oil prices, a strengthening dollar and spikes in U.S. interest rates that are poised to rattle global economies.
Already those factors are key elements that will lower market expectations for global growth from 5 percent at the start of the year to our forecast of 4 percent by year end.
Moreover, with global debt at a record level $247 trillion and rising at historically high rates, should the U.S. Federal Reserve aggressively raise interest rates, the debt burden will increase and risk levels will accelerate.
And, as we have noted in previous Trend Alerts, gold is the ultimate safe-haven commodity. Thus, if trade wars were imminent gold prices would be rising, rather than declining.
STAY INFORMED! Receive our Weekly Recap of thought provoking articles, podcasts, and radio delivered to your inbox for FREE! Sign up here for the HoweStreet.com Weekly Recap.