June 27, 2018 | Why 'Boring' is a Good Setup for Gold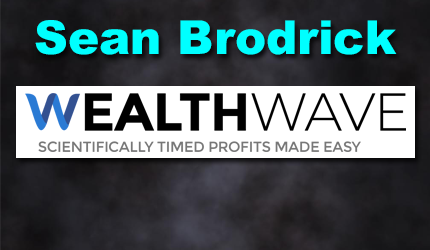 Sean is the natural resource analyst for Weiss Ratings. You can read his thoughts on gold, oil, cannabis, uranium and other natural resources at Wealth-Wave.com
Gold prices traded sideways for the first part of the year, and have been rolling downhill slowly since May.
It's very disappointing for gold bulls. Worse than that, it's boring.
But this also may be a setup for some extraordinary gains.
Why? Because gold's snooze-walk to lower prices not seen since late last year is so boring that speculative money is leaving the sector. And that makes prices stupid-cheap.
Let me give you an example. Take a look at what speculators are doing in gold futures.

Click image for a larger view.
Last week, hedge funds and speculators cut their net-long position to the lowest levels since January 2016. That's according to government data compiled by Bloomberg.
This is due to U.S. dollar strength.
Gold is priced in dollars, so when one goes up, the other usually goes down. It's what I call the "Seesaw of Pain." And gold has been riding the painful end of that seesaw, as the U.S. Dollar Index has rallied 6% since mid-April.
That's a big move for a currency.
And it's happening in ETFs that hold the physical metal, too.
Holdings of all gold ETFs worldwide rose by 15 metric tons in May. This was all due to European ETFs, which saw gold buying as the euro weakened against the dollar. But in North America, where the rising dollar crushed gold, ETFs lost 30 metric tons.
And since reaching a peak on May 18, gold ETFs have been bleeding ounces across the board on both sides of the Atlantic. Take a look …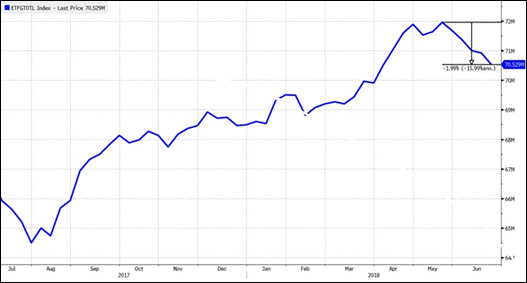 Click image for a larger view.
In total, physical gold ETFs have lost nearly 2% of their holdings, or 44.29 metric tons.
So, speculators are turning bearish. Institutions and small investors that use the SPDR Gold Shares (NYSE: GLD) and other physical ETFs are taking their money out, too. Pretty bearish, right?
But keep one thing in mind. The mass herd of investors usually do the wrong thing at the wrong time. And I've got one more chart for you that shows why you might want to get bullish on gold.
That's a chart of gold's big uptrend since it ended its bear market in December 2015. Gold is coming down to test that uptrend right now …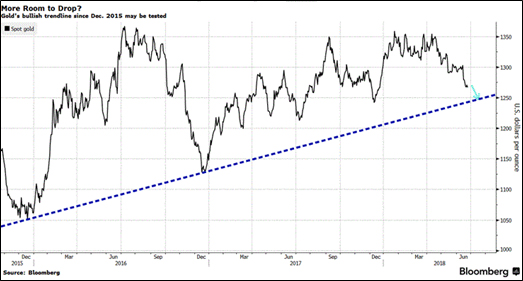 Click image for a larger view.
You can see support from that uptrend is right around $1,250. It's very likely that gold will test this support. And what do you think will happen there?
I mean, I'm sure sentiment will be negative in the extreme. Meanwhile, there are good reasons for gold to go higher …
Peak Gold: GFMS reports that gold production actually topped out in 2016. It fell by 5 metric tons last year, and should keep zig-zagging lower, due to falling ore grades and lack of new discoveries.
Central bank demand: The world's central banks will add to their gold hordes in 2018 for the seventh year in a row. This buying spree is being led by Russia, which ended 2017 as the largest official buyers of gold bars for the sixth year in a row.
And according to the World Gold Council, net central bank purchases totaled 116.5 metric tons in the first quarter of this year. That's 42% higher year-over-year and the highest Q1 total since 2014.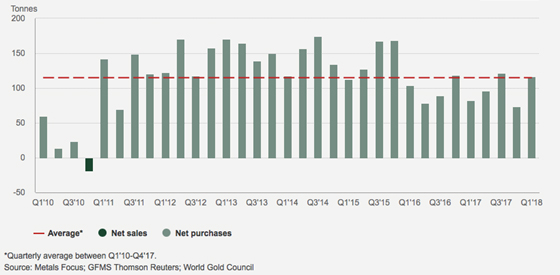 Click image for a larger view.
Russia was again the leader in Q1, adding 41.7 metric tons.
Global uncertainty. The world is a scary place. Now, a potential trade war is added to existing global conflicts. Gold is traditionally the ultimate safe harbor. But it hasn't been acting as a store of value lately, which is perplexing.
A lot of the money that might hide in gold may have instead found its way into cryptocurrencies.
But have you seen Bitcoin lately? It's off 57% this year.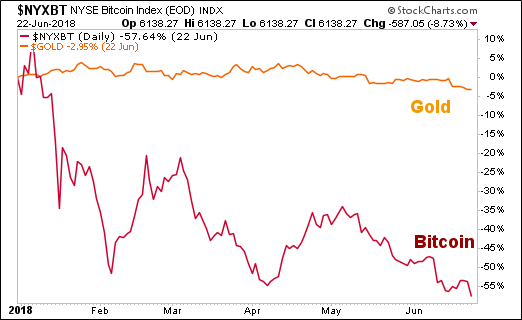 Click image for a larger view.
And Bitcoin is one of the better cryptocurrencies! Others have been flat-out demolished. Meanwhile, "boring" ol' gold looks good by comparison.
There's only one ingredient lacking for gold right now, and that's investor interest. I believe when gold tests its big uptrend, which I showed you in that chart earlier, things could change. And in a hurry, too.
Maybe not. Maybe gold will go sideways. Or even down some more. But gold and gold miners are getting stupid-cheap. Plus, if we've hit peak gold — which seems likely — then we're about to enter a seller's market … one where a ready pool of buyers is only too happy to pay up for the yellow metal.
And that could see some great names blast off in a hurry. Gold has frustrated me for a while. I think that frustration is about to end.
All the best,
Sean
STAY INFORMED! Receive our Weekly Recap of thought provoking articles, podcasts, and radio delivered to your inbox for FREE! Sign up here for the HoweStreet.com Weekly Recap.