June 23, 2018 | Trading Desk Notes – June 23rd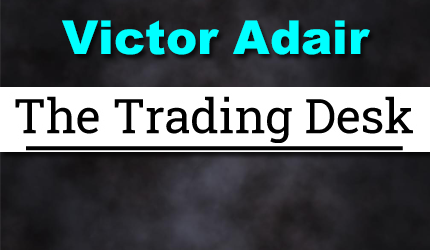 Victor Adair, author of The Trading Desk Notes, began trading penny mining shares while attending the University of Victoria in 1970. He worked in the mining business in Canada and the Western United States for the next several years and also founded a precious metals trading company in 1974. He became a commodity broker in 1977 and a stock broker in 1978. Between 1977 and his retirement from the brokerage business in 2020 Victor held a number of trading, analytical and senior management roles in Canada and the USA. Victor started writing market analysis in the late 1970's and became a widely followed currency analyst in 1983. He started doing frequent media interviews in the early 1980's and started speaking at financial conferences in the 1990's. He actively trades his own accounts from The Trading Desk on Vancouver Island. His personal website is www.VictorAdair.ca.
What I'm doing: I took profits Thursday on my short NZD/USD position and bought AUD/USD looking for a short term correction in the USD rally. AUD looks really oversold on technical and sentiment indicators. I also bought YEN Thursday thinking it might rally for 2 reasons, 1) short term USD weakness and 2) it might catch a flight-to-safety bid if US stock markets roll over.
The US Dollar Index (USDX) made a new 11 month high this week, just barely taking out the late May highs, but registered a Daily Key Reversal Down on Thursday. I've been buying USD against other currencies the past couple of months and I can picture it surging higher later this year (perhaps like the run it had in the 2nd half of 2014/early 2015 when it surged 25%) but short term I think it may have a small correction. When I say I can picture it surging higher I mean that if it starts to rally it could really take off because the rally will "feed on itself" as short dollar positions around the world get squeezed.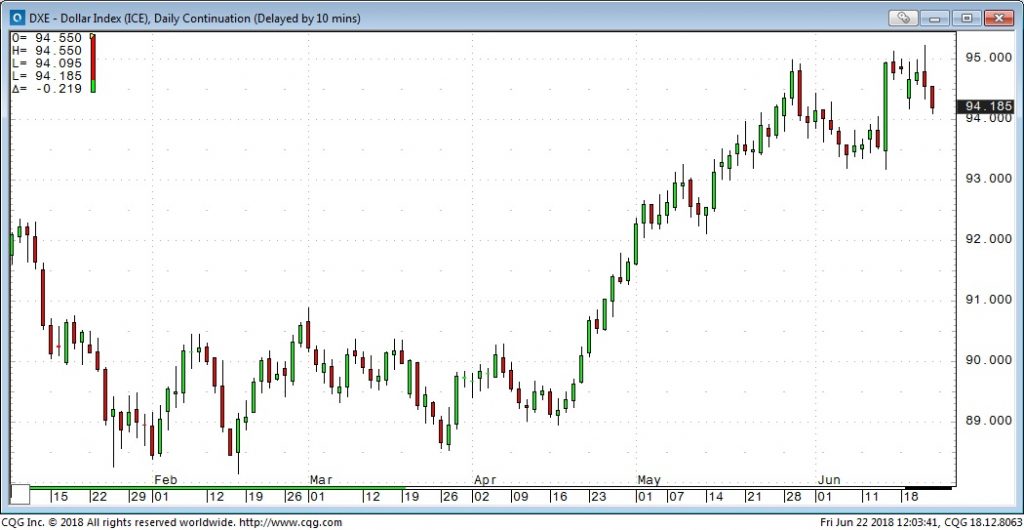 The Canadian Dollar has fallen over 3 cents since the end of May, over 6 cents since early February and is now at its lowest level in over a year. Several things are contributing to CAD weakness including general USD strength against most currencies, weakening commodity indices (the CRB broad index is down over 5% in the last month,) worries about "trade wars," and especially the widening interest rate gap between the USA and Canada – the American premium on 2 year government paper is at a 12 year high of ~0.75%….and at risk of getting wider. I think CAD is at risk of going lower (maybe a lot lower) and will look to be a seller on a bounce that runs out of steam.
Markets are lowering the odds of the Bank of Canada raising rates in July (or anytime this year.) Domestic data points are weakening and seem to be tied to the weakening housing market. The fact that CAD was down against USD Friday morning while nearly all other major currencies were up and while WTI rose over $3.00 underlines the pervasive CAD weakness.
A small positive on CAD is that sentiment is horrible…which is another way of saying that if the wind is blowing hard enough even turkeys can fly!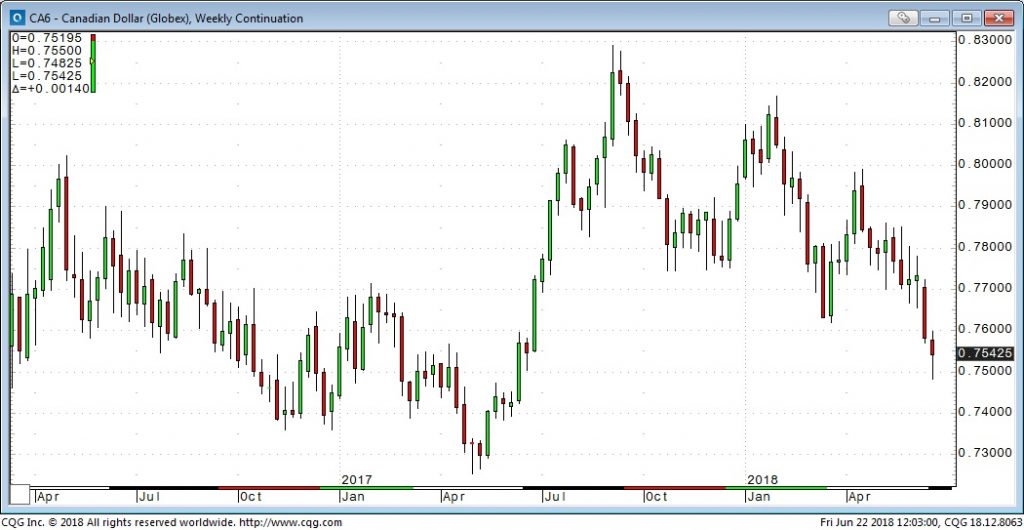 The Toronto Stock Index is making new All Time Highs…when you look at it in Canadian Dollar terms…in US Dollar terms…not so much.
It's a NEW Fed: The Jerome Powell Fed is not the Greenspan/Bernanke/Yellen "easy money" Fed. I'm expecting Powell (a Trump appointee) to reverse the  "too low for too long" interest rate environment…which sets up great trading opportunities as people who have been positioned for interest rates to stay low for "ever" start to wake up to the new reality. The opportunities I'm talking about happen when people start reversing their "reaching for yield" positions. For instance, people have been selling volatility everywhere to pick up yield. People have been passively investing in stock indices because "there is no alternative"…except now there is an alternative with 2 year gov't paper yielding more than the S+P dividend yield…after a decade of being the other way round.
Front month WTI Crude Oil has jumped over $3 following the dovish production increase announced by OPEC and friends.  The premium of Brent over WTI has narrowed from over $11 last week to under $6 today while the WTI front month backwardation has "blown out"…the premium of August over December has jumped from~$1 to ~$3 in 2 days. These violent moves have all the earmarks of being forced liquidation into a "no bid" market.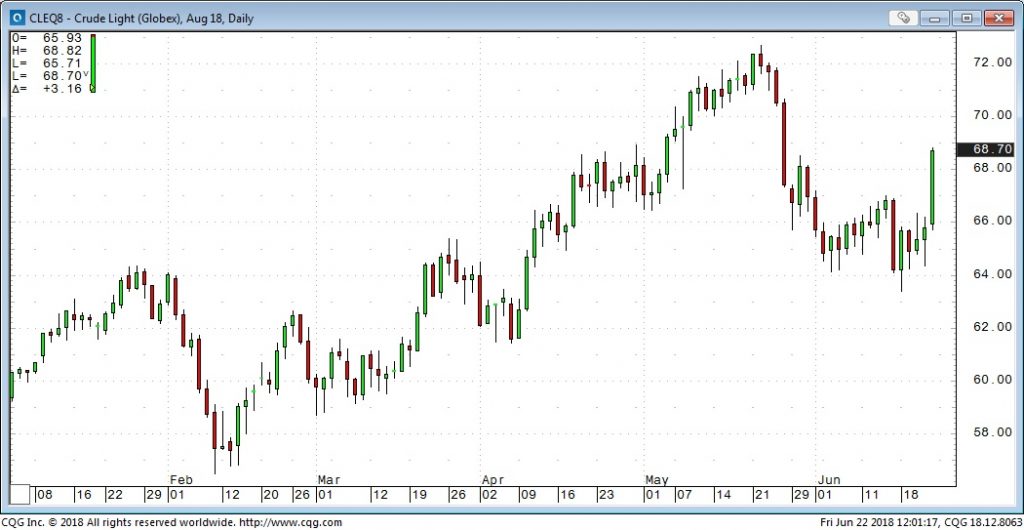 Trade wars: Trump was tweeting today about slapping a 20% tariff on European cars. Two weeks ago I wrote that Trump wasn't "negotiating," that in fact he was just getting started on protectionist measures. Since then I've been thinking that if he wants to "crank it up" he go to cars. So here we are…the Disrupter in Chief is cranking it up!
PI Financial Corp. is a Member of the Canadian Investor Protection Fund. The risk of loss in trading commodity interests can be substantial. You should therefore carefully consider whether such trading is suitable for you in light of your financial condition. In considering whether to trade or the authorize someone else to trade for you, you should be aware of the following. If you purchase a commodity option you may sustain a total loss of the premium and of all transaction costs. If you purchase or sell a commodity futures contract or sell a commodity option or engage in off-exchange foreign currency trading you may sustain a total loss of the initial margin funds or security deposit and any additional fund that you deposit with your broker to establish or maintain your position. You may be called upon by your broker to deposit a substantial amount of additional margin funds, on short notice, in order to maintain your position. If you do not provide the requested funds within the prescribe time, your position may be liquidated at a loss, and you will be liable for any resulting deficit in your account. Under certain market conditions, you may find it difficult to impossible to liquidate a position. This is intended for distribution in those jurisdictions where PI Financial Corp. is registered as an advisor or a dealer in securities and/or futures and options. Any distribution or dissemination of this in any other jurisdiction is strictly prohibited. Past performance is not necessarily indicative of future results
STAY INFORMED! Receive our Weekly Recap of thought provoking articles, podcasts, and radio delivered to your inbox for FREE! Sign up here for the HoweStreet.com Weekly Recap.