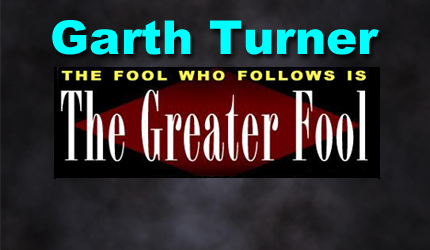 A best-selling Canadian author of 14 books on economic trends, real estate, the financial crisis, personal finance strategies, taxation and politics. Nationally-known speaker and lecturer on macroeconomics, the housing market and investment techniques. He is a licensed Investment Advisor with a fee-based, no-commission Toronto-based practice serving clients across Canada.
Well, haters – alt-right devotees, idled realtors, mutual fund salesguys, Dippers and screwy Millennials – the following is for you. A nice letter has poured in from a guy named Dan who claims his challenging life was made better by this pathetic blog. Just what my fractured ego needs.
Seems you've had a rough ride as of late with your fanatical few on the blog, so I wanted to tell you a story and give a big THANK YOU! I've been reading your blog since 2010, and it's been a guide through many of my life decisions since then.  I moved to Calgary in 2010, finished a masters in 2014, and generally saw increases in my income and net worth the entire time.  For one year, and one year only, I even joined the 1% in regards to income.  Then everything changed…

Through that time I watched my friends buy first and even second houses, finance fancy cars and trucks with balls (it is Calgary), and spend every cent they made on niceties like vacations, clothes, and sometimes even dogs.  Which of course I got to visit!

In October of 2015 I lost my job, and my fiancé in the span of two weeks.  With layoffs everywhere I used the funds I had saved renting and my full TFSA to disappear to SE Asia for 6 months, I came back much healthier mentally.  You're right when you say time, and how you spend it, is priceless!  Because I didn't own and had saved/invested, I wasn't worried about money after I returned to Canada.

Then the unthinkable became reality, the months ticked by, hundreds of job applications went out, and a very few job interviews happened, yet nobody would hire me.  In the meantime I met my wife who needed to be sponsored and couldn't work until the immigration approved it.  Needless to say the RRSPs floated us until today. I was hired yesterday by Suncor with a solid 6 figure income.

People may be slamming you on your blog, but I credit you for great and free advice that got me through this tough time.  I had choices others didn't have because I read and followed.  I still don't own and a bank wouldn't touch me, but I take you at face value when you say "consider buying but be smart about it".

So Garth, thank you!  I don't know what would have had happened if I didn't find your blog on a snowy day 8 years ago…
Dan has discovered simple truths. Like, always have a Plan B. Spending everything you make, plunging into the abyss to get a house you could rent, having no reserves, liquid assets or backup, is foolhardy. Not only does it leverage up risk, it narrows options and destroys your ability to cope with the unexpected. Almost without exception in life it is better to have money than to have stuff.
Second, debt is the enemy. Loans aren't taken out from a financial institution, but against your future. You borrow and spend money you have not yet earned – so it's a major gamble that job loss, disability, marriage breakup, economic reversal or anything else life can deliver won't happen to you. That's arrogance, or stupidity. Likely both. Get over it. Reduce the risk by trashing the debt.
Finally, money or wealth is not the goal of this exercise (life). Those who blindly pursue it, shucking aside family, pleasures or patience for others in return for increased income or more assets, are fools. I was reminded of that when a colleague in my office slumped in a crumpled heap on his desk, dead in three minutes of an aneurysm. He'd been putting off retirement so he'd have that extra little payout. Bad plan.
Equally foolish can be frugality. Lining up for hours to save a few dollars, driving extra miles for a cheaper tank of gas, earning 2% on savings because you'd rather be old and poor than take a risk or thinking retirement means staying at home watching Oprah and mending socks, places no value on time. But, as Dan said, this is the most precious commodity possible. Money can be made, borrowed or stolen, yet not a single hour of your life can be replaced. The young can be excused from misunderstanding this. The old cannot.
There. A whole blog without Trump.  I must be mellowing.
STAY INFORMED! Receive our Weekly Recap of thought provoking articles, podcasts, and radio delivered to your inbox for FREE! Sign up here for the HoweStreet.com Weekly Recap.