June 26, 2018 | Outgunned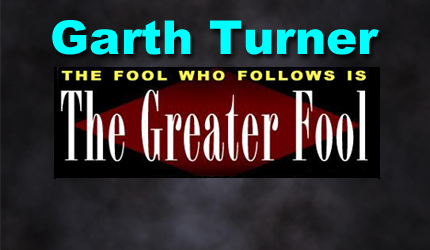 A best-selling Canadian author of 14 books on economic trends, real estate, the financial crisis, personal finance strategies, taxation and politics. Nationally-known speaker and lecturer on macroeconomics, the housing market and investment techniques. He is a licensed Investment Advisor with a fee-based, no-commission Toronto-based practice serving clients across Canada.
"I have read your blog for many years and I have shared many of your ideas regarding buying a home vs. renting and investing with many people," says James, correctly opening his email with the obligatory suck-up. "Many people see the logic behind renting and investing, but insist that buying a home is the way to go. I subscribe to the rent and invest ideology myself. My wife and I are now in our thirties with three young kids."
Okay, James, all good. But why are you writing me from Calgary if you're happy? Dude, nobody corresponds with me because they're okay…
"Recently my wife switched teams and is horny for buying. Her parents are pushing hard for a home as well and now I am afraid that we may make the leap and purchase a home. What I find frustrating is that I hear your voice is in the back of my head, or at least what I imagine it sounds like… older and full of frustration and talking about truck nuts. haha Your voice, the imagined one, keeps reminding me of ETF's and consideration of rising interest rates and what that could do to future home values in Calgary and all over Canada (i.e. slow melt).

"What I have decided is that I should let the real Garth speak for him-self, or a least I hope you will as I really want the imagined one to be quiet.I am having some serious "want to purchase housing guilt."

"Is there something I should be considering in regards to this purchase or not purchase? If we bought would this be something I seriously regret in a year's time? I know that you must get many of these types of e-mails all the time. Regardless of if you reply, I want you to know that your message about being financially literate and aware of world circumstances is appreciated."
A classic note. Mars and Venus. He wants a liquid, diversified, balanced portfolio to provide financial security going forward, thereby relieving some of the pressure every man feels to work until he drops. Financial stress, never, ever ends. Having a pile of money sure helps, though. She, on the other hand, sees it clearly. Security = a nest. An owned home stabilizes things, provides an emotional embrace of permanence, creating foreverness. Norman Rockwell. Mr. Rogers. The goal of life. A home. Worth throwing everything at to achieve. Especially when your Mom says it's the right thing to do.
Well, when Mars and Venus clash, it's usually head against heart, anxiety warring with desire with (almost always) emotion wins. So, James, we both know you're pooched. It's four against one (plus her parents). Roll over, buddy. You're outgunned.
Having said that, the best course of action is to be smart about what comes next. First, know the market. Calgary is actually a reasonably good place to purchase now because so many sellers are desperate, lonely for buyers and often willing to deal.
Having said this, Cowtown has more misery ahead. Sales this month are down 13% and listings are up 32%. It's a pattern that's been repeated over and over – a continuous drip-drip erosion of strength and confidence. Median prices are lower again (by 5% in June) and the number of days it takes to sell a home has increased by a fifth from last year. Condos downtown have been decimated in market value, and current projects will be years in selling out. There is only downward momentum in the residential market. When it comes to commercial real estate – a harbinger of employment opportunities – no truck nuts here, either. The office vacancy rate swelled to 23% in the latest quarter, up from 20% and the worst since at least 2008.
But that doesn't tell the complete story. There are whole empty floors in key downtown towers that are not even counted in the vacancy rate since the leases are still being paid by corporations that decided it's cheaper to fork over the rent – even if nobody works there. Some people estimate 40% of the core's overall space is empty. It's a fact borne out by light rush hour traffic and lots of empty parking spots at 8 am.
And oil? Even a trip from $27 a pop to almost $70 has not saved the city. Now with OPEC turning on the taps again and big troubles in the oil sands (the lights went out a few days ago), volatility is in the air. Meanwhile the province which was once the bastion of low taxes and free enterprise has turned into just another centrist-lefty place where governments spend vastly more than they make, tax punitively and squander economic advantage. Too bad. Perhaps a mistake to be corrected before long.
Then, James, you have rising mortgage rates to consider. Plus the stress test. The utter unpredictability and tribalism of Donald Trump. The bottom line: any house you buy will probably decline in value, especially when you factor in closing costs.
Will you regret it in a year's time?
If your goal was to make money, yes. Of course. If you want to stay married, no. Of course.
Just buy a home you can afford. Remember my rule of 90. Be modest, borrow small. Live below your means. Don't gut your investment portfolio. Do not obsess about paying off the mortgage. And refuse to take any house money from your MIL. Kiss of death.
We're pulling for you.
STAY INFORMED! Receive our Weekly Recap of thought provoking articles, podcasts, and radio delivered to your inbox for FREE! Sign up here for the HoweStreet.com Weekly Recap.