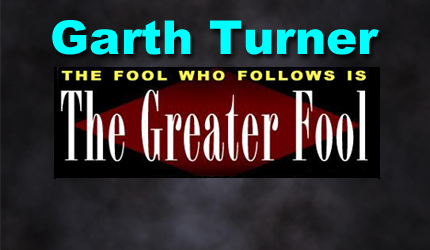 A best-selling Canadian author of 14 books on economic trends, real estate, the financial crisis, personal finance strategies, taxation and politics. Nationally-known speaker and lecturer on macroeconomics, the housing market and investment techniques. He is a licensed Investment Advisor with a fee-based, no-commission Toronto-based practice serving clients across Canada.
When the US real estate blew up a bunch of the blame was heaped upon lax lenders and, of course, their idiot clients. Lots of people borrowed more than they could ever repay, banking on ever-higher house prices to save their butts and make them rich. It worked for a while. Then disaster.
One fav was the IO mortgage. By making interest-only payments, reducing the actual debt by nothing, people could buy more house and stomach the monthly. Of course, if property values went down (which happened – American real estate declined an average of 32%), they were toast. As a result, these kind of loans are largely extinct.
In Australia, same deal. Soaring real estate costs and a unique down-under form of house horniness encouraged scads of people to take out IO loans which (by law) have to roll over into regular ones (principal payments required) in three years. This year a massive $360 billion in such loans will roll, jacking ownership costs and leading to more downward pressure on prices. (Ozzie RE is a mess.)
Well, we now have an IO mortgage here in the land of maple, where mighty condos grow. It's the creation of Merix Financial, a company that likes lending to people with dinged credit, unstable jobs (like bloggers) plus speckers and flippers. A few days ago it unveiled a product that will finance real estate with loans of up to $2 million, complete with 30-year amortizations and no-pants payments for mortgages of 65% of less of the property's value.
Of course, you make monthly payments but never pay the loan off. So, if the property loses value (as is happening in most places), it's easy to end up owing more than the place is worth, even after making years' worth of payments. Plus, it's a demand loan. If (say) Trump invades Hamilton and tells T2 to get stuffed, precipitating an economic crisis, the lender could tell you to pony up. Do it, or lose the house.
But the benefit is obvious. Cheap payments. If you're not retiring the loan, but merely servicing it, the monthly is lower – even if the IO interest rate is higher. So, who would be attracted to such a thing?
The likely clients are: (a) people who want to buy houses they can't afford. For them the 30-year am plus the no-repayment feature means they can carry a loan for less – hundreds of dollars less a month. (b) Investors acquiring rental properties with the ability to deduct interest charges from gross revenues for tax purposes. (c) Speckers, flippers and renovictors who want cheap financing and know they'll be dumping the real estate in a short time. (d) Those who would rather use the extra cash to feed their investment portfolios than plow it into more real estate equity, for no return. (d) Folks with unpredictable incomes (like realtors) who want the ability to throw money at a mortgage when they have it, but otherwise just scrape by.
So, is this a good thing? Or evil?
Depends, naturally. Interest-only loans certainly have a place and a purpose, allowing you to rent a pile of money while keeping costs low. This works best for investing, when the cash can be shoveled into income-producing assets and 100% of the carrying costs are deductible from taxable income. That's the big idea behind HELOCs – home equity lines of credit – which allow those who have too much of their net worth in real estate to suck a bunch off and put it into things that will grow (like ETFs). On the other hand, when the borrowed money is spent (not invested) the interest must be paid with after-dollar dollars, and the debt remains.
Given our stupid real estate values, strained household finances and the horrible state of moister finances, it's likely Merix is really targeting house-lusty couple who couldn't afford to sate their inflated housing expectations with a normal loan. Yes, they still have to pee in a cup and pass the stress test, but the lower monthly payment allows a much bigger borrowed amount. In fact, Merix may just have found a way around B20, right?
By the way, the odds of higher mortgage costs in two weeks shot up again yesterday. They now stand at 70% after the Bank of Canada's Stephen Poloz told reporters rates will climb despite Donald Trump's one-man trade war because the economy's heating and inflation mounting. "We've said clearly that, given where the economy is, we're in a situation where the economy will warrant higher interest rates," said Poloz. That seems straight-up.
The decision arrives July 11th. This will be the fourth increase in 12 months. The Fed has moved six times in 18 months. There's much more to come. Which is why we now have interest-only mortgages. But perfectly safe, like weed.
STAY INFORMED! Receive our Weekly Recap of thought provoking articles, podcasts, and radio delivered to your inbox for FREE! Sign up here for the HoweStreet.com Weekly Recap.