June 23, 2018 | Next Week Key! Will Markets Reverse?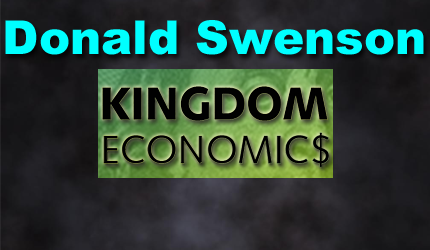 Donald B. Swenson: Born January 24, 1943, Roseau, Minnesota. Graduated H.S. 1961, Moorhead High, Minnesota. Graduated College 1968, Moorhead State University, Minnesota. Designated member of Appraisal Institute (MAI), 1974. Employed with Western Life Insurance Company, 1968 – 71; Iowa Securities Company, 1971 – 73; American Appraisal Company, 1974 – 81. Part-time teacher/valuation consultant/bartender, 1979 – 2008 (taught workshops at Waukesha County Technical Institute, Wi. and Madison Area Technical College, Wi.). Retired 2008 (part time teacher/blogger), AZ. Self educated economist/philosopher/theologian: http://kingdomecon.wordpress.com.
A trend in motion continues until it ends. Our markets have not corrected for some 9+ years. The upward trend is nearing a reversal IMO. Last week most of our electronic markets declined from 2% to 5%. The Dow was down 2% and most of the China markets were down 4-5%. Concern is ubiquitous that our markets are slowing and changing. This next week could be the key to a change in trend. But it also could be more of the same! We need to watch what our Central Planners do this next week!
What has happened in the past two years is that our markets have tried to correct (a few times) but our Central Banks have created policies to reverse this correction. Central Banks and our huge commercial banks trade our markets and these traders can reverse a trend which most retail traders would like to create. We now live with digital/electronic markets and with Central Banks which can infuse stimulus into a market with the click of a computer mouse.
My sense is that our global markets want to correct now. If they are allowed to correct then we could witness a correction starting this next week. A correction is 20% or more to the downside. Any minor change would not be a real correction. The current sentiments are changing rapidly IMO with changes in our trade policies, interest rate policies, and tariff policies affecting the emotions of traders within all our markets. Another week of down indices (say in the Dow, Nikkei, Shanghai, Kospi, Dax, and Cac) could end the prior up-trend and initiate the real correction trend.
Another market which is near collapse today is our crypto currency markets. Since the beginning of 2018, this market has declined some 69% (from a record 833 billion in market cap to today's $261 billion). This I predicted back in December after the CBOE and the CME started allowing short contracts within these markets. Shorting (actually 'naked shorting') has allowed this market of crypto's to decline monthly and it is now near a full collapse. Exiting this market is wise as it could go to zero (eventually).
The other market which is signaling that a correction may be near is our gold/silver market. This market is substantially suppressed via all the 'naked short' contracts which trade within this market. Many now think that gold's moment is over as it recently hit the lowest level of 2018 this past week. I would challenge this view, however. Our big boy financial elites have allowed price suppression in these markets for years. All this could end if enough investors start a selling trend within our electronic stock markets.
Fear drives money into silver and gold. Fear is the greatest driver when it dominates a market. There has been no 'fear' for these past 9+ years. What I have witnessed is greed, confidence, and exuberance. All this could change if a real trend develops which changes the psychology of our markets. The NEXT WEEK is key IMO to what could develop over the remainder of 2018. If our Central Authorities allow the markets to correct, I think they will correct. This next week could be interesting to watch.
A trend in motion does continue until it ends. Are we now at the end of this BULL market for stocks? It depends. Our Central Bank policy makers could intervene and re-liquify these stock markets instantaneously. But they also may allow this BULL market trend to end. It's all up to our Central Banks and their key proxy commercial banks. Watch the markets this next week (especially the Dow and the China markets). I sense that decisions must be made by our big boys if they desire more BULL in the future. Think for yourself! Change is coming soon! I am: https://kingdomecon.wordpress.com.
STAY INFORMED! Receive our Weekly Recap of thought provoking articles, podcasts, and radio delivered to your inbox for FREE! Sign up here for the HoweStreet.com Weekly Recap.