June 24, 2018 | If Bitcoin's Rise Was Bad For Gold, Will Its Fall Be Good?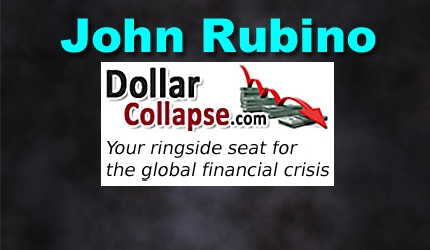 John is author or co-author of five books, including of The Money Bubble, The Collapse of the Dollar and How to Profit From It, Clean Money: Picking Winners in the Green-Tech Boom and How to Profit from the Coming Real Estate Bust. A former Wall Street analyst and featured columnist with TheStreet.com, he currently writes for CFA Magazine.
After an artificial pause in 2017, US government debt has resumed its inexorable climb…
…the dollar has fallen by around 5%…
… and inflation – even the massaged-beyond-recognition Consumer Price Index (CPI) – has shifted to a higher gear, driven by rising oil.
All of which should be great for gold, right? Well, not so much. It's almost exactly unchanged from last June:
Gold's failure to take off like like a rocket when conditions become this favorable has been a puzzle for its fans. One explanation that has gained a lot of, ahem, currency is that it's been replaced of late as the world's safe haven asset by cryptocurrencies, bitcoin in particular. Bitcoin's price action in 2017 appears to support this thesis. While gold was treading water, the capital markets may indeed have responded to the newly-inflationary environment. They just chose to hide out in cryptos rather than precious metals.
Which makes the last few months a bit of a mystery. Most of the above inflationary macro trends are still firmly in place. But bitcoin has fallen out of favor, hard. Here's the previous chart, extended to include the first half of 2018:
So if global financial markets are increasingly unsettled, and cryptos have proven to be unsound hiding places, where is all the terrified capital going to scurry next?
In every cycle of the past 2000+ years, the answer has been gold and silver. Let's see if history remains a useful guide.
STAY INFORMED! Receive our Weekly Recap of thought provoking articles, podcasts, and radio delivered to your inbox for FREE! Sign up here for the HoweStreet.com Weekly Recap.