June 17, 2018 | "Da Boyz" Drop the Hammer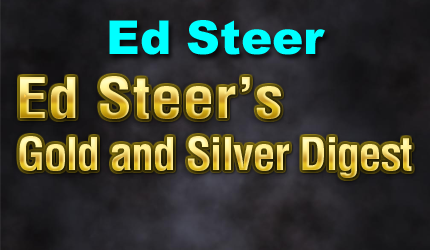 "Ed wrote the daily precious metal commentary for Casey Research starting in 2008. His stand-alone column became their most highly-rated blog [either free or paid] almost from the outset—and remained that way until he started his own subscription-based website in June of 2015."
16 June 2018 — Saturday
YESTERDAY in GOLD, SILVER, PLATINUM and PALLADIUM
The high and low ticks in gold yesterday were recorded by the CME Group as $1,306.70 and $1,277.90 in the August contract, which was about three bucks higher than the June spot month.
Gold was closed in New York on Friday at $1,278.90 spot, down $23.00 on the day.  The gold price hadn't been closed at that low a price since the day for Christmas in 2017.  Net volume was grotesque at a bit under 470,000 contracts — and there was another 28,000 contracts worth of roll-over/switch volume on top of that.
The high and low ticks in this precious metal were reported as $17.275 and $16.46 in the July contract.
Platinum wasn't spared, either.  It was sold a few dollars lower into the Zurich open — and was actually up a dollar about twenty minutes before the COMEX open.  The powers-that-be set platinum's low tick shortly after 12 o'clock noon in New York.  It was allowed to rally a bit until 3 p.m. in the thinly-traded after-hours market, but half of those gains were taken back by the time the market closed at 5:00 p.m. EDT.  Platinum was closed at $885 spot, down 19 bucks from Thursday.
The palladium price chopped quietly sideways until around 2 p.m. CST on their Friday afternoon.  It began to head quietly and steadily lower from there and, like the other three precious metals, had its lights punched out starting at the COMEX open.  The low tick was set at 1 p.m. EDT — and it touched that mark again in after-hours trading as well.  It popped a few dollars higher after that — and was closed at $984 spot, down 17 dollars on the day.  Palladium was closed below its 200-day moving average yesterday.
The dollar index closed very late on Thursday afternoon in New York at 94.88 — and began to tick quietly higher almost as soon as trading began at 6:00 p.m. EDT on Thursday evening.  It couldn't quite make it above the 95.00 mark — and got a little help on a couple of occasions…once before the afternoon gold fix in Shanghai — and the second, minutes before the London open.  The 95.13 high tick was set around 8:20 a.m. in London — and by 9 a.m. BST it was down around the 94.80 — and that's where it traded for the remainder of the Friday session.  The dollar index finished the day at 94.80…down 8 basis points from Thursday's close.
And here's the 5-year U.S. dollar index chart and nothing should be read into it except that it's pure fiction, along with every other 'price' you see in today's markets.
Not surprisingly, the gold shares gapped down at the open — and most of the losses that mattered were in by around 11 a.m. in New York trading.  They didn't do much after that, although a buyer showed up in the last few minutes — and closed them off their lows by a bit.  The HUI closed down 2.30 percent, but it could have been far worse.
Here are the usual charts from Nick that show what's been happening for the week, month-to-date — and year-to-date.  The first one shows the changes in gold, silver, platinum and palladium for the past trading week, in both percent and dollar and cents terms, as of their Friday closes in New York – along with the changes in the HUI and the Silver 7 Index.
And in the interests of full disclosure, I was a buyer yesterday…picking up more shares in a junior silver producer that I already have a position in…Endeavour Silver.
---
---
There have been six consecutive withdrawals from SLV since May 30…totalling 7,949,232 troy ounces.  It's a pretty safe assumption to make that JPMorgan owns it all.
Month-to-date the mint has only sold 12,500 troy ounces of gold eagles — 5,000 one-ounce 24K gold buffaloes — and 125,000 silver eagles.
---
The arrived at that number by reducing their long position by 4,793 contracts — and they also added an astonishing 25,042 short contracts — and it's the sum of those two numbers that represents the change for the reporting week.
Ted said that the Big 4 traders increased their short position by about 7,900 contracts — and the '5 through 8' large traders also increased their short position, they by approximately 8,300 contracts.  Ted's raptors, the 25-odd small Commercial traders other than the Big 8, sold 13,600 long contracts.
Under the hood in the Disaggregated COT Report, the numbers were also as bad as Ted forecast, as the Managed Money traders bought 20,103 long contracts, plus they reduced their short position by another 16,022 contracts — and it's the sum of those two numbers…36,125 contracts…that represents their change for the reporting week.  The difference between that number — and the Commercial net short position…6,290 contracts…was made up almost exclusively by the traders in the 'Other Reportables' category, as the 'Nonreportable'/small trader didn't do much during the reporting week.
Here's a snip from the Disaggregated COT Report so you can see these above changes for yourself.
Ted puts JPMorgan's short position at 40,000 COMEX contracts/200 million troy ounces, up 8,000 contracts/40 million troy ounces from last week's COT Report.  This 40,000 contract figure is at, or very close to an all-time record high since JPM acquired Bear Stearns back in 2008.  The Commercial net short position, as of Tuesday's cut-off, now stands at 336.9 million troy ounces of paper silver, so JPMorgan owns a very decent chunk of that amount all by itself.
Of course, after yesterday's grotesque and illegal engineered price decline, the above data means precisely nothing.  But I'm reporting on it anyway.
---
They arrived at that number by reducing their long position by 4,608 contracts, plus they added 1,632 short contracts — and it's the sum of those two numbers that represents the change for the reporting week.
Under the hood in the Disaggregated COT Report, it was mostly Managed Money traders on the other side of the commercial selling.  They increased their long position by 4,286 contracts, plus they reduced their short position by 338 contracts — and it's the sum of those two numbers…4,624 contracts…that represents their change for the reporting week.  It was the traders in the other two categories that made up the difference between what the Managed Money traders bought — and the commercial traders sold, which only came to…6,240 minus 4,624 equals 1,616 contracts.  But the 'Other Reportables' increased their net long position by a goodly amount, while the 'Nonreportable'/small trader category went the other way, increasing their net short position by a fair amount.  It was a real mixed bag — and it's a given that Ted will have something to say about that as well.
The commercial net short position in gold edged up to the 14.06 million troy ounces mark, which is still in bullish territory — and even more bullish when one considers the changes in the Big 4 traders…or should I say the Big One trader…JPMorgan.
Of course, like for silver, the above discussion on Friday's COT Report isn't worth the paper it's printed on.  But the big difference in gold vs. silver was the change in the Big 4 category during the reporting week…the second week in a row that the 'Big 4/Big 1' have covered short positions in a huge way.  But in silver, JPMorgan went short big time.
---
For the current reporting week, the Big 4 traders are short 158 days of world silver production-and the '5 through 8' large traders are short an additional 79 days of world silver production-for a total of 237 days, which is a hair under 8 months of world silver production, or about 553.1 million troy ounces of paper silver held short by the Big 8.  [In the COT Report last week, the Big 8 were also short 202 days of world silver production.]  These short positions in silver by the Big 8 are the largest on record.
In the COT Report above, the Commercial net short position in silver was reported as 336.9 million troy ounces.  As mentioned in the previous paragraph, the short position of the Big 8 traders is 553.1 million troy ounces.  The short position of the Big 8 traders is larger than the total Commercial net short position by a chunky 553.1 minus 336.9 equals 216.1 million troy ounces.  The reason for the difference in those numbers…as it always is…is that Ted's raptors, the 25-odd small commercial traders other than the Big 8, are long that amount.
As stated earlier, Ted estimates JPMorgan's short position at 40,000 contracts, up 8,000 contracts from last week's report, or 200 million troy ounces of paper silver.  That translates into about 85 days of world silver production.  That number also represents 36 percent of the short position of the Big 8 traders — and about 54 percent of the short position held by the Big 4 traders.  As I said last week about this concentrated short position…it's simply grotesque.
The Big 4 traders are short 158 days of world silver production — and once you subtract out the 85 days that JPM is short, that leaves 73 days split up between the other three large traders…24 days [and a bit] each.  And since those contracts are obviously not split up evenly between them, it's a certainty that one of these traders has a short position under 24 days — and the other, more than 24 days by a decent amount.  But whatever those three number are, they can't add up to more than 73 days.
Of course, like the COT Report that preceded it, this 'Days to Cover' commentary is all ancient history as well, but it shows how extreme things were as of last Tuesday's cut-off.  And one can only speculate in horror at what a COT Report would have looked like at the close of COMEX trading on either Wednesday or Thursday, before 'da boyz' showed up in the COMEX futures market in New York on Friday morning.
I don't have all that many stories for you today, but I am including a couple that I'd been saving for today's column for the usual length and/or content reasons.
CRITICAL READS
But the biggest selling culprit was not "good friend" China who saw a small $5.799bn reduction in its Treasury holdings in April…
And while "Great ally" Japan did dump Treasuries for the 8th month in the last 9 to it lowest holdings since Oct 2011…
It was Vladimir Putin that decided to puke the most U.S. Treasuries out of Russia ever, liquidating half, or $47.4 billion, of its U.S. Treasuries in one month, to its lowest holdings since March 2008!
One can't help but wonder – as the Yuan-denominated oil futures were launched, trade wars were threatened, and as more sanctions were unleashed on Russia — if this wasn't a dress-rehearsal, carefully coordinated with Beijing to field test what would happen if/when China starts to really liquidate.
---
So you'd think that if you were serious about making America great again, you'd want to emulate Ike Eisenhower rather than George W. Bush or Barack Obama.
You'd want to end wars, not start them. You'd want to balance the federal budget, not run the biggest deficits in history. You'd want to reduce federal spending and cut the Pentagon budget, not increase them. You'd want less government, not more – and less debt, too, not more of it.
That is, you'd want to do the exact opposite of the Bush and Obama administrations.
But when we look out on the comic splendor of the USA in 2018, we see neither Dwight Eisenhower reincarnated in the White House nor a William McChesney Martin redux at the Fed.
Instead, what we see is what Eisenhower warned us against on January 17, 1961 during the president's farewell address:
As we peer into society's future, we – you and I, and our government – must avoid the impulse to live only for today, plundering for our own ease and convenience the precious resources of tomorrow. We cannot mortgage the material assets of our grandchildren without risking the loss also of their political and spiritual heritage. We want democracy to survive for all generations to come, not to become the insolvent phantom of tomorrow.
---
Thousands of workers are fleeing Venezuela's state-owned oil company, abandoning once-coveted jobs made worthless by the worst inflation in the world. And now the hemorrhaging is threatening the nation's chances of overcoming its long economic collapse.
Desperate oil workers and criminals are also stripping the oil company of vital equipment, vehicles, pumps and copper wiring, carrying off whatever they can to make money. The double drain – of people and hardware – is further crippling a company that has been teetering for years yet remains the country's most important source of income.
The timing could not be worse for Venezuela's increasingly authoritarian president, Nicolás Maduro, who was re-elected last month in a vote that has been widely condemned by leaders across the hemisphere.
---
The brutal tumble of Argentina's peso added to the list of concerns over the ability of developing economies to defend their currencies as the era of cheap money wanes. Emerging-market assets extended losses a day after the Federal Reserve's more hawkish signals.
A measure of currencies in developing nations slid to the lowest since December, while the MSCI Emerging Markets Index sank — led by industrial and technology companies. The Argentine peso slumped more than 6 percent on reports of changes at the country's central bank and after truck drivers began a strike. The Brazilian real dropped a fourth day as the impact of a massive sale of foreign-exchange swaps was short lived.
Developing-nation assets took a beating as signals of a slightly more aggressive pace of Fed hikes added to concern over further currency depreciation in developing economies. Meanwhile, the European Central Bank said a rate increase won't come until the summer of 2019, though it announced it would end stimulus in December, setting the euro area up for an exit from years of heavy monetary support.
---
The re-nomination (albeit somewhat reshuffled) of the "economic block" of the Medvedev government has elicited many explanations, some better than others.  Today I want to look at one specific hypothesis which can be summed up like this: Putin decided against purging the (unpopular) "economic block" from the Russian government because he wanted to present the E.U. with "known faces" and partners E.U. politicians would trust.  Right now, with Trump's insane behavior openly alienating most European leaders, this is the perfect time to add a Russian "pull" to the U.S. "push" and help bring the E.U. closer to Russia.  By re-appointing Russian "liberals" (that is a euphemism for WTO/WB/IMF/etc types) Putin made Russia look as attractive to the E.U. as possible.  In fact, the huge success of the Saint Petersburg summit and the Parliamentary Forum is proof that this strategy is working.
This hypothesis is predicated on one crucial assumption: that the E.U., under the right conditions, could become a partner for Russia.
But is that assumption warranted?  I personally don't believe that it is, and I will try to lay out the reasons for my skepticism:
---
South Africa has the world's biggest reserves of platinum, and its mineral deposits also include gold, manganese, iron-ore, coal, chrome and zinc. Anglo American Plc, Glencore Plc and South32 Ltd. are among companies operating in the country, and the new Mining Charter is aimed at distributing South Africa's mineral wealth more widely.
---
The Trump administration on Friday escalated a trade war between the world's two largest economies, moving ahead with tariffs on $50 billion of Chinese goods and provoking an immediate tit-for-tat response from Beijing.
The president is battling on a global front, taking aim at allies and adversaries alike. The United States has levied global tariffs on metal imports that include those from Europe, Canada and Mexico, while threatening to tear up North American Free Trade Agreement.
These countries are fighting back, drawing up retaliatory measures that go after products in Mr. Trump's political base. China's response was swift on Friday, focusing on $50 billion worth of American goods including beef, poultry, tobacco and cars.
The trade actions could ripple through the global economy, fracturing supply chains and costing jobs at American companies that will be forced to absorb higher prices. Although the United States economy is especially strong, the tariffs are expected drive up prices for American consumers as well as for businesses that depend on China for parts.
Things could get worse if the United States and China ratchet up their actions. Mr. Trump has already promised more tariffs in response to China's retaliation. China, in turn, is likely to back away from an agreement to buy $70 billion worth of American agricultural and energy products – a deal that was conditional on the United States lifting its threat of tariffs.
---
This is exactly what Goldman Sachs was worried about:
"We expect a minimal effect on growth and consumer price inflation from the tariffs, if implemented, but the announcement raises the odds that additional restrictions will be proposed over coming months."
Things are about to get a lot more expensive…
---
Talks about a gas transmission corridor through the Korean Peninsula have been in the works for the better part of a decade.
Russia could be collaborating with Seoul on the construction of a natural gas pipeline through North Korean territory, a Gazprom official said Friday.
South Korean officials hinted earlier this year that a thaw in tensions on the Korean Peninsula could open the door to the construction of a Russian gas pipeline through countries divided by the 38th Parallel.
Vitaly Markelov, the deputy CEO at Gazrpom, told reporters Friday the recent diplomatic events in Singapore could make it easier to move forward.
---
Since the Federal Reserve hiked rates, "big" U.S. banks have dramatically underperformed "small" U.S. banks, continuing a trend that has been going on since February…
But it's broader than that this "big" bank blow-up is global.
"The good news does not last for ever," he said. "Those kind of comments are usually just before things start heading down."
Sooner or later, Powell is gonna get the tap on the shoulder from his real bosses and judging by the collapse of many of the SIFIs, it's soon.
---
The past few Fed chairs were keen to use forward guidance as part of their strategies to manipulate market expectations, prices and economic outcomes. Powell, in what would be a major departure, appears to want the Fed out of the guidance and manipulation business. It's an uncertain world, and financial markets must be reacquainted with the capitalistic principle of markets standing on their own. He appreciates the extraordinary uncertainty in the economic, market, policy, and geopolitical backdrops. Powell views the economy as strong and ongoing monetary policy normalization as appropriate. Of course, there are downside risks. But in contrast to Draghi, Powell shows little predilection to dangle the carrot of monetary stimulus and liquidity backstops in front of a craving marketplace.
With his background in finance, I'll assume the Chairman appreciates the speculative nature of current market dynamics. He is well aware of the powerful role the Greenspan/Bernanke/Yellen puts have played within the financial markets. Cognizant of market distortions, Powell would rather the markets not revel in the certitude of a Fed ready and willing to sprint immediately to the markets' defense. On the surface, adjustments in the Powell Fed's rate and communications policies appear less than far-reaching. But on the critical issue of the Federal Reserve's approach to market-pandering policy guidance and market-bolstering liquidity backstops, I believe Powell is breaking with the progressively radical policy course that unfolded under Drs. Greenspan, Bernanke and Yellen.
The pressing issue for global markets goes far beyond widening interest-rate differentials. Markets anticipate a future with the Draghi ECB eager to expand QE and, across the pond, the Powell Fed reluctant to redeploy QE – in a world increasingly vulnerable to a globally systemic market liquidity event.
---
I didn't find a single precious metal-related story that I thought worth posting, which certainly doesn't speak well of the so-called analysts that write the stuff.
The PHOTOS and the FUNNIES
STAY INFORMED! Receive our Weekly Recap of thought provoking articles, podcasts, and radio delivered to your inbox for FREE! Sign up here for the HoweStreet.com Weekly Recap.