June 6, 2018 | Cash-Juiced Markets Ready to Crash? Be Prepared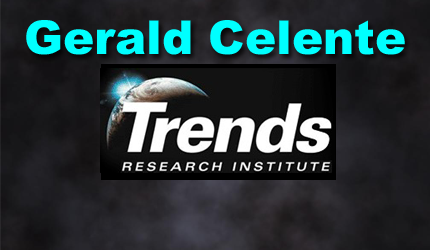 Gerald Celente, who developed the Globalnomic® methodology to identify, track, forecast and manage trends, is a political atheist. Unencumbered by political dogma, rigid ideology or conventional wisdom, Celente, whose motto is "think for yourself," observes and analyzes the current events forming future trends for what they are — not for the way he wants them to be. And while Celente holds a U.S. passport, he considers himself a citizen of the world.
KINGSTON, NY, 6 JUNE 2018—After correcting in March, the Nasdaq hit a new high Monday and May was the best month for stocks since January.
Yes, corporate earnings are strong, but what's driving the markets is more of the same fuel that's been juicing them since their recovery from the Panic of '08: Cheap and abundant money supply is feeding the overvalued markets with price/earning multiples rarely seen in the past century.
And corporations, thanks to President Trump's generous tax breaks, which lowered rates from 35 percent to 21 percent, have put them on-trend to inject over $2.5 trillion into buybacks, dividends, and mergers and acquisition activity.
With the $1.5 trillion tax break and Trump's reform plan that enabled corporations to repatriate some $3.5 trillion in overseas money, it is estimated they will invest some $1 trillion into stock buybacks and $1.3 trillion in M&A's.
According to UBS, stock buybacks are up 83 percent year to date, while U.S corporate M&A activity surged 130 percent, accounting for some 40 percent in market performance this year.
BIGGER THAN BUYBACKS
While the U.S. markets are rolling along, global growth is slowing down. For example, global manufacturing fell to a nine-month low in May and the closely watched Baltic Dry Index, which measures shipping costs, fell 22 percent in May.
Also putting pressure on global growth is the strong dollar that is already impacting Emerging Markets that are deep in dollar debt and heavy in trade deficits.
Even though new anti-establishment/anti-Eurozone coalition parties just took power in Italy, the euro gained modest strength since Tuesday on news the ECB will discuss winding down its €2.4 trillion Quantitative Easing program by year's end and raise interest rates by the middle of next year.
However, considering Europe's weakening economies,concerns of the impact of the strengthening dollar and escalating anti-Eurozone sentiments in Italy, ECB measures remain questionable.
Also, in the UK, the fifth largest economy in the world, with economic growth collapsing to just 0.1 percent in the first quarter of 2018, plans for the Bank of England to raise its key interest rates from it paltry 0.50 percent next year is uncertain.
TREND FORECAST: It was fear of rising interest rates in the U.S. this past February that drove equities down into correction territory. Now, with growing concerns of slowing economies, should the Fed stay on course to aggressively raise rates, it will crash global equity markets.
STAY INFORMED! Receive our Weekly Recap of thought provoking articles, podcasts, and radio delivered to your inbox for FREE! Sign up here for the HoweStreet.com Weekly Recap.