June 22, 2018 | America's Caesar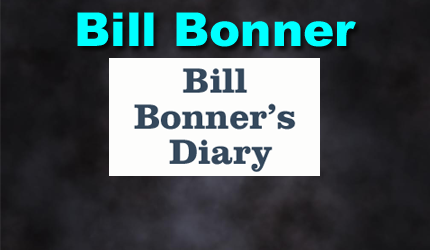 Is an American author of books and articles on economic and financial subjects. He is the founder and president of Agora Publishing, and author of the daily financial column, Diary of a Rogue Economist.
The rich man's wealth is his strong city, and as a high wall in his own conceit.
– Proverbs 18:11
POITOU, FRANCE – "Render unto Caesar" is how we began yesterday's note. Today, we dig deeper to answer a Dear Reader's challenge.
Caesar should call the shots in trade, he says.
This discussion (today and on Monday) will help us connect a number of dots… and possibly glimpse at the future, too.
We'll check out the odds of building a high wall around the American economy – turning it into an island of stability, calm, and high wages in an ocean of globalized competition and chaos.
We'll take a look at North Korea and see what high walls have done for its economy.
And we'll see how trade barriers expand the reach of the Deep State, replacing win-win private sector deals with the win-lose deals of the cronies and canoodlers.
So hang onto your hat…
Suicidal Business Strategy
Checking in with the markets first… we see that the Dow fell again yesterday, the eighth day in a row of losses. And on Tuesday, General Electric (GE) was booted out of the Dow after 100 years.
Under former CEO Jack Welch, GE – probably more than any other large company – led the swing away from manufacturing… that is, from honest output to financial hocus-pocus.
It borrowed money to buy businesses at the rate of one new company every five business days. As a business strategy, it was suicidal. There is no way managers could evaluate, understand, and absorb new enterprises at such a rate.
But as a financial strategy, it looked great. Each new business brought top-end growth and lazy, flattering headlines about what a genius Mr. Welch was and what a "dynamic" company he was running.
The share price rose, making it possible to borrow even more money.
But then, like all debt-financed spending sprees, the bills came in and it was hard to pay them. A lot of the acquisitions went bad, and GE executives had neither the time nor the talent to fix them.
Its share price has been falling for the last 18 years, down 55% in the last 18 months alone… And now, it's back to where it began its spectacular rise in 1995.
GE was also a pioneer of outsourcing. That is, rather than make things itself at Appliance Park, its Louisville, Kentucky plant, it moved manufacturing to cheaper, foreign destinations. 
The Atlantic
magazine was on the case:
By 1955, Appliance Park employed 16,000 workers. By the 1960s, the sixth building had been built, the union workforce was turning out 60,000 appliances a week, and the complex was powering the explosion of the U.S. consumer economy.

The arc that followed is familiar. Employment kept rising through the '60s, but it peaked at 23,000 in 1973… In 2011, the number of time-card employees – the people who make the appliances – bottomed out at 1,863. By then, Appliance Park had been in decline for twice as long as it had been rising.
The decision to offshore was made – more or less, honestly – by people in the private sector with some skin in the game. Nobody forced them to do it… and they hoped it would pay off.
But Caesar was already pulling strings. His central bank was providing fake money at fake, low interest rates. But that part of the story is for another day.
New Caesar
Today, we look at how Caesar is rigging the game even more directly. Yes, there were trade barriers on this and that… here and there… in Welch's era.
But almost all economists had realized that they were a drag on wealth creation. Tariffs had generally been coming down for an entire generation.
Cometh now a new Caesar, in the person of the U.S. president, Donald J. Trump – along with his quack trade advisor, and four-time election loser, Peter Navarro.
Modern economists are wrong about a lot of things…
They think they can know things that they can never know. They think they can measure things that they can never measure. And they think they can control things that they can never even understand.
But they're not wrong about everything. And one thing they are right about is trade. It's a fairly settled matter: Import taxes may be good politics, but they are very rarely (and perhaps never) good economics.
But a Dear Reader posed an earnest question: Why shouldn't a high-wage country protect its workers against low-wage competition?
The purpose of a nation is to defend the common interests of its citizens. Certainly, the ability to earn a living at a standard of living higher than that of the Chinese worker, with his family's bathroom at the end of his block and shared with 50 other families, is part of what our nation exists to achieve.

But your viewpoint shows that you consider nations to no longer be of use. Your elitist underwear is showing. You know that you are smart. But this pride has blinded you from appreciating the true values of conservatism.
Okay. Let's tuck in our underwear and think about this. This view may be widely shared among our readers. Can the nation – Caesar, using his win-lose power to wallop, whack, bludgeon, and bully – really help Americans earn more?
Hmm…
Tune in on Monday to find the answer.
Regards,
Bill
STAY INFORMED! Receive our Weekly Recap of thought provoking articles, podcasts, and radio delivered to your inbox for FREE! Sign up here for the HoweStreet.com Weekly Recap.