May 26, 2018 | What Should I Do About Gold, Dividends and More?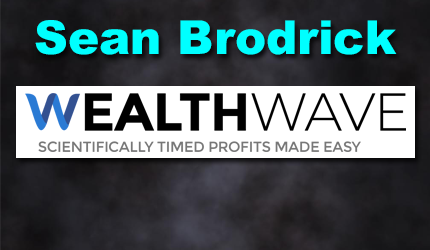 Sean is the natural resource analyst for Weiss Ratings. You can read his thoughts on gold, oil, cannabis, uranium and other natural resources at Wealth-Wave.com
Martin asked subscribers for their views, hopes and fears. And many of you wrote in. Some of those questions seem better suited to me. So, I thought I would field them here. And it gives me a chance to answer questions on gold, dividends, and more.
Colby N. writes …
I have a membership in Supercycle Investor and get recommendations from Sean. Using the "forest and the trees" analogy, the supercycles are the forest and the trees are Sean's recommendations.
I use the supercycles to make sure the forest is not burning at the other end and hence a bad recommendation. Sean updates Larry's cycle reports weekly and gives the readers a good look what the cycles tell us about the future.
If you look at the oil supercycle report from Sean, it shows that about now it is expected that oil prices are going for a significant drop in prices. But Sean is making three oil recommendations now. Should I buy the recommendations and then get burned?
Another example, you mentioned in 2017 as part of the supercycle that Europe will fail in 2018. Looking at Sean's cycle Dow charts, is that the reason why the stock market will go up in the next few months?
Sean responds …
Thanks for the kind words. And I'm glad you like Larry's charts. Sometimes I find bargains (like in energy stocks) that I think can do well despite short-term zigs and zags in the underlying price of oil. It's true that my oil recommendations are pulling back with the price of oil. So, if you haven't bought yet, you have slightly better entry opportunities on two of them. Just remember that the big trend in oil — and many other commodities — is up.
And yes, part of the reason why we believe the Dow will go higher is that money will flow out of Europe and into American markets.
Fred G writes …
At this point I am more concerned about preserving what I have accumulated than I am about further investing for gain. All I have in my portfolio are a very few stocks that are likely to do well no matter what happens and specific commodities that are most likely to pay off extremely well for the small amount of speculation that I allow myself.
For all intents and purposes, I am out of the market. I'm also looking forward to voting against my congressman and senator. I have never seen a more worthless Congress in 80 years. They are all either public relations experts or investigating each other. It scares them to death for anyone to remind them of the real problems they should be dealing with.
Sean responds …
Wealth preservation is very important. Good for you for making the investment choices you are comfortable with. As for Congress, EVERYONE hates them. U.S. Congressional job approval is now at 18%.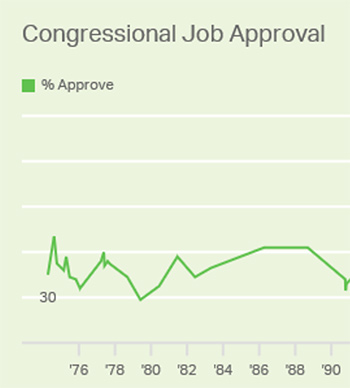 Click image for the full view.
The constant shenanigans of our Congress-critters — who keep sticking it to the voters while heaping riches on fat-cat contributors — should make for an interesting mid-term.
Remember, you need to vote. If you don't vote, you can't complain.
John W. writes …
I am interested in what will happen domestically if the U.S. petrodollar is significantly superseded. Will this accelerate the coming sovereign debt crisis in the U.S.?
Sean responds …
That's a great question, John. We know that since the Russians started selling oil to China priced in China's currency (the renminbi, or "yuan"), China is directing more of its business to Russian suppliers. Perhaps to keep up, our friends in Saudi Arabia could conceivably price their oil in yuan. And that would rock the petrodollar to its core.
But the Saudis wouldn't make such a move flippantly. The Saudi sheiks depend on Uncle Sam to protect them from harm. For example, we're selling them a LOT of weapons for their proxy war in Yemen against Iranian rebels.
So, it's something we're watching carefully. But the odds of it happening this year aren't high.
Anthony W writes …
Please advise your wave predictions for precious metal prices for 2018 and 2019. Many authors are forecasting significant price rises in the "near term", along with a major or minor "correction" in stock prices. However, none of these authors are predicting when precious metal prices will rise significantly.
Only one author, [Name withheld], predicts that gold will go down in price.
Sean responds …
Mr. [Name withheld], God bless him, has been predicting gold would fall to $750 per ounce since at least 2015. Gold has never even cracked $1,000 since then. So maybe his predictions are for the long term?
There's an old saying in the markets when people talk about the long term: "In the long run, we're all dead."
I'd like to add a new saying about the short term: "In the short term, crystal balls get very cloudy."
Mr. [Name withheld] strikes me as very intelligent. However, intelligence alone does not guarantee accurate predictions.
Let me just add one of my favorite Yogi Berra quotes: "It's tough to make predictions, especially about the future."
Gold will rise, Anthony. Many, many forces are falling into place. The cycles say it, too. It's true that crypto-currencies sucked some of the speculative energy out of precious metals. But that won't last forever. Gold IS eternal, unlike a lot of other things. And it is an eternal store of value in an increasingly unstable world.
Ron B writes …
I would appreciate getting your top 10 dividends. I have been retired since 2006. I have recently decided dividends are my best plan.
Sean responds …
Ron, I'm so glad you wrote about this. Did you know that Weiss Ratings has relaunched Safe Money Report as a dividend-focused publication? Mike Larson is doing a great job over there. And I'm going to give you a link to a free report that has Mike's top 9 picks for big, safe dividends. You can read that report HERE.
And consider signing up for Mike's monthly Safe Money Report issues. He finds great dividend payers all the time.
Bill writes …
I would like to hear your thoughts and recommendations as to whether we should be buying gold and/or junior gold mining stocks. Thank you.
Sean responds …
Yes! I hope that's simple enough. My work here is done.
Wait! I know you want more of an explanation than that. So, let me show you two charts …
First, gold is primed for lift-off, if history has anything to say about it. And you know how I like history.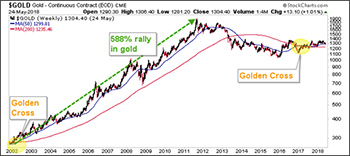 Click image for a larger view.
Along with the all the fundamental reasons for a gold rally, which I have pounded the table about more than once, there's the simple fact of gold's 50-day moving average crossing above its 200-day moving average.
This is a longer-term signal. It shows sentiment and price action are improving in the gold market, despite what short-term action may make you think. And the last time this happened, there was a 588% rally in gold.
History doesn't repeat. But it often rhymes.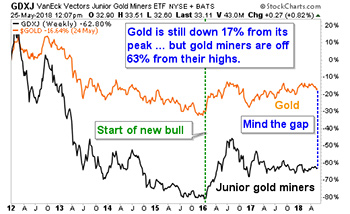 Click image for a larger view.
The next chart is the chart of the VanEck Junior Gold Miners ETF (NYSE: GDXJ) and gold. It tracks their performance since the start of the bear market in 2012.
From the peak of the last bull market, gold went way down. It's up a bit, but still down nearly 17%. But gold miners got crushed. Pulverized! Flattened!
And despite some great gains in 2016 and 2017, miners are STILL down more than 60%.
That's because miners are leveraged to the metal. And when gold takes off — I mean really takes off — select small mining stocks will be on the launch pad.
So yes, I believe you should own them.
That's about all we have time for this week. I'll try to answer more questions another time. Until then, take care.
Yours for trading profits,
Sean
STAY INFORMED! Receive our Weekly Recap of thought provoking articles, podcasts, and radio delivered to your inbox for FREE! Sign up here for the HoweStreet.com Weekly Recap.