May 5, 2018 | Trading Desk Notes – May 5th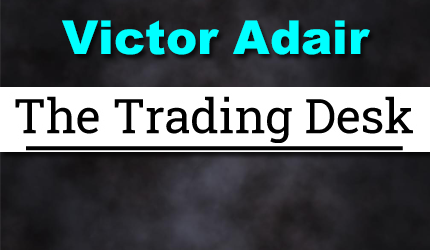 Victor Adair, author of The Trading Desk Notes, began trading penny mining shares while attending the University of Victoria in 1970. He worked in the mining business in Canada and the Western United States for the next several years and also founded a precious metals trading company in 1974. He became a commodity broker in 1977 and a stock broker in 1978. Between 1977 and his retirement from the brokerage business in 2020 Victor held a number of trading, analytical and senior management roles in Canada and the USA. Victor started writing market analysis in the late 1970's and became a widely followed currency analyst in 1983. He started doing frequent media interviews in the early 1980's and started speaking at financial conferences in the 1990's. He actively trades his own accounts from The Trading Desk on Vancouver Island. His personal website is www.VictorAdair.ca.
Three Main Themes: My trading over the past few months has been in line with three main themes: 1) US interest rates had been too low for too long and were going up, probably more than the market was pricing and definitely more than interest rates in other countries, 2) the US Dollar got too low and would start rising and, 3) stock markets got too high and would have at least a correction and maybe more than that.
My themes are derived from my perception/anticipation of changes in market psychology. I see those changes as cycles of varying duration and amplitude. My favorites are the ones that are not smooth like a sine wave but rather accelerate in a parabolic fashion into a peak or valley and then reverse sharply.
Classic, Big Picture examples would be, 1) the Nasdaq rally into the March 2000 high and subsequent reversal, 2) The crude oil rally into the July 2008 high and subsequent reversal and, 3) the collapse of commodities and commodity currencies (after a brutal 5 year bear market) into the January 2016 low and subsequent reversal.
There are cycles within cycles (within cycles) so it's important for me to keep the time frame of my trading in sync with the time frame of my analysis. I don't want to justify holding onto a losing trade that I had initiated on my view of a short term cycle because it still looks good in terms of a longer term cycle.
Timing the trade: Let's start with the idea that market cycles can run much longer and go much higher (or lower) than I anticipate. So if I happen to get into a trade that's going my way I try to stay with it and/or add to it…because I know I'll need the profits from that trade to offset the losses I'll inevitably take on other trades. If I'm anticipating a cycle reversal then I try to WAIT for a clear sign that the market has already reversed…as opposed to thinking that the market can't go any further and "now" is a good time to put on a reversal trade!
The stock market: I thought that the sharp break in late Jan/early Feb (after a fabulous 9 year rally) signaled a BIG change in market psychology…that dips were no longer to be bought and I've been looking for opportunities to short bounce-back rallies once they ran out of steam.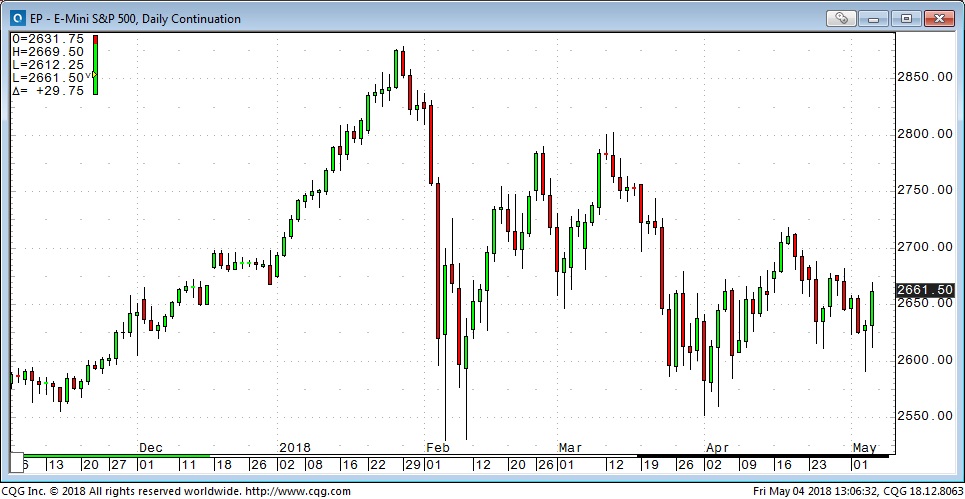 The US Dollar Index: made a 14 year high in January 2017 and then fell ~16% into the February 2018 lows. Market Psychology became very bearish the USD with speculative short positions in the futures market reaching a 7 year high. The USD went sideways in a narrow range for 2 ½ months and I was puzzled that it didn't rally as interest rate differentials widened to historical levels in its favor…but then the (psychological) dam broke and the USD rallied ~4% the last 3 weeks.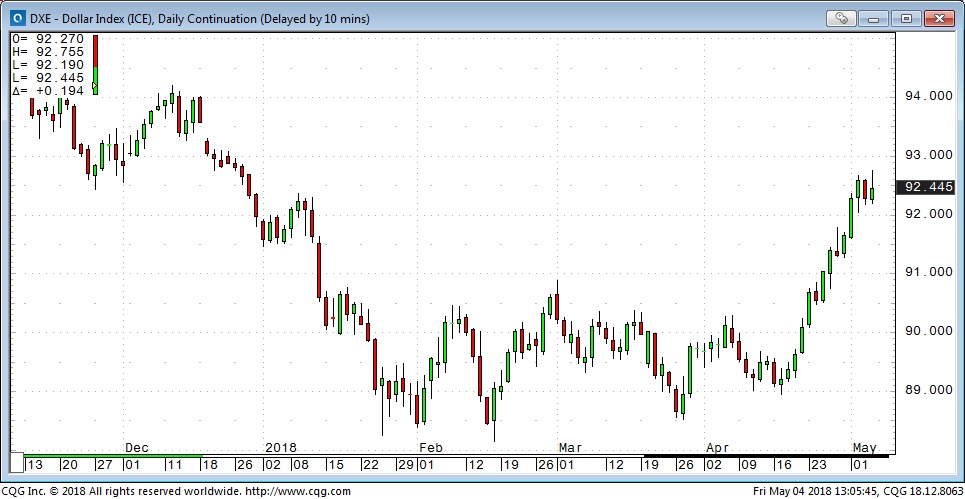 Interest rates: hit historical lows in the summer of 2016 (after a 35 year bull market) when something like $12 Trillion worth of sovereign debt traded at negative yields due to the "QE" programs of the world's principle central banks. But for months now the Fed has been telling us that they will keep raising s/t interest rates and running down their balance sheet while the government has been telling us that they will be expanding their deficits…so interest rates have been climbing with the 2 year Treasury yields hitting 10 year highs and the 10 year yield hitting 5 year highs.
Crude oil: WTI hit a 13 year low in January 2016 (along with a basket of commodities and commodity currencies) and today it hit a 3 ½ year high near $70. I've previously expressed my surprise at the "relentless bid" in the crude oil market with speculators holding an historically massive net long position. It seemed to me that the bull market "story" had to be more than just a market reaction to the "global inventory rebalancing" due to production cutbacks by OPEC and friends. I've wondered if it could be 1) "manipulation" (some people/companies/countries would clearly benefit from higher prices) or maybe, 2) long term capital is re-allocating money away from the stock market to the commodity market after a 9 year bull market in stocks has left commodities near "lifetime" lows relative to stocks, or maybe, 3) the "Geo-political risk premium" is increasing, or maybe, 4) it's a combination of all of those things.
Whatever is "driving" the bull market in crude (and all I know for sure is that buyers have been more aggressive than sellers) it definitely has been going up…and it's all the more impressive given the sharp rally in the USD the last 3 weeks.
I've been guilty of trading WTI with a bearish bias…a bias I developed by making money on the short side of WTI in 2014 and 2015. I've thought that WTI was "too high" and was ripe for a good tumble (just imagine all those spec longs hitting the sell button!) and I've taken some small bearish positions on what were obviously not-very-good sell signals…and I've lost money as a result. I really hate losing money so I'm quick to bail out when a trade isn't working…but the truth is I jumped the gun because of my bias instead of waiting for a clear sign that the market had actually reversed.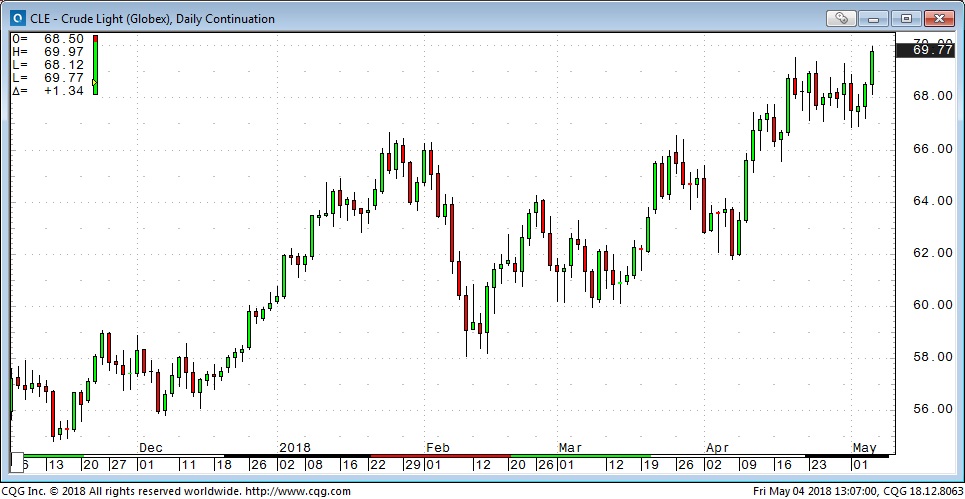 At the end of the week my accounts are essentially short Euro and 10 year Notes.
PI Financial Corp. is a Member of the Canadian Investor Protection Fund. The risk of loss in trading commodity interests can be substantial. You should therefore carefully consider whether such trading is suitable for you in light of your financial condition. In considering whether to trade or the authorize someone else to trade for you, you should be aware of the following. If you purchase a commodity option you may sustain a total loss of the premium and of all transaction costs. If you purchase or sell a commodity futures contract or sell a commodity option or engage in off-exchange foreign currency trading you may sustain a total loss of the initial margin funds or security deposit and any additional fund that you deposit with your broker to establish or maintain your position. You may be called upon by your broker to deposit a substantial amount of additional margin funds, on short notice, in order to maintain your position. If you do not provide the requested funds within the prescribe time, your position may be liquidated at a loss, and you will be liable for any resulting deficit in your account. Under certain market conditions, you may find it difficult to impossible to liquidate a position. This is intended for distribution in those jurisdictions where PI Financial Corp. is registered as an advisor or a dealer in securities and/or futures and options. Any distribution or dissemination of this in any other jurisdiction is strictly prohibited. Past performance is not necessarily indicative of future results
STAY INFORMED! Receive our Weekly Recap of thought provoking articles, podcasts, and radio delivered to your inbox for FREE! Sign up here for the HoweStreet.com Weekly Recap.